Estimated read time: 3-4 minutes
This archived news story is available only for your personal, non-commercial use. Information in the story may be outdated or superseded by additional information. Reading or replaying the story in its archived form does not constitute a republication of the story.
OREM — When Pleasant Grove shortstop Brock Watkins stepped up to the batter's box in the bottom of the seventh inning and the Vikings down by a run, a sense of confidence was permeating through his team's dugout.
See, Watkins is pretty good. Like, Utah-all-time-hit-leader good.
"He's one of the most clutch persons I know," outfielder Jackson Hill said. "I knew he'd do something big."
"I had a great feeling that he was going to do something special," Pleasant Grove coach Darrin Henry said.
Watkins didn't disappoint.
The senior blasted a solo shot over the left field wall to tie the game. Two innings later, the Vikings were pouring onto the field in celebration after beating Lone Peak 5-4 to win the 6A state championship Friday at Utah Valley University.
The game-winning run? That was a little less dramatic.
In the bottom of the ninth, Hill drew a walk with the bases loaded and no outs. The senior didn't even bother to walk down the line — he just waited for his teammates to come and celebrate at home plate.
It wasn't your typical walk-off, but a walk-off nonetheless — and a title-winning one at that.
"It was pretty nerve-wracking; knowing that this pitch is going to make or break it, at least for me," Hill said. "When I saw it up, I just smiled."
His teammates did a little more than just smile — storming the field as the winning run came in.
"I still can't believe it's real," Watkins said. "It's awesome. It's awesome."
The Vikings had to wait over a day to find out who they'd play in Friday's state championship game — or even if they'd be playing at all.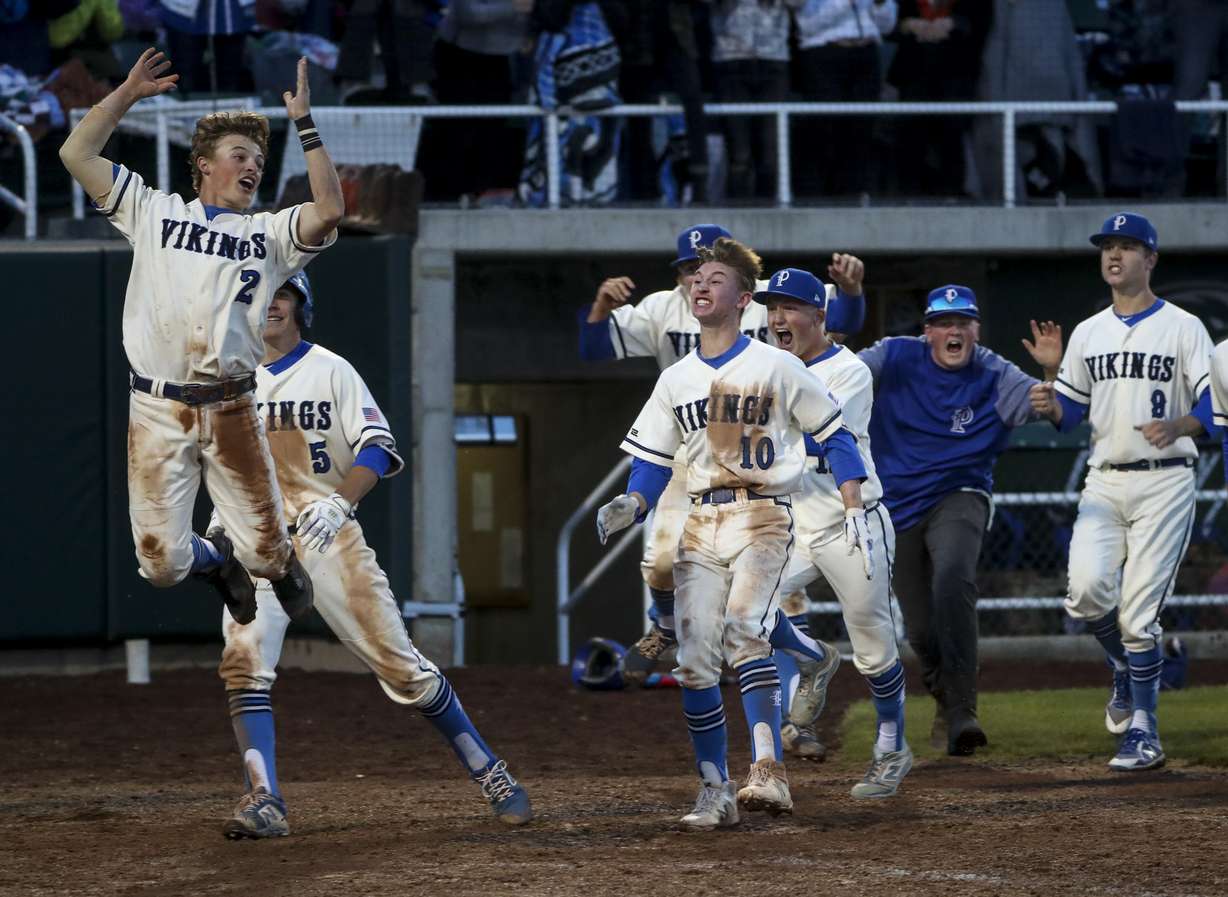 The Lone Peak-Syracuse one-loss bracket final began on Thursday afternoon; it didn't end until it was nearly Friday evening. There was a day-long postponement. Then a rain delay. And then another rain delay. It was a lot of waiting.
And PG almost was forced to wait another day to try and win the championship.
In the top of the fourth inning, a throwing error allowed Lone Peak's Ryder Christensen to circle the bases, giving Lone Peak a 4-3 lead. That lead held until PG had just three outs left — right until Watkins did what he always seems to do.
"He's the best player in the state," Henry said. "He's the best player in the state and everybody knows it. He might not get every award, but he's the best player in the state. He's got the highest batting average, he's the career leader in hits in the state of Utah, and you saw the plays he made a shortstop today."
Watkins was 4-for-5 on the day. His last hit leading off the bottom of the ninth — eventually leading to him scoring the winning run.
And him having such a memorable game was special for his coach. Henry and Watkins' father helped Pleasant Grove win its first state title in 1987.
But Watkins wasn't the only hero for the Vikings.
There was Hill, who drew the winning walk. There was pitcher Kreed Trane, who came in in relief and shut down Lone Peak. There was Jake Fryer, who blasted an RBI-double into deep-center to give PG its first lead of the game in the third. There was Kyler Lester, who singled in the Vikings' first run. And so many others.
"I'll tell you what, we are state champions and I love it," Henry said.
×
Most recent High School stories