Estimated read time: 4-5 minutes
This archived news story is available only for your personal, non-commercial use. Information in the story may be outdated or superseded by additional information. Reading or replaying the story in its archived form does not constitute a republication of the story.
SANDY — With one mighty punch in the final moments of Thursday's match, Weber High goalkeeper Charlie Wheelwright leaned down and made a point-blank reaction save to preserve a one-goal advantage.
The junior 'keeper stood up and let out a primal scream — and maybe a slightly less-primal, mild curse word (for which he apologized).
If it felt like Wheelwright was releasing years of pent-up frustration in one moment, that's probably because he was. It was the frustration of the Weber soccer team, a program that had one state title to its credit and more than a decade of falling short.
So Thursday night's state championship? Yeah, it was special.
Kolton Obray scored the only goal of the match midway through the second half, and Wheelwright made five saves to lead the Warriors to a 1-0 win over Copper Hills in the Class 6A state title match Thursday at Rio Tinto Stadium.
The Warriors (14-5) won their first state title since 2004 and doubled the number of soccer trophies in the case on campus for a community longing for reasons to celebrate.
"It's been 15 years and it's awesome," Wheelwright said. "Nobody believed in us but us. It feels so good to prove all the doubters wrong. It's awesome."
Weber jumped out on the front foot early but couldn't find the goal it desired. Still, Wheelwright saved a 26-yard free kick from Copper Hills (15-5) midway through the first half, and the Warriors took a scoreless draw into halftime.
With the way the defense was playing, they only needed one chance, too.
"This last stretch, he's been fantastic," Weber coach Jan Swift said. "He's been an anchor in the back for us and he's an awesome player."
Wheelwright was prepared for a battle, and he got it. But after the lone goal — and the murderous response from the Grizzlies — he was even more dialed-in.
"I knew my team was going to need me at some point," the junior netminder said, "so I had to be ready."
After searching for the lone go-ahead goal for what felt like hours, Luke Johnson made magic happen.
The junior midfielder danced around the right side of the penalty box in the 55th minute before sliding a cross into the center of the pitch. From there, all Obray had to do was put one glancing header on frame for his first goal of the season — and celebrate as he was mobbed by teammates at midfield while the sizeable student section made Rio Tinto ring with chants of his name.
"I just whipped it in hoping that someone was there," Johnson said. "Kolton connected, and it was amazing. I was shocked; I didn't even have words. We ran together, and we're brothers, so it was amazing."
The victory capped off a resounding week for the Warriors, whose state semifinal was scheduled Tuesday afternoon — at the same time as their high school graduation.
Parents were often split between the two events, and as Weber snapped more than a decade of futility with a 3-1 win over defending 6A champion Pleasant Grove, audible cheers and gasps could be heard at the school's ceremony.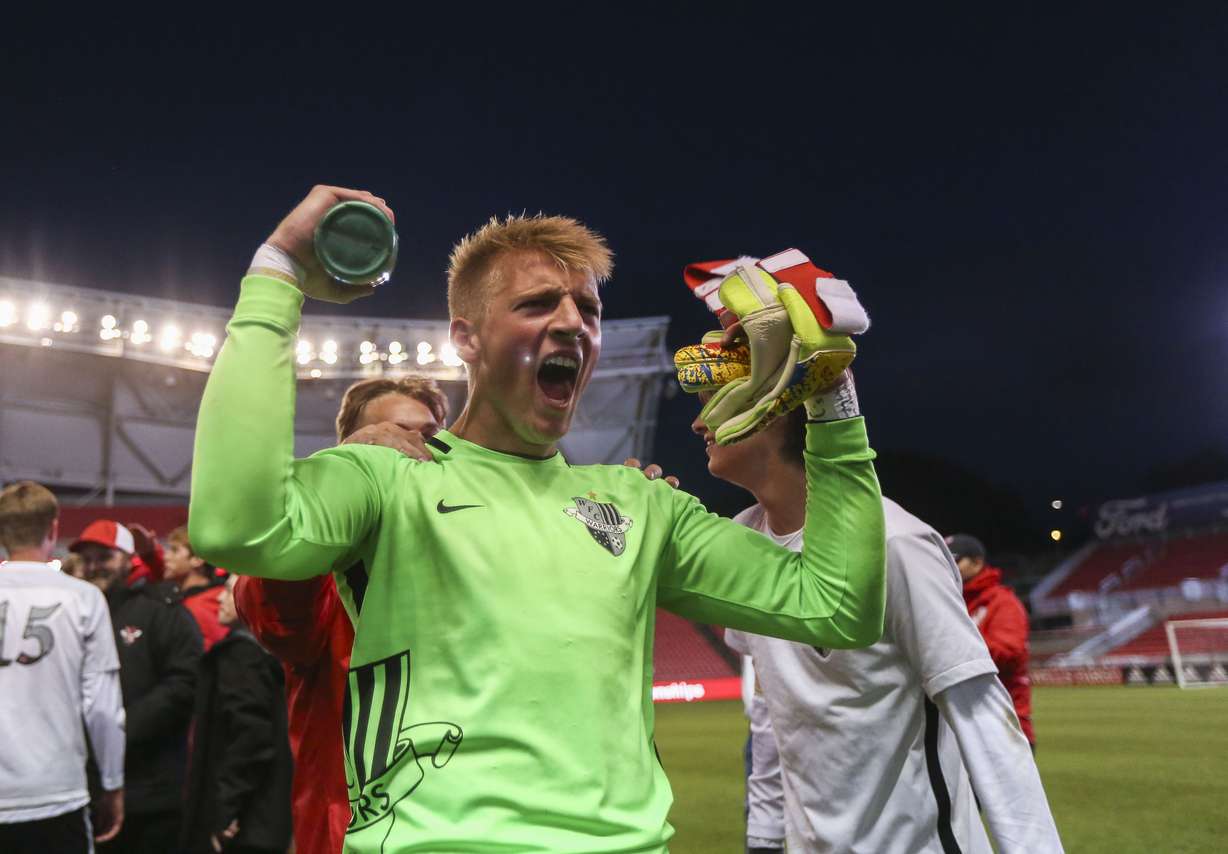 "The administration took care of the issues with the graduation in an excellent way," said Swift, who said Weber High honored the boys' soccer team with a special assembly, awarding the seniors their diplomas in the process. "It's been a hard battle this year, with ups and downs. But we finally slowed down and played good ball."
Thursday night was all about the Warriors — the third-place team in Region 1 that went just 8-4 in region play.
Many picked Weber to lose to Region 3 second-seed Herriman, but the Warriors overcame that result. Then, they topped Region 2 champion Cyprus 2-1 in the second round.
The 3-1 victory over the defending champs felt great Tuesday. But Weber's Warriors wanted more. So, too, did the community of Pleasant View, who traveled via caravan to Sandy for the decisive final.
"No one believed in us," Johnson said. "Everyone thought we wouldn't even win the first game. But this is our team; Weber's back.
"It's everybody. It's everyone who has played here, everyone who has lived in our community. It's all for them."
×
Photos
Related stories
Most recent High School stories