Estimated read time: 3-4 minutes
This archived news story is available only for your personal, non-commercial use. Information in the story may be outdated or superseded by additional information. Reading or replaying the story in its archived form does not constitute a republication of the story.
SANDY — The story of Thursday's 5A championship really began on Tuesday when Brighton star senior Josh Loomis was shown a yellow card late in the Bengals' 3-2 semifinal win for time wasting.
In the closing moments of that contest, Loomis picked up a ball for a throw-in, but after hearing some instructions from his coach, he dropped it. That was enough for the official to show him yellow — a decision that forced Loomis to have to miss the state title game.
"It was a travesty that he wasn't able to play today," Brighton coach Brett Rosen said. "We wanted this for him."
Loomis' last time playing in a game might have been filled with confusion, frustration, and anger. But his teammates made sure his final moment on a soccer pitch with this team was one full of jubilation.
With just seconds remaining in the first overtime period, senior Braxton Jones got his head on a corner and sent it in the back of the net, setting off a celebratory race around the Rio Tinto Stadium field that no Brighton player will soon forget.
Jones' golden goal gave the Bengals a 3-2 victory over Olympus for their first state title in 10 years.
"That was a great game," Rosen said. "Olympus is a tough team. They are strong, they're physical. We just had to work around it. We stay in the present. We got down a goal, we came back. We got down again, we come back."
Brighton had to come back twice in Thursday's rain-drenched final.
In the 12th minute, Olympus's Logan Davies made a deep run through the Bengal back line and passed it off to Din Huremovic for a quick blast into the net.
But the Bengals weren't down for long. And you could call their first goal poetic.
London Botehlo fired a shot from 30 yards out that hit the top of the crossbar and bounced into the net to tie the match. Botehlo was wearing No. 11 — the number usually reserved for Loomis. The Brighton players also wore black wristbands for Loomis.
Olympus broke the tie again in the second half. In the 44th minute, Heromovic tallied another goal pushing the Titans up 2-1.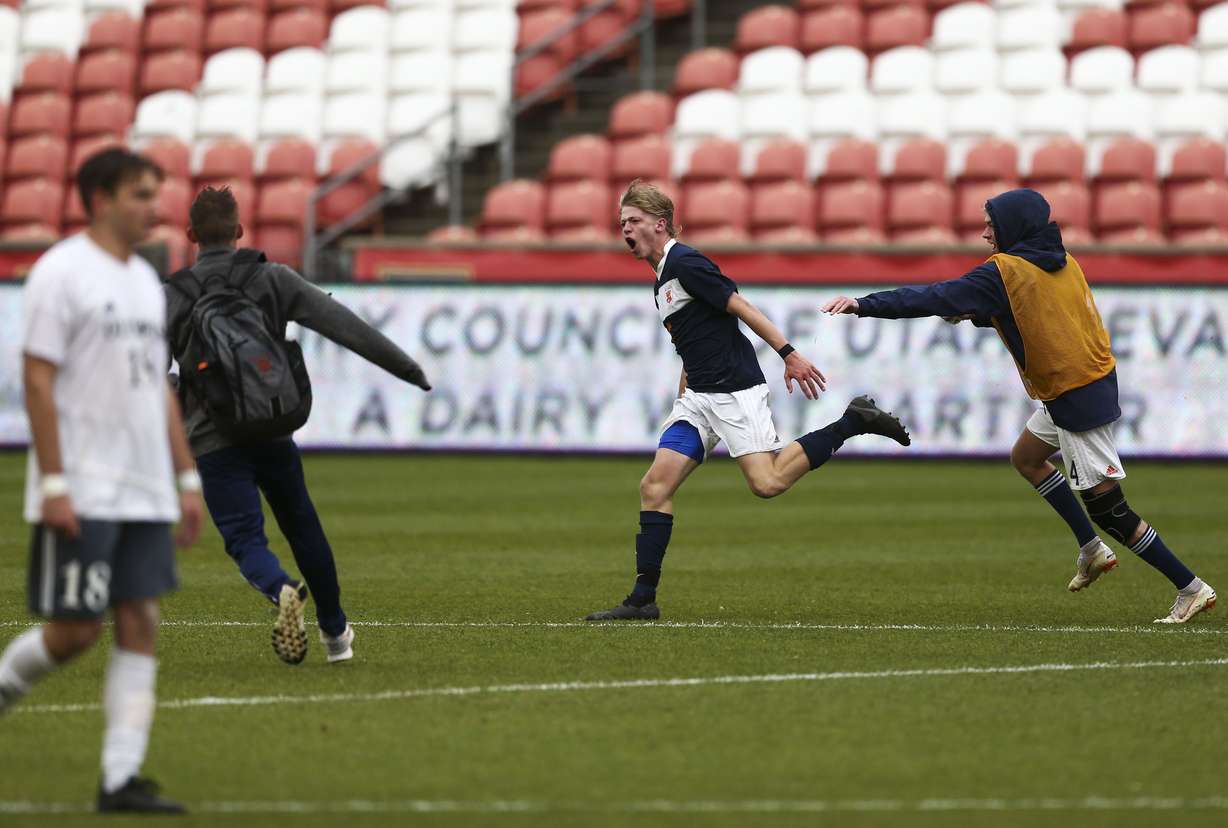 Brighton had plenty of chances for the equalizer. With 24 minutes remaining, the ball bounced around the Olympus box as the Bengals frantically tried to get a hard strike on it. Jordan Castleton lofted a high-arcing ball on a frame that Olympus keeper Ian Jones had to punch away. That led to two consecutive Brighton corners that the Titans were able to clear.
Jones attempt to clear another ball, though, gave the Bengals a lifeline.
The Olympus keeper went after a pass but collided with Alex Fankhauser. Following the collision, the official immediately pointed to the middle of the box signaling a penalty kick — a penalty kick that Brennan Neeley cooley drilled into the lower left corner of the net to tie the game.
"We knew if we kept fighting to do what we do, we'd know we have a chance and we took advantage of that," Rosen said.
And specifically, Jones took advantage of it.
As the senior was walking up for the corner as the first overtime clock ticked down, Botehlo gave Jones some advice: just get your head on it. That's just what he did — and it delivered a Brighton championship.
"It's amazing," Jones said. "My senior year, wanted that ring, so happy we got it done."
Said Rosen: "Twenty years ago I played in this game as a player. I didn't think anything would be greater but watching these kids come together and come back and win today — this is amazing."
×
Most recent High School stories