Estimated read time: 3-4 minutes
This archived news story is available only for your personal, non-commercial use. Information in the story may be outdated or superseded by additional information. Reading or replaying the story in its archived form does not constitute a republication of the story.
MANTI — The Rat Fink Reunion in Manti is hard to describe to people in Utah. It's probably more about a vibe than the list of things it offers. It takes place on the first Saturday in June and the two days before. This year, the 17th annual event will be Thursday, May 30 to June 1.
It's called a reunion because it brings together those who knew Rat Fink-creator, pinstriper, custom car builder, and the first guy to print something on a T-shirt, changing the image of plain white shirts from underwear to personal billboards. That guy was Ed Roth, who built most of his fame in Southern California before settling in Manti. He died in 2001, and shortly thereafter, the reunion started as a way to honor his work and carry it on.
The list of free activities includes the Rat Fink Museum, tours of the Roth home, pinstriping demos, a cruise, a car show, guest speakers, and watching artists work.
This year's special events include an unveiling of an Ed Roth statue from an artist in Sacramento, California, a Rat Fink barbecue from a metal artist in the Netherlands, and a tea party hosted by an 8-year-old. Guest speakers include the Corvette Museum historical writing coordinator and a Cartoon Network and Disney storyboard artist.
For a few bucks, you can get a banana split every evening, fundraiser dinners, a spot in the 5K with a T-shirt and hand-painted awards, and a piece of automotive or other counter-culture art to take home. You can also bring your own items and cars to get pinstriped. In a gathering like this, there are dozens of artists and styles to choose from.
Making Rat Fink look bigger outside of Utah than in, last year people came from all over the U.S. and 20 countries, according to Roth's son Cody Braithwaite, who helps organize the event. He said two different Rat Fink-fan couples from a town in Denmark met at the reunion for the first time.
Rat Fink artist Shane Syx said he has driven through two tornadoes and three hailstorms throughout the years to make the trek from his home in Ohio. Non-Utah license plates are plentiful in front of the Roth home during the event, but Braithwaite said it's not a case of "Hey Utah, here we are," as Utahns make a decent showing, too.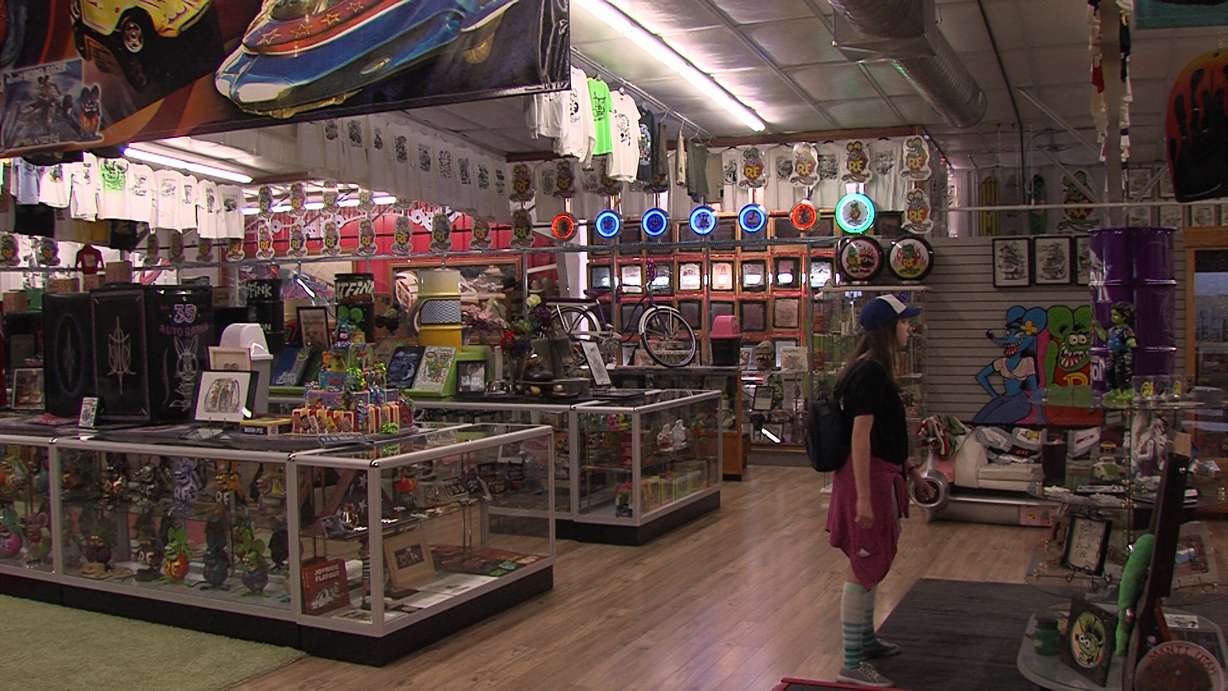 Friends of Saratoga Springs pinstriper Scotty George convinced him to go in 2014, and he's been coming ever since. He sells his art and striping services at the reunion and appreciates the mix of newer artists like himself and the veterans who learned their craft with and from Ed Roth himself.
The reunion "is absolutely hard to describe" Braithwaite said, adding Roth inspired millions to do whatever they're good at. Braithwaite said Roth believed everyone is born with a talent and needs to use it. Those talents may be something completely out of the automotive world, but Roth's sometimes irreverent style (Rat Fink was a counter to cutesy Mickey Mouse) shows them it doesn't matter what others may think. His followers continue his ideology.
The vibe there is what you get when combine airbrushing, sketching, painting, pinstriping, hot rods, and banana splits with a spirit of cooperation and family among artists and fans. George said, "If you like the artwork of cars, the artwork that goes on cars, or if you just like the art itself of building custom cars, Ed had an influence on all of those things and you will find all of them at the Rat Fink Reunion."
If you'd like to check it out and come up with your own description, head to Manti between May 30 and June 1. You can get details at http://www.ratfink.com/rat-fink-reunion.phpBrian Champagne has reported on cars for more than nine years. He holds a master's degree in communications from the University of the Pacific and teaches at Utah State University.
×
Photos
Most recent Utah stories