Estimated read time: 2-3 minutes
This archived news story is available only for your personal, non-commercial use. Information in the story may be outdated or superseded by additional information. Reading or replaying the story in its archived form does not constitute a republication of the story.
PROVO — BYU baseball made history this season with a pitching staff that paved way to the Cougars' first outright conference title since 1989.
But give the hitters a little credit, too.
BYU slugger Brock Hale was named the West Coast Conference player of the year, as announced by the conference Tuesday, becoming the first Cougar to receive such an honor since BYU joined the league in 2011.
In addition, BYU coach Mike Littlewood was named WCC coach of the year, and sophomore infielder Jackson Cluff was named to the all-WCC first team.
Hale batted a team-high .346 during league play, with eight doubles, seven home runs and 28 RBI for the Cougars. He finished the season with a team-high 11 home runs in his senior season at BYU.
Littlewood credited Hale, along with the other seniors, for helping to turn around the team's culture and making remaking the Cougars into a championship contender after last season's disappointment.
"Noah Hill. Brock Hale. Brian Hsu. Keaton Kringlen. That's been the key to our success; it's nothing the staff has done," Littlewood said. "It's been the upper classmen — including Jackson Cluff, a sophomore — who has taken this team by the reigns and led them."
Picked to finish sixth in the league in the preseason, Littlewood led the Cougars to a historic season, capturing their first outright regular-season WCC title since joining the league in 2011 and first outright title since 1989. Behind the seventh-year head coach, BYU jumped into the Top 25 on three occasions, including their current mark as the No. 24-ranked team by Baseball America.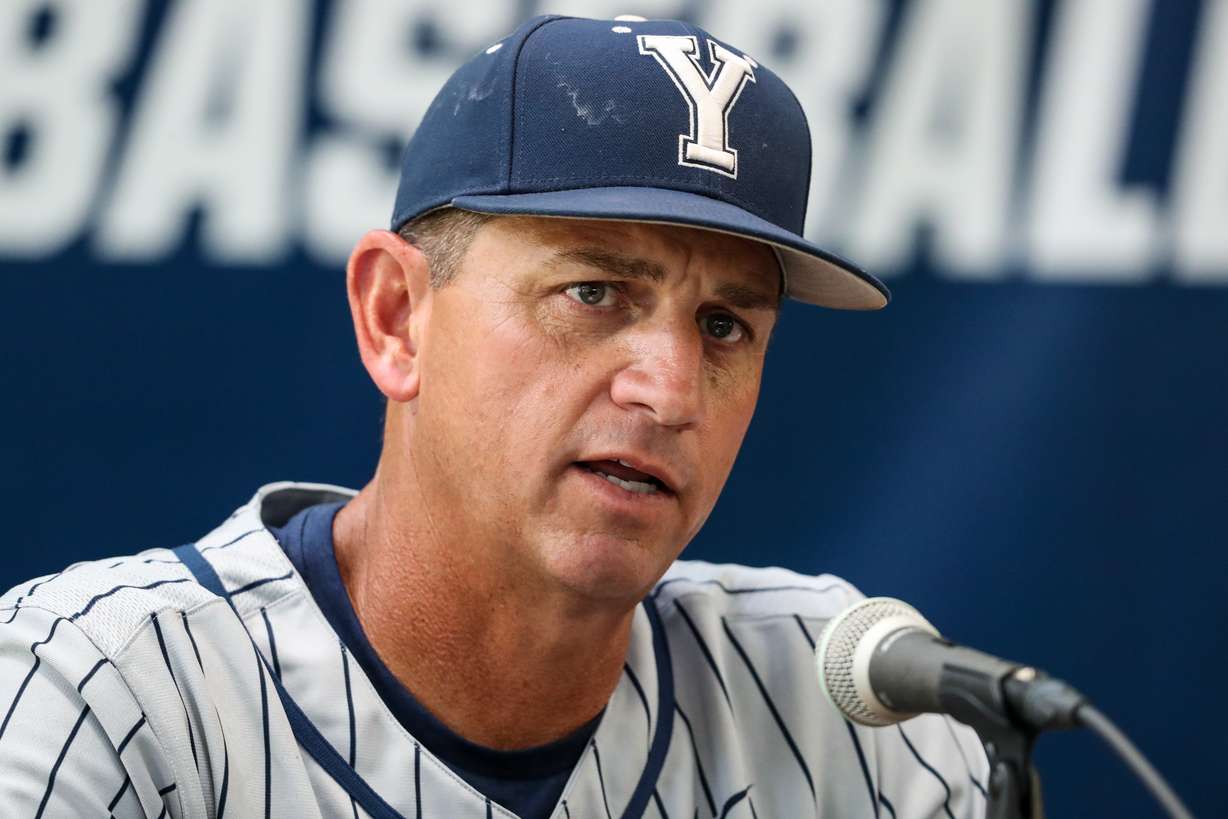 Littlewood has the Cougars on track for their second NCAA Regional appearance in the past three seasons, a strong rebound from last year's 22-28 team that went just 11-16 in conference play.
"If you're comparing to last year, which people like to do, selflessness has been the bright spot (of the 2019 team)," Littlewood said Tuesday when speaking with a handful of reporters. "Wanting to come out on the field every day, and try to approach your craft. You need to be willing to improve your craft, without someone telling you every time. This team does that."
Loyola Marymount's Cody Paiva, who will likely face the Cougars in Thursday's WCC Tournament opener, was named conference pitcher of the year after leading the league with a 3.19 ERA, allowing just 10 earned runs and a .218 opposing batting average.
Lions teammate Nick Sogard was named WCC defensive player of the year, and Saint Mary's pitcher Tyler Thornton took home freshman of the year honors.
BYU outfielder/relief pitcher Mitch McIntyre and starting pitcher Easton Walker also took home all-WCC second-team honors.
West Coast Conference baseball awards
| Name | School | Pos | Year | Honor |
| --- | --- | --- | --- | --- |
| Brock Hale | BYU | OF | Sr. | Player of the Year |
| Codie Paiva | LMU | P | Sr | Pitcher of the Year |
| Tyler Thornton | SMC | P | Fr. | Freshman of the Year |
| Nick Sogard | LMU | SS | Jr. | Defensive Player of the Year |
All-WCC First Team
| Name | Yr. | Pos. | School |
| --- | --- | --- | --- |
| Jon Allen | Sr. | OF | San Francisco |
| Chris Clements | Sr. | RHP | Portland |
| Jackson Cluff | So. | IF | BYU |
| James Free | Jr. | C | Pacific |
| Brock Hale | Sr. | OF | BYU |
| Alek Jacob | So. | RHP | Gonzaga |
| Troy Johnston | Jr. | OF | Gonzaga |
| Codie Paiva | Sr. | RHP | LMU |
| Ripken Reyes | Gr. | IF | San Diego |
| Nick Sogard | Jr. | IF | LMU |
| Tyler Thornton | Fr. | RHP | Saint Mary's |
| Joe Vranesh | Jr. | OF | Saint Mary's |
| Ken Waldichuk | Jr. | LHP | Saint Mary's |
×
Related stories
Most recent BYU Cougars stories