Estimated read time: 4-5 minutes
This archived news story is available only for your personal, non-commercial use. Information in the story may be outdated or superseded by additional information. Reading or replaying the story in its archived form does not constitute a republication of the story.
SPANISH FORK — Things couldn't have gone much worse for Tooele's softball team in its Class 4A championship opener Saturday afternoon.
The Buffaloes were clinging to a 2-1 lead going into the top of the sixth inning when Spanish Fork — fresh off an 8-6 extra-inning win over Bear River on the same day — came back.
It wasn't just that the Dons scored four runs in the frame. It was the way they did: one hit, four errors by Tooele infielders.
A missed throw here. A muffed catch there. A passed ball or a wild pitch.
And that was how Tooele's trip to Utah County to try to win its first state title since 2010 turned into a two-game affair.
So how did the Buffaloes shrug off that bad frame and rebound for a shot at a championship?
They reached into their bag of tricks to fuh-get-about-it.
"We have a little amnesia spray," senior second baseman Hope Weight said. "So we just sprayed ourselves and forgot about it. After that, we got back up, did our job, and that's it."
Maybe the Buffs should bottle up that spray and sell it.
Natalee Bevan had a double, a stolen base and a run scored to pace a two-run second inning, and Tooele never trailed in the second game en route to a 3-1 win over Spanish Fork to clinch the 4A state title at Spanish Fork Complex.
Attlyn Johnston allowed five hits with six strikeouts in the circle for Tooele (27-3), and Brylerly Avina had a double and an RBI to aide the Buffs.
And about that spray?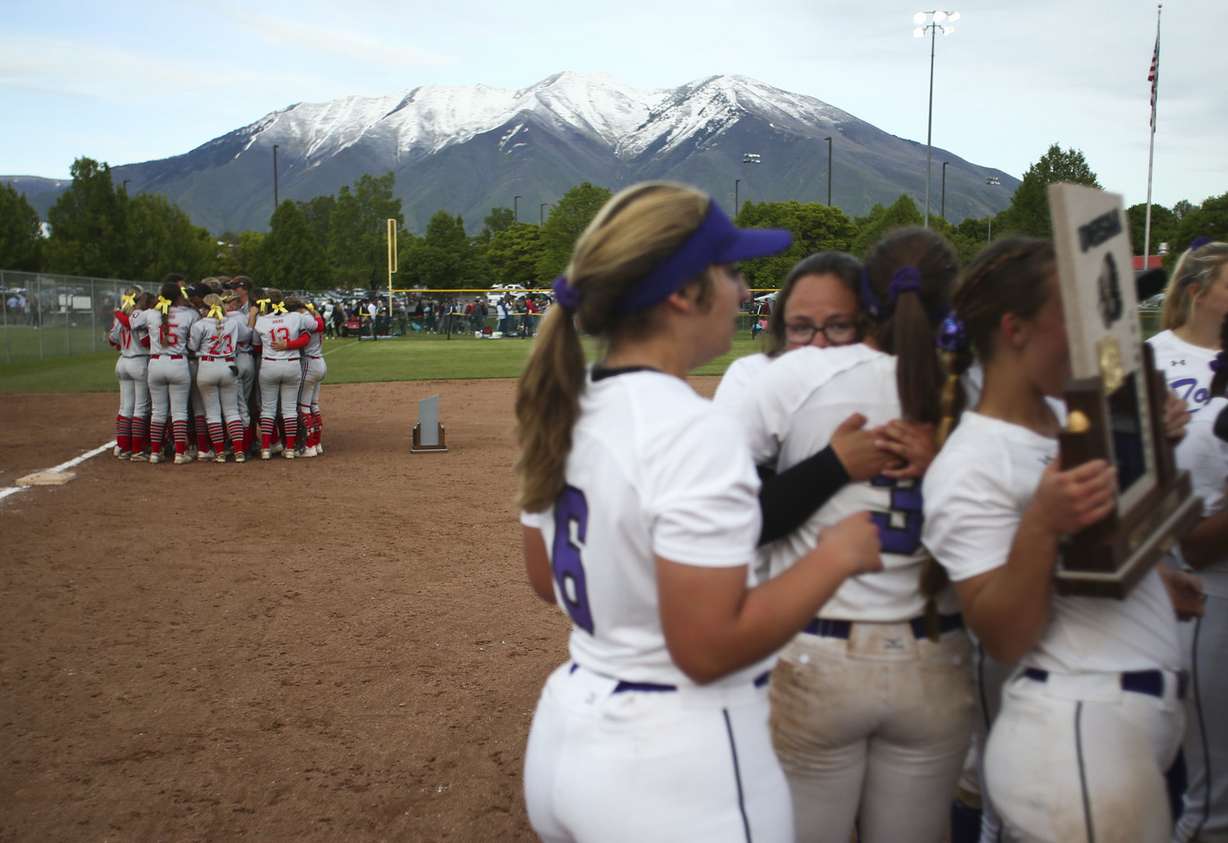 OK, maybe it's not literal — there will be no marketing opportunities. The idea came from a book the team was reading as a group, with some prompting from head coach Marissa Lowry.
"We've been working so hard and doing the little things," Lowry explained. "But when things don't go your way, you need to have amnesia and just forget about it. Move on."
So shaking off the loss, the Buffs' defense went to work. Johnston struck out three of the first four batters she faced, and her infield backed her up with diving catches for put-outs by Weight, Avina and outfielder Kate Hogan, to name a few. To paraphrase the 2009 era Real Salt Lake, it was time for the team to be the star.
"All of us always tell each other to be the star," Weight said. "I saw an opportunity, and I got it."
Maybe the Buffs (27-3) faced a surprisingly little amount of adversity in 2019 — a pitcher like Johnston who can routinely throw 14 strikeouts and a defense that pitched four-straight shutouts prior to Saturday doesn't lend to many comebacks. Saturday's game-one loss was Tooele's first defeat against a Class 4A opponent in 2019 (the other two came to 6A West and Idaho's Lake City), and they rode a 10-game winning streak into the championship.
And yet, when their backs were finally against the wall, staring at an elimination game on the biggest stage, a team with only two seniors and eight sophomores rose to the occasion.
"We have such a young team, but they are all leaders," Lowry said. "I'm proud of them and so grateful for all of them. I can't ask for anything else; they work hard every day, and they have a lot to show for it."
And winning through a little adversity isn't such a bad thing — especially against a team like Spanish Fork, owners of six softball titles in school history, including three-straight from 2016-2018.
Related Story
But for the two seniors, Weight and outfielder Amber Lujan, the final victory and celebratory dogpile over the Buffs' sophomore ace who has already committed to Dixie State was the cherry on top of a delicious high school career.
"I'm just glad I could leave high school knowing I could win a state championship," Weight said. "It's the best feeling ever. I'm so happy."
Spanish Fork pitcher Briley Young had five strikeouts for the Dons (28-8) and also went 1-for-3 with a run scored from the plate.
Championship Game 1: Spanish Fork 5, Tooele 2
Trinity Benson went 2-for-4 with a double and a run scored, and the Dons scored four runs on one hit and four errors in the sixth inning to force the winner-take-all championship game.
Winning pitcher Briley Young, who went the distance with nine strikeouts, went 1-for-2 with a run scored and a stolen base for Spanish Fork.
Loser's bracket final: Spanish Fork 8, Bear River 6
The Dons held on after Bear River rallied with two runs in the bottom of the seventh in the loser's bracket final earlier Saturday afternoon.
Oaklee Trapp tied the game with a two-run homer in the bottom of the seventh, 6-0. After two straight outs, including a controversial infield fly rule on Kodi Gibbs' popup with one out, the Dons' defense held before winning the game with two runs in the eighth.
×
Photos
Related stories
Most recent High School stories