Estimated read time: 4-5 minutes
This archived news story is available only for your personal, non-commercial use. Information in the story may be outdated or superseded by additional information. Reading or replaying the story in its archived form does not constitute a republication of the story.
Editor's note:This article is a part of a series reviewing Utah, U.S. and world history for KSL.com's Historic section.DRAPER — Stephen Nasser was a teenager who weighed just 72 pounds when Allied soldiers liberating Nazi concentration camps found his near-lifeless frame among 46 bodies in a cattle car.
He watched his brother die in his arms a month before the camp in Auschwitz, Poland, was freed in 1945, and he saw other family members brutally murdered during his time there.
Since then, he's found a way to carry his family's memory with him to America and share those stories through a pair of books. He has spoken to crowds hundreds of times, helping others understand his experience and remember the millions killed at the hands of the Nazis in the 1930s and 1940s.
Nasser shared his background and the lessons he believes the world can learn from his experiences during a presentation Thursday morning at the Utah National Guard auditorium in Draper. The event was hosted by the Utah National Guard's Sisters in Arms and Diversity councils.
Nasser was born in Hungary in 1931. He was taken by Nazis to a ghetto in 1943, and then to Auschwitz shortly after that. There, he witnessed his aunt and young cousin murdered in horrific fashion – too horrific to be described here. He and others worked daily and were fed little, and Nasser never saw his parents again.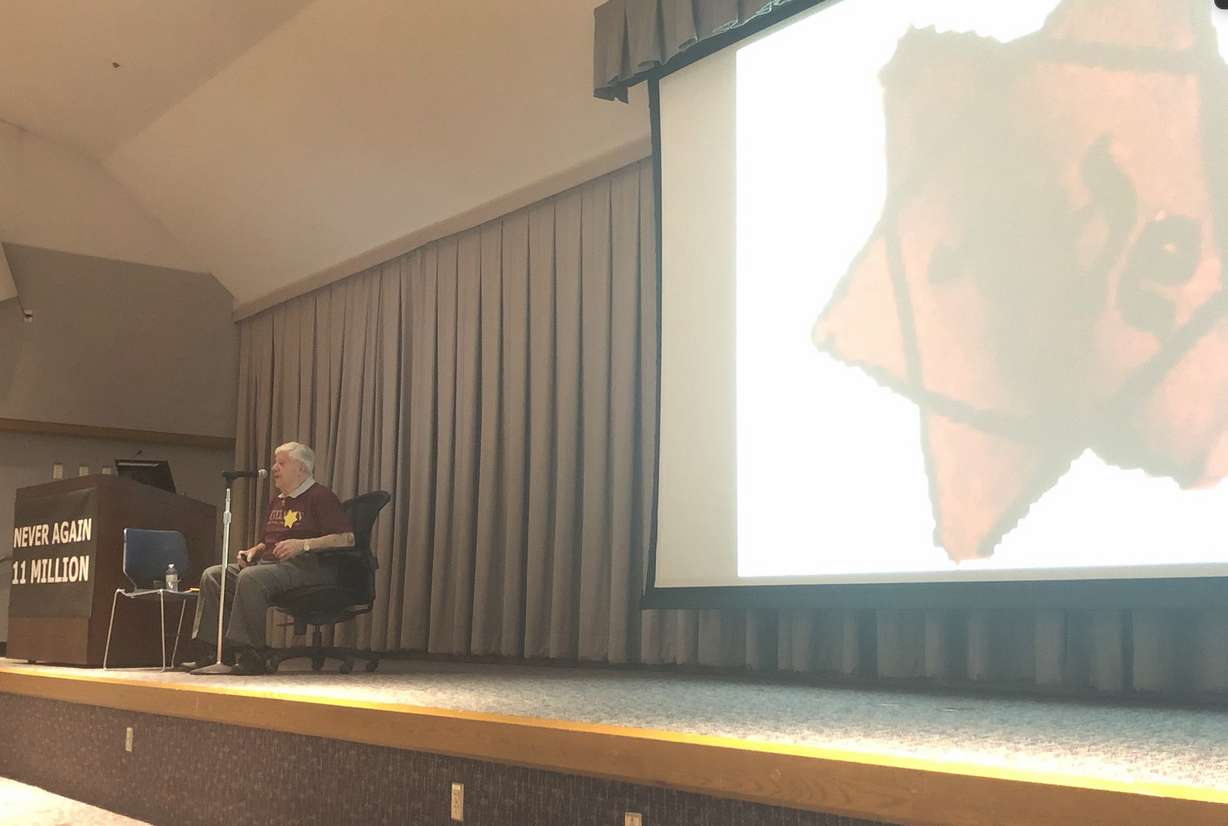 He used his artistic skills, carving a little figurine during his off time that he traded a guard for pencils. He used the pencils to draw and write his story in a journal he kept secretly from guards.
"I drew ovals or circles for face, lines for the body — awful drawing — and people were curious," Nasser recalled. He purposefully drew terribly so people wouldn't want to watch what he was doing. "Now what happened, when I'm sitting there and I had a few pages for drawing and I saw no other people (watching), on the next page, I wrote my diary. … if I saw anybody watching, I put my drawings (to the) front."
He also remembered the time when his brother, Andris, disappeared. That day, Andris was unable to move for work. Nasser later discovered Andris was taken to a special barracks for those too sick to work. He tried to help him get out of the camp, but Andris died in his arms. Broken, Nasser's faith kept him going.
As the Allied soldiers got closer to Auschwitz, Nazi guards tried to hide Nasser and all the other remaining prisoners. Nasser and others were placed in the cattle car, where he was later found nearly dead; his journal was destroyed when the Allied soldiers cleared the cattle car. However, he recreated the journal passages from memory in a hospital room after he regained the strength to write.
In 1948, Nasser left Europe for North America. He lived in Canada for 10 years and became a citizen there before he moved to the United States. He didn't publish his first book, "My Brother's Voice", until 2003. Nasser explained the delay was due to his unwillingness to share with his uncle Charles — who had avoided the Nazi camps when he was enlisted to fight in the war — what truly happened to his family. He waited until Charles died to publish the book.
Nasser's second book, "Journey To Freedom", was published in 2015 and covers his journey to North America.
Since his first book, Nasser has been especially vocal about his story and what he thinks can be learned from the Holocaust. During his presentation Thursday, he spoke out against hate. Among the points he made: People have no control over the country, race or religion they are born into; they have no choice in who their parents are, and nothing like this should divide people.
---
One thing that makes us all bound together: We are all born as human beings. The rest of it is man-made.
–Holocaust survivor Stephen Nasser
---
Nasser added that people should stand up against bullying, which he said has led to many needless deaths when victims take their own lives.
"We should stand very much against discrimination, and also very much against bullying," he said. "Bullying students or adults, in my opinion, it's one of the worst crimes we can create without punishment. … Even young bullies can be potential killers. That's a fact. Go on the computer, go to Google and see how many innocent students committed suicide because of being bullied."
Nasser concluded his presentation by having the audience stand, hold hands as one and vow to never forget what happened during the Holocaust, as well as other recent genocides like those in Sudan and Syria.
"One thing that makes us all bound together: We are all born as human beings. The rest of it is man-made … We should judge each other not by where you're born, not by your religion, not with your color; but you should be judged by what's in here," he said, pointing to his heart.
×
Most recent Utah stories