Estimated read time: 3-4 minutes
This archived news story is available only for your personal, non-commercial use. Information in the story may be outdated or superseded by additional information. Reading or replaying the story in its archived form does not constitute a republication of the story.
SALT LAKE CITY — The 60-year-old State Office Building at the north end of the Capitol complex is headed for demolition after legislative leaders voted Tuesday to buy the American Express campus in Taylorsville.
The $30 million purchase authorized by the Legislature's Executive Appropriations Committee is intended to free up parking at the Capitol, a significant problem for the public when the Legislature meets, by relocating some 700 state workers.
Money to pay for the credit card company's buildings will come from $110 million set aside during the 2019 Legislature to deal with the aging structure on Capitol Hill long seen as an eyesore that needed to be replaced.
"It's always been the final piece of completing the Capitol complex," Jim Russell, director of the state Division of Facilities Construction and Management, told the committee. "It's not a candidate for refurbishing."
That's because the building fails to meet current seismic standards, has no fire suppression system and cannot be reconfigured effectively because of how it was constructed, Russell said.
He said the last renovation of the building was completed more than 15 years ago.
But although past master plans called for replacing it with a smaller office building similar to the House and Senate buildings added to the grounds years ago, it's no longer clear that will happen.
Russell outlined a backup plan if there's no money for a new north building that calls for simply landscaping the site once the building is torn down at a yet-to-be-determined date.
Another presentation showcased what a new, four-story building could add to the complex, such as additional offices, meeting spaces and parking for the agencies that remain, as well as a new Utah Museum of Arts and Heritage for visitors.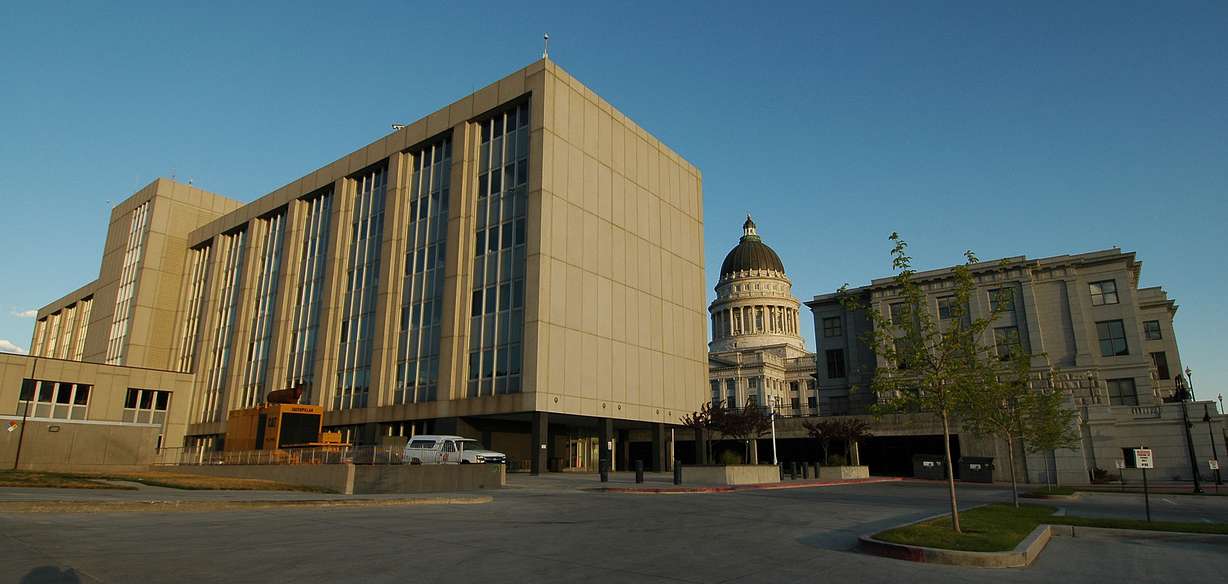 The committee agreed to spend a total of $56 million to buy and renovate the American Express buildings near the Utah Department of Transportation and other state offices, and on additional planning.
The schedule for the project calls for 400 state employees to move into the new building before the start of the 2020 Legislature next January followed by the rest of the workers in December 2020.
State agencies currently housed in the State Office Building include the Division of Facilities Construction and Management, Department of Administrative Services and Department of Human Resource Management.
The state Department of Agriculture and Food is scheduled to move into the building in August 2020. There's room for up to 1,500 state employees in the new building, meaning some agencies now leasing office space could move there, too.
Still to be funded are plans to use an adjacent data center to store the state's art and historical artifacts collection, now housed in a leaky basement in the Rio Grande Depot.
The nearly 400,000 square feet of office space on 31 acres requires an overall investment of $107 million to ready it for 1,500 employees, Russell said, compared to $330.5 million for new construction.
He said he did not expect to move so quickly on the project, but had struck a deal with American Express, which is constructing a new building and will pay $200,000 a month in rent until it's finished.
"This is one sweet deal," said Senate Minority Leader Karen Mayne, D-West Valley City. She said the new building that's located in her Senate district is "around fast food and gas stations, it's just so convenient for employees."
Mayne said there are health concerns for workers at the Capitol office building.
"We've got to get employees out of these sick buildings," she said, while their new workplace, located at 4315 S. 2700 West, is "just made for us. I think the gods were looking out for us on this building."
There was no debate before the purchase was approved unanimously.
×
Photos
Most recent Politics stories