Estimated read time: 4-5 minutes
This archived news story is available only for your personal, non-commercial use. Information in the story may be outdated or superseded by additional information. Reading or replaying the story in its archived form does not constitute a republication of the story.
OREM — Utah Valley's basketball programs are in transition.
But on the women's side, the new coach has a familiar ring.
Just a few weeks after former Lakers assistant Mark Madsen was named men's basketball coach at UVU, the university announced BYU women's basketball assistant coach Dan Nielson as the Wolverines' next women's coach.
Nielson returns to Utah Valley after working for the university for four years from 2006-09.
"I wanted to come here because it is UVU," Nielson said. "I've seen the potential for growth, and for the opportunity to win.
"For me, and my family, it is a perfect fit — and I couldn't pass it up."
Nielson replaces Cathy Nixon, the former BYU All-American who stepped down at the end of the season to take a role as a senior associate administrator in the school's athletic department. In a unique turn of events, Nielson spent four seasons on Nixon's staff at UVU before joining BYU coach Jeff Judkins at his alma mater in 2013.
Though Nielson replaces his one-time mentor as coach, the two will connect regularly as he transitions to his first full-time head coaching opportunity.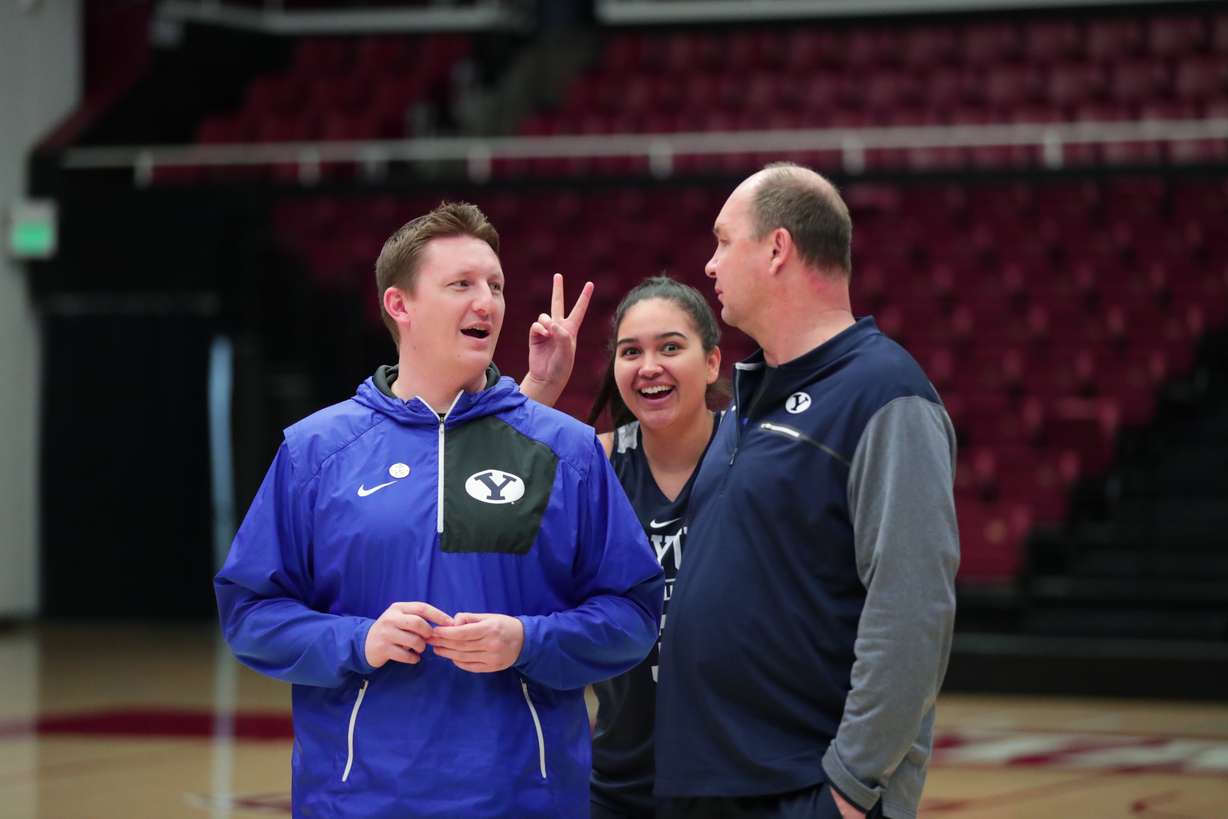 "I briefly talked with Cathy when the changes were made," Nielson said. "As always, she was supportive and told me to go for the job. I'm excited that she's still a part of the department."
A native of Round Rock, Texas, Nielson was a two-time all-district basketball player in high school before earning a bachelors degree in American studies from BYU in 2006. Prior to his time as a student at BYU, he also served a two-year mission for The Church of Jesus Christ of Latter-day Saints in Caracas, Venezuela.
During his time at BYU, Nielson was a practice player for Judkins, for whom he got his start as a video coordinator and director of basketball operations prior to launching his coaching career.
"There's no question I'm going to miss Dan; he did a lot for me and for this program and my players," Judkins said. "But I always knew that one of his dreams was to be a head coach. There aren't a lot of jobs that Dan would run for, but he's always wanted to stay here if he had that opportunity.
"I'm excited for him. I know all the hard work he's done to get to this point. He'll be a great coach. He knows the game, not just with me, but in his time with Cathy. He's had different responsibilities that will make him a very well-rounded coach."
In his six most recent seasons, including the last two as associate head coach, Nielson helped the Cougars to a 139-57 overall record, with four NCAA Tournament appearances, a spot in Round of 32 last year, and a berth in the Sweet 16 in 2016. His primary responsibilities included compiling scouting reports and mentoring the Cougars' post players.
In that role, he mentored BYU players like Jennifer Hamson, Morgan Bailey, Kalani Purcell and current Cougar Sara Hamson. And while the Wolverines' cupboard won't be bare when he takes over — Utah Valley is the only team in the top six of the Western Athletic Conference that will not lose their top three scorers to graduation — Nielson plans to recruit similar players to win at the next level.
"I think the reason to come to UVU is the same reason I wanted to be here: The potential for growth to reach goals and opportunities quickly is there," Nielson said.
"You have to be willing to be a trailblazer, to do something that hasn't been done before. You have to have people who want to build something. Those are the people who we are looking for: people who want to do something that is not the norm."
Nielson and his wife Carly are the parents of four children, including three daughters who were born when he first worked at Utah Valley.
"Having three daughters has been instrumental in coaching women's basketball," Nielson said. "These daughters look up to the young women that I have been able to coach.
"The most valuable thing is to see my daughters have these role models as women, and to be able to be around them on a regular basis. I'm incredibly lucky to have that."
Perhaps most importantly, Nielson's new role likely won't discontinue the longstanding series between BYU and Utah Valley women's basketball. The Cougars and Wolverines are scheduled to play each other again in 2019-20, and Judkins doesn't see the series ending because of a coaching change.
"I think it's a good opportunity for us," Judkins said. "Will it be harder now? No question, with Dan coaching. I know him better, but I don't think any of it is going to change."
×
Photos
Related stories
Most recent Sports stories