Estimated read time: 4-5 minutes
This archived news story is available only for your personal, non-commercial use. Information in the story may be outdated or superseded by additional information. Reading or replaying the story in its archived form does not constitute a republication of the story.
PLAIN CITY, Weber County — As Utah celebrates the 150th anniversary of the Golden Spike — the completion of the first transcontinental railroad — one group is taking it far more seriously than the rest of us.
It's the folks who like to get together and celebrate the history of railroading in miniature. Like Trever Buckley, for example.
Behind his Plain City home, an enormous shed serves as temporary home for two big layouts of model railroads complete with tiny trackside buildings, numerous scale-model locomotives and a variety of miniature boxcars, cabooses, flatcars and Pullman passenger coaches.
It's the Iron Horse, tamed to a tiny scale, but on a huge layout.
"I like building things," Buckley said, "and this was something I could build and take down and put right back up."
The sprawling setup is owned mostly by members of the Golden Spike American Flyer Train Club, who regularly break it all down and take it to model railroad shows.
A recent club visitor proudly showed off one of his mini-locomotives as it headed down the tracks belching simulated coal-smoke from its stacks.
"This is the Union Pacific H-7 steam locomotive," said John Lee, of Bluffdale, about an engine whose heyday has come and gone. "The 1920s to the mid-1940s," Lee said.
He ought to know. The truth is, these model railroad buffs not only breathe a lot of fake smoke; they live and breathe history.
For instance, Lee pointed to a rust-colored caboose as it whizzed by, noting that its full-size counterpart existed in the 1940s.
"Prior to that," Lee said, "Union Pacific had the canary-yellow cabooses."
Lee stakes a claim to knowing more about the H-7 locomotive than, well, almost anybody.
"It's something that nobody knows anything about," Lee said. "I've talked to a lot of senior U.P. people and they never heard of the H-7."
Related story:
Lee even immerses himself in the fine print of data and diagrams. Holding up one end of a detailed H-7 blueprint, he said, "I'd love to have been a railroad engineer, drive one of those things."
Holding up the other end, club member Alva Rawdon emphasized, "My grandfather was a railroad engineer."
Sometimes model railroaders get a little grief from their friends. To some people, it just seems like a bunch of grownups playing with toys. Well, they could be described as toy trains, but they are definitely very expensive toys.
"Locomotives can run from about $100 to about $3,000," said club president Len Hall, "and probably even higher in some cases."
Lee owns more than 800 pieces, including 60 locomotives, a collection inherited from his dad.
"And I've been adding to it ever since," Lee said.
Let's face it, these are not your great-grandfather's toy trains. This is history, reproduced in state-of-the-art simulation.
As Buckley navigated a locomotive around the track pulling several freight and passenger cars, a fake emergency erupted under one railcar. Simulated smoke began pouring out of the undercarriage and a reddish light began to glow just above the wheel assembly.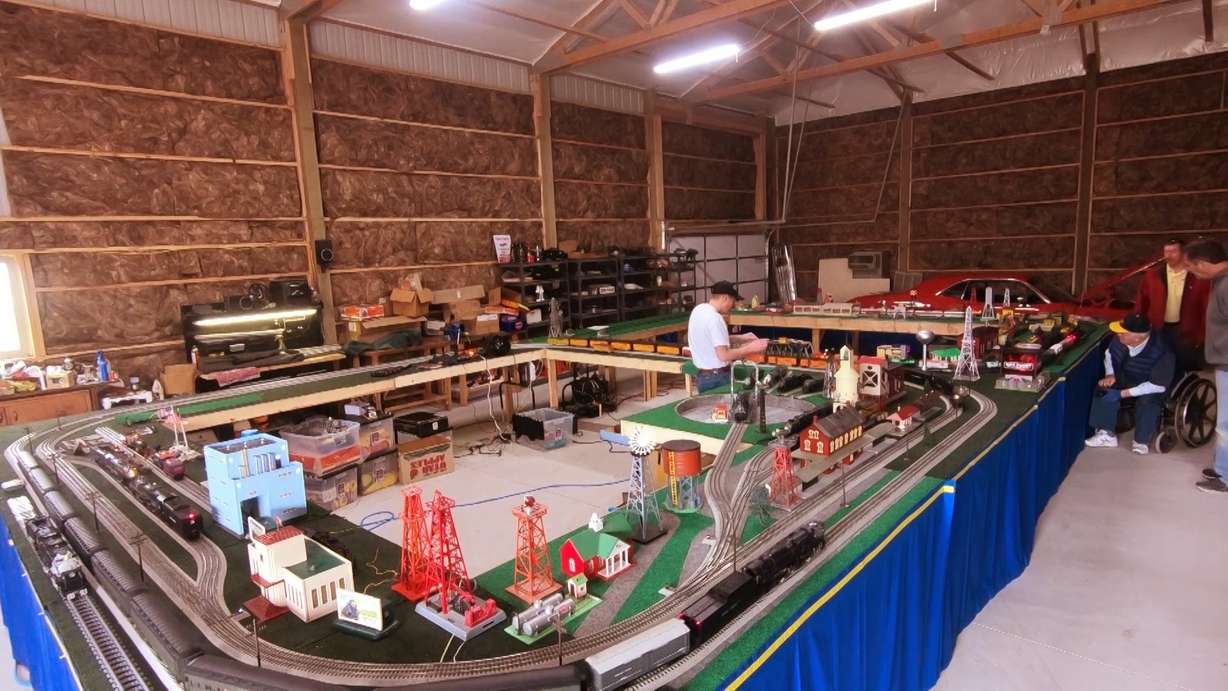 "It's a wheel-bearing fire is what's happening," Buckley explained. It was just one of the simulations he could demonstrate using a new generation of toy trains.
There are disembodied voices of dispatchers and station masters yelling iconic pronouncements such as "ready to roll" and "Philadelphia, Chicago and all points west, all aboard!"
A distinct mooing sound is sometimes heard emanating from miniature cattle cars.
A remote control for the electric train set comes equipped with all the bells and whistles. Literally.
"The whistle, just pull down on it," Buckley demonstrated, pulling down a sliding-switch on the remote control. "The bell, you push it up and then you can hear the bell on the locomotive."
It's all in the interest of historic authenticity, a driving goal of the model railroaders. More than most people, they appreciate the accomplishment that climaxed 150 years ago at Promontory.
"If you think about it," Rawdon said, "without the idea that railroads made our country great, we wouldn't be anywhere."
For railroad buffs, the Golden Spike was just the beginning of a proud history of railroading across the West, a story they are reviving on a tiny scale.
"Well, to me, it's history that was lost," Lee said as he sent his H-7 racing one more time around the track.
×
Photos
Related stories
Most recent News stories