This archived news story is available only for your personal, non-commercial use. Information in the story may be outdated or superseded by additional information. Reading or replaying the story in its archived form does not constitute a republication of the story.
NOTE: This article is part one of two articles on Utah universities entrepreneurship programs. Part 2 will discuss Southern Utah's schools.SALT LAKE CITY — Utah would like to be known as more than "that place with the Sundance Film Festival," and universities have been helping move it toward that goal.
Utah, and in particular Utah County, has been migrating toward its "Silicon Slopes" identity for years now, quickly climbing into a position as one of the United States' top locations for new businesses and the tech industry. In 2016 Utah was named the top state for business, and today it is ranked sixth in the nation for venture capital dollars. The state itself isn't the only motor driving this blossom of business diversity, though.
Utah universities have boasted award-winning entrepreneurship programs for years, but as Silicon Slopes grows, so do entrepreneurship programs. Different schools offer different means of developing student start-up ideas, from BYU's regimented competition series and programs (which recently churned out Utah Entrepreneur Challenge victors Thrive Smart Systems, which won $40,000) to the University of Utah's seed-planting company launch program.
Here are Northern Utah's top university-level entrepreneurship programs:
Weber State University
Weber State University seeks to develop businesses and help entrepreneurs not only at WSU, but also in the community. "We're here to train and help create successful new ventures that allow people to follow their passions," said Brandon Stoddard, the director of Weber State University's Hall Global Entrepreneurship Center.
Classes: Weber offers a minor in entrepreneurship to help students apply skills they obtain in other majors to a business-related goal. "We want our students to go and build their skill set in an area they are passionate about," Stoddard told KSL.com. "And then with the entrepreneurship minor we teach them how to take that skill they acquire in their major and teach them how to use that as an entrepreneur."
Students in the minor are required first to take an introduction to business course. Once that has been completed, Stoddard said they take Intro to Entrepreneurship, which teaches them how to come up with a business idea, understand the market, and validate that idea.
"Then they take an entrepreneur finance class to understand the basics of what they need to do to start a business and how to acquire that funding," Stoddard said.
The final class in the course is called "Starting a Business" and is intended to help the student actually start a business through mentoring and milestones. "Hopefully by the time they finish the minor they have a legit business," Stoddard concluded. "And hopefully by the time they graduate they are self-employed."
Mentoring opportunities: WSU offers mentoring opportunities to students competing in the university's various competitions as well as generally for students who need help with their business, according to Stoddard.
The Wildcat Seed Fund, a funding opportunity at the school, offers the most mentoring as students work directly with mentors in order to bring their business to a level where they can obtain their next funding grant.
"We're looking at really revamping our mentoring opportunities," Stoddard added. "So not only students in the minor but also all students involved with entrepreneurship have a team or at least one mentor who has some guidance for how to launch their business."
Internships: Entrepreneurship internships can be found via Weber's Goddard School Internships program.
Funding opportunities: "We started our Wildcat Seed Fund a year ago for our students, which is an early-stage seed fund that is milestone-based," Stoddard said. "Students come in and apply for it and if we feel they have the potential we'll get a mentor to help them make their pitch and get ready for the next step for their business. They can then come back over and over for more money and more mentoring."
WSU's biggest funding opportunity aside from the seed fund is their international business pitch competition, 'Outdoor Weber'. Students around the world can apply to the contest as long as their business is related to outdoor recreation.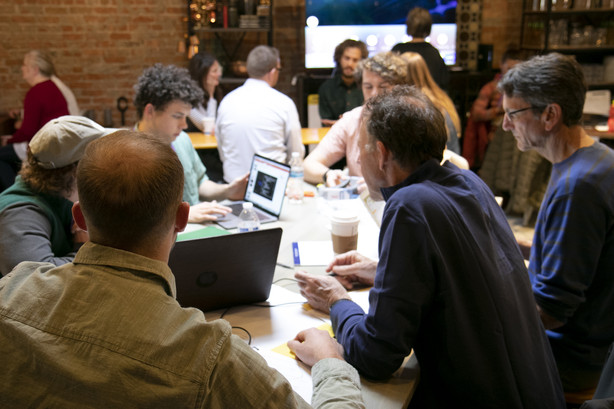 "They go through a round of public voting on videos the startups have made," Stoddard said. "We had 50 judges from across the country help us make the decision. The top 10 came to Ogden and worked with mentors for a couple of days. We then announced the winners, who took home around $75,000 in cash in addition to other prizes."
WSU also participates in the statewide Opportunity Quest competition and they provide a pitching event for high school students, according to Stoddard.
Utah Valley University
"It's been phenomenal to be in this valley where entrepreneurship is fully embraced," Mark Seastrand, executive director of UVU's entrepreneurship program, told KSL.com. "There's so many opportunities for these students to come up with fantastic ideas, go out and be successful."
Seastrand directs UVU's Entrepreneurial Institute, which is a nonacademic program seeking to provide advice, resources and opportunities to help students become successful entrepreneurs.
Classes: The academic entrepreneurship program consists of two potential tracts, according to Seastrand. Students can get a major in entrepreneurship, or they can get a minor or certificate to complement their main degree.
"For the degrees, we have classes in creativity, entrepreneurial thinking, small business development, early-stage financing, technology-based opportunities, identification, strategic innovation, etc…" Seastrand said. "There are a number of classes designed around learning how to innovate, how to problem solve and do research and then be able to launch, grow and develop your business."
Mentoring opportunities: Unlike other Utah entrepreneurship programs, UVU prefers to keep mentoring opportunities available to students only on a strategic basis.
"First, we go through a filtering process where we try to help the students think through various parts of building a business, kind of like putting a puzzle together," Seastrand explained. "We think it's important for students to have a pretty good idea what they're talking about, and then we go into trying to connect them with mentors, industry experts or with legal resources."
Internships: "Internships are one of the fun things the school has been able to work on," Seastrand explained. "Traditionally, most internships are set up so you go work for somebody and you learn how to do a trade. We offer internship programs of three to six credit hours where students can earn those credits by setting up, working and building their own business."
Internships can also be located through the different departments around campus, depending on the student's major.
Funding opportunities: UVU has developed a seed grant program which doesn't amount to a ton of money, but it is enough to motivate and fuel student startups, according to Seastrand.
"One of our programs is called the Zinstarter Fund, which was set up by Ray Zin, who was a longtime serving CEO in Silicon Valley over Merkel," Seastrand said. "(They) qualify for the fund by building a business pitch, including some key components."
Students will then present their pitches and winners will be awarded funding by a panel of student judges. They also have the Ross Seed Fund, which functions similarly but with a wider range of funding options.
University of Utah
The University of Utah has a major and minor entrepreneurship program as well as the Lassonde Entrepreneur Institute, which was set up to act as an incubator for student-run startups. Troy D'Ambrosio, assistant dean and executive director of the Lassonde Entrepreneur Institute, said the nonacademic program seeks to facilitate an environment where students can grow and run their own businesses.
Classes: "We have a variety of classes for students to take. We have everything from a major in entrepreneurship to a minor for both business and nonbusiness majors," D'Ambrosio said. "There are classes on finance, marketing, strategy, team building, leadership, etc…"
Lassonde will also soon be offering a certificate program called 'Lassonde + X' (with 'X' referring to the student's major). The three-course program is intended to be a fun way to throw freshmen into the fire and get them thinking about starting a business.
Mentoring opportunities: Mentoring opportunities come in both a classroom setting and otherwise. "We have a program called 'Hours with Experts,' which is a program in which students can come and have a one-hour consultation with an attorney, design thinking professional, someone who does search engine optimization, and more," D'Ambrosio said. "They can schedule meetings with experts and can pick their brains."
Lassonde also hosts a series of workshops seeking to develop specific skills an entrepreneur might need, whether that be how to make a Kickstarter video, use a 3D printer or create branding for an idea.
Internships: Internships aren't a big focus of what Lassonde does, as the business school and other departments set up internships for students.
"We do have some of our own internal internships where we fund some students and give them a scholarship to actually work in another student's startup," D'Ambrosio added. "We fund them so they can work and help a student who does have a business who might need some help in marketing, development or prototyping."
Funding opportunities: "We have two funding opportunities that are helping students create momentum," D'Ambrosio said. "First is our 'Get Seeded' program, for which we give away about $10,000/month in small milestone grants to students. Any student on campus can apply and say they need $100, $500, $1,000 or more to get their idea moving."
The other option is Bench to Bedside, which focuses on health care-related technology and medical devices. Students apply for a prototyping grant to create some form of medical device.
"Sometimes it just takes a little bit of money to get some momentum going," D'Ambrosio added.
Lastly, Lassonde offers office and desk space, professional assistance and interns to startups through the 'Company Launch' program, which runs year-round.
Brigham Young University
Brigham Young University has a top 10 graduate and undergraduate entrepreneurship program, manifested in the Rollins Center for Entrepreneurship and Technology. It seeks to facilitate ethical leadership and innovation.
Classes: BYU provides an entrepreneurship major and minor, as well as a certificate-like program through the Rollins Scholars where they take three or four core classes. Scott Petersen, the director of the Rollins Center for Entrepreneurship and Technology, said that though they provide academic programs the real highlight of entrepreneurship at BYU is their nonacademic program.
Mentoring opportunities: "We have a big mentoring program," Petersen told KSL.com. He explained that students can begin by meeting with a peer mentor before seeking venture mentoring services. Legal mentoring is also available.
"They start with a student mentor trained in our office," Petersen said. "They have some work they need to do, and then we get them with a mentor. We have about 150 mentors in our program regularly mentoring students."
Internships: Internships can be found through the academic business and entrepreneurship programs at BYU, as well as through other majors.
Funding opportunities: BYU has one major funding program; the Miller Competition series, which is broken into four parts.
"The first half of fall semester is devoted to brainstorming, innovation, ideation and iterations," Petersen explained. "Then we have a competition campuswide known as the Big Idea Pitch. After (that) is done, we have the Prototype-a-palooza, which is a three-day hackathon where they build prototypes for 30 hours straight based on their ideas from the Big Ideas competition."
The next phase involves creating a business model and developing a customer base. Classes and workshops are provided to assist students, and then in late January BYU hosts the Business Model Competition where students test the work they've done in competition for $20,000 in total funding, according to Petersen.
"The third fraction is the Miller New Venture challenge," Petersen said. "It's all about traction, sales, revenue, partnerships, patents, your product, delivering value, etc… Then the top 10 winners of the competition get $15,000 each and use that to continue to build their business."
The series then concludes with the Founders Summer Launchpad, which is an accelerator in which the top 10 teams from the Miller Competition Series and an additional 15 teams who shined throughout the year will have access to office space, a personal mentor and exclusive workshops.
"At the end of the summer we take the top teams and invite all the professional investors and angel investors along the Wasatch Front to come and watch them pitch," Petersen concluded. "They all get funded and then we do it all over again."
Utah State University
Utah State University's Center for Entrepreneurship seeks to help students foster their creativity, self-reliance, tenacity, persistence and resourcefulness. They provide a variety of classes and competitions that seek to develop students as leaders and entrepreneurs.
Classes: Students are able to obtain a minor in entrepreneurship, which provides four courses to equip students with what they need to learn the entrepreneurial process. They will take "New Venture Creation," "New Venture Marketing," "New Venture Financing" and "New Venture Execution," throughout which they will focus on developing a business opportunity using the model.
Mentoring opportunities: One of Utah State's biggest entrepreneurship endeavors is their Entrepreneur Leadership Series, which brings distinguished entrepreneurs to speak to students every Wednesday from January until April.
Students are also provided the opportunity to worth with student experts on consulting teams. Once that resource has been exhausted, they can receive a mentor from the Founders Board, which presents a wide range of expertise.
Internships: The Center for Entrepreneurship offers dozens of internships, including some through the SEED Intern Program.
Funding opportunities: Utah State University offers a few different opportunities for student teams to receive funding for their new ventures, including competitions like Opportunity Quest, Student Entrepreneur of the Year, the Elevator Pitch competition and the $100 startup challenge.
Westminster College
Westminster College's Center for Entrepreneurship offers a variety of programs in addition to providing both a minor and certificate in entrepreneurship. It seeks to create a unique entrepreneurship education experience in which students can dive into a mix of classroom and real-world experience.
Classes: Students are able to get both a minor in entrepreneurship or a certificate, and a number of classes are provided to help students grow their business knowledge base. The minor is 24 credit hours and includes classes on how to raise money for new businesses, build a business model, manage growth markets, sell a product, run accounting and develop websites.
Westminster also hosts a weekly lecture series on entrepreneurship which is open to the public to provide additional resources and inspiration.
Mentoring opportunities: Westminster students are able to access mentoring opportunities and gain access to additional resources through the Entrepreneurship Club. Additional services are provided to businesses with a social impact as their focus through the Social Impact Incubator.
Internships: Internship opportunities are provided to students by the Bill and Vieve Gore School of Business.
Funding opportunities: Westminster students are able to enter into the Opportunity Quest Business Plan Competition and the Utah Entrepreneur Challenge (both open to students statewide).
Each of these entrepreneurship programs churns out innovative and exciting student businesses each year, allowing colleges to contribute not only an educated workforce but also young start-ups with the vibe of Silicon Valley.
Editor's note: An earlier version of this story did not include Weber State University. This article has been updated to include their information.
×