This archived news story is available only for your personal, non-commercial use. Information in the story may be outdated or superseded by additional information. Reading or replaying the story in its archived form does not constitute a republication of the story.
PROVO — Nick Robinson's rise through the college basketball coaching ranks was swift, to say the least.
Robinson, 39, was introduced as one of three assistants to new BYU men's basketball coach Mark Pope last week. But he is a familiar name on the Wasatch Front alongside his colleagues Cody Fueger and Chris Burgess, both of whom followed Pope from Utah Valley.
"I think we've put together a staff that will do BYU men's basketball extraordinarily proud," Pope said after assembling the group, Avengers-style. "I have guys who incredibly devoted to pursuing greatness here, that are fully capable as coaches, both in the film room and on the court."
Fueger and Burgess bring significant player development experience to aid Pope, as well as tenacity on the recruiting trail that has already made both assistants extremely well-known in Utah high school basketball circles.
But Robinson brings something that neither of those two have — and that Pope didn't have before moving to Orem four years ago: head coaching experience.
Just seven years after playing his final season at Stanford, Robinson was named the head coach at Southern Utah in 2012. Then only 33 years old, he took over a program that went just 54-97 under former BYU coach Roger Reid, and one that was looking for a spark — any spark — to turn things around.
But not all stories are overnight successes. Not all basketball tales end with Hoosier-like glory, game-winning shots and magical NCAA Tournament runs.
Related Story
Robinson's four-year tenure at SUU didn't involve cutting down any nets, rolling in conference titles, or earning postseason bids. He went just 28-90 as a head coach, including a 14-57 mark in Big Sky Conference play, before he was fired.
The Thunderbirds never finished above sixth place in the conference, and Robinson was fired following the 2015-16 season — when they won just five games.
It was the second time in four years that SUU won a single-digit total of games, adding to a two-win season in 2013-14.
Clearly, with just seven years of coaching experience and 33 years of life experience, Robinson's time in Cedar City can hardly go down as a "success."
So what makes Robinson an ideal fit for BYU, for Pope, and for a program that last went to the NCAA Tournament in 2015?
For starters, Robinson is hardly the same guy who won just 28 games in four seasons in Cedar City. The transformation from SUU head coach to BYU assistant started almost as soon as he was let go from the former.
Robinson didn't pick up a coaching job right away. In fact, he willfully ignored any attempts to jump back into the profession. Instead, Robinson bounced around from program to program, gleaning insights, passion and learning developments from schools he had never had the chance to visit in an official capacity. BYU was one of them, but his list of stops is too numerous to name.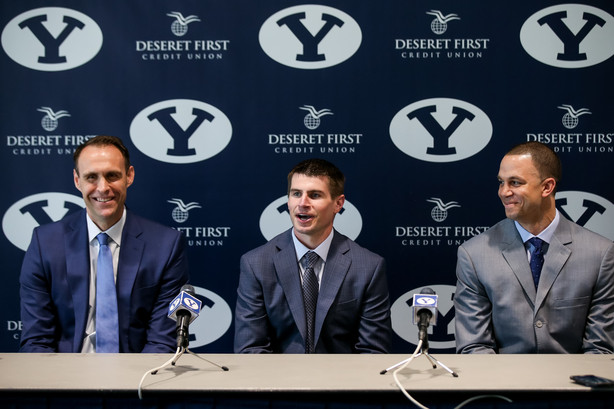 He even founded a consulting firm, allowing him to stay with universities for long durations. But he never stuck around for more than three days. Robinson wanted to see as many programs as possible.
"That year was an incredible opportunity, to take a sabbatical from coaching — but still stay in coaching," Robinson told KSL.com. "I visited a lot of great programs, a lot of great coaching staffs, and it allowed me to really learn.
"I still revert back to my notes from them even now. It was an incredible experience and I really grew a lot as a coach and as a leader. I'm really grateful for each of those programs and the staffs that were willing to have me for a few days."
Skills development. Culture. Time and practice management. They were all things Robinson learned during his gap year from coaching — things that he was either too young or too afraid or too neck-deep into coaching at SUU (or maybe a little bit of all three) to learn when he first helmed the Thunderbirds.
You see, Robinson wasn't completely untested before hitting the ground in Cedar City. After a standout career at Stanford that included what many believe to be the biggest shot in Pac-10 history against Arizona, Robinson served as a volunteer assistant coach at Rio Rancho High School in New Mexico for one season.
That led to a job as director of basketball operations at his alma mater, a school where he learned from Mike Montgomery and Trent Johnson. When Johnson took a job at LSU, he brought along Robinson, who at that point had just one year each of experience at Stanford and NCAA Division II William Jewell, to run operations.
"Throughout my life, I've been able to be around great coaches — hall of fame coaches — from a young age," Robinson said. "I've tried to apply all of those teachings into my life, both off the court and on the court."
While in Baton Rouge for the 2011-12 season, Robinson met Pope — another member of The Church of Jesus Christ of Latter-day Saints — who held the same position of director of basketball operations at Georgia.
"Nick and I have been good friends since we entered this business," Pope said of Robinson. "He had an extraordinary career as a college player and student at Stanford, where he won at a high level. He's had extensive experience … and is a true student of this game. He's passionate about mentoring these student-athletes and helping them reach their potential."
But Robinson's first head coaching job was different. It was "a lot to learn" at Southern Utah, and the curve was steep, at times. He wasn't without some successes, either. Robinson's SUU teams included 20 Academic All-Big Sky honors, five NABC Honors Court honorees, and two All-Big Sky targets.
Academically, many of his players were great. They graduated, got a job, and found success in several different fields.
But the wins just weren't enough, leading to his firing — and subsequent sabbatical. It also led to an opportunity with Jim Heyford, who first coached against Robinson at Eastern Washington, brought him in as a consultant, and then called him back upon moving to Seattle to be an assistant coach in the Western Athletic Conference.
While there, Robinson ran into Pope again — and that led to an April meeting at BYU, when Robinson, who served a two-year church mission in Brazil, was offered a job as Pope's third assistant.
Sometimes, you've got to go down before you can get back up. Robinson learned that — and he's prepared to pass on those lessons in his next stop.
"Each staff that I was able to visit, each coach that provided me with advice, each relationship that I was able to grow and build added tremendous value to me," Robinson said. "And it will also add tremendous value to my experience here at BYU."
×
Photos
Related Stories