Estimated read time: 5-6 minutes
This archived news story is available only for your personal, non-commercial use. Information in the story may be outdated or superseded by additional information. Reading or replaying the story in its archived form does not constitute a republication of the story.
SALT LAKE CITY — Derrick Favors is used to the question.
Whenever the Jazz forward spends time over the summer with other NBA players, the query always seems to come up: Does he like playing and living in Utah?
"It's a little different but it grows on you," Favors said at the Jazz's end-of-season media availability on Thursday. "It's a great place to be, the organization is first class, Quin (Snyder) is a great coach. You have to give it a try. If you want to come out here, they'll take care of you. It's a winning environment."
That's the message the Jazz are trying to get out to the league. And it's the same message the San Antonio Spurs have put out successfully for years.
Utah might not have the championship pedigree, but the organization feels it offers a lot of the same things — a well-respected coach, a well-run organization, an unselfish culture — that has made San Antonio so attractive to players around the league.
The Utah front office believes the team is close to being a championship contender. If the Jazz can attract a top tier free agent, that might just be enough to get them there.
"Look, we want to win, we don't care about the individual stuff," Donovan Mitchell said. "You look at the Spurs when they had Tony (Parker), Manu (Ginobili) and Tim Duncan. Not saying we are the Spurs, but if you look a the unselfishness and the camaraderie that they had, we have something similar."
The Spurs have been in the conversation for the biggest free agents in recent years. They won the LaMarcus Aldridge sweepstakes in 2015, they had a meeting with Kevin Durant in 2016 and when reports came out that LeBron James was willing to listen to San Antonio last summer, it didn't seem too far fetched.
Utah has never been known for attracting major free agents. There was the year the Jazz signed Carlos Boozer and Mehmet Okur — who both would become All-Stars in Utah — and, well, that's kind of the end of the list.
In recent summers, Utah has signed the likes of Joe Johnson, Thabo Sefolosha and Jonas Jerebko. But those were nice pieces, not franchise changers.
Jazz general manager Dennis Lindsey had some good reasons to not make too many changes coming to the 2018-19 season: The Jazz were a young-and-upcoming team, they didn't have a lot of flexibility outside of resigning or not resigning Favors, and it was a shallow free agency pool. It made sense to gather more information on the roster.
After another season and an at-times humbling playoff loss, Lindsey has a better idea of who this Jazz team is.
"We have a very good team," Lindsey said. "But, while we have a very good team, the results show that we don't have a great team."
He hopes to change that. That's why this summer is so critical.
Lindsey has been positioning for the summer of 2019 for years. He's signed players to short-term deals and traded for short contracts in order to make sure the Jazz could create ample cap space for this upcoming free agency period.
Ricky Rubio's contract is up, so too are Sefolosha and Ekpe Udoh's contracts. Utah has team options for Favors and Raul Neto. Kyle Korver said he is mulling retirement.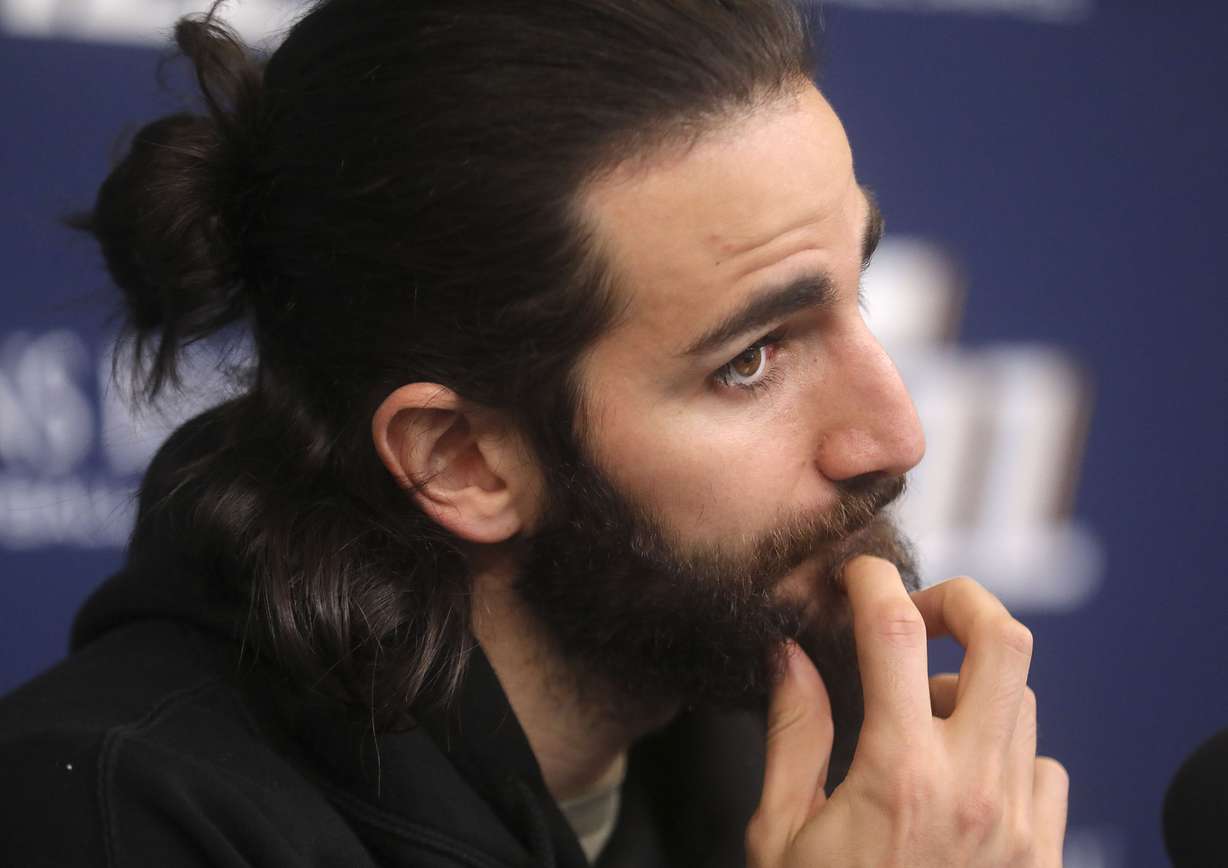 This team will almost certainly look different next season. Whether or not that's an improvement depends on who the Jazz can bring in.
But what do the Jazz have to sell players on?
If you ask them, quite a lot.
Lindsey pointed to the undying love of the team from the community, Vivint Arena, the state, and the city. The renovated practice facility doesn't hurt, either — with Kyle Korver specifically mentioning the food the players get there.
"That stuff matters," Korver said.
The Jazz think they have a lot of on-court appeal, too. Utah is a defensive juggernaut and will be as long as Rudy Gobert is on the Jazz. The offense produced the highest number of open looks, according to NBA.com, during the season and playoffs. Mitchell is a budding star.
That stuff matters, too.
"My sales pitch?" Jae Crowder said. "You wanna win?"
Lindsey, though, said that it's not as simple as just getting a player to agree to sign with the Jazz — it's about getting them to sign at the right price.
On Thursday, he revealed that players have agreed to come to Utah, but expected to be well compensated. Too well compensated for his taste.
"A lot of times, we have to lose the press conference," Lindsey said. "I have to take the bullets. 'Here we go again, patience and this and that.' For us, we would rather look at it fundamentally than what would have you guys (the media — and likely some fans, too) get off my back for a period of time."
So the Jazz won't be aggressive for aggressive's sake this summer. And they won't overpay just to make headlines. But they will try to find the pieces to make the next step.
"We all need to have a championship on our minds," Gobert said. "Not when the playoffs start — it starts right now. From the players to the coaching staff, to the front office, we all have to be on the same page and have to have the same goal."
×
Related Stories