This archived news story is available only for your personal, non-commercial use. Information in the story may be outdated or superseded by additional information. Reading or replaying the story in its archived form does not constitute a republication of the story.
SANDY — There were plenty of new faces when Utah Royals FC opened its sophomore season Saturday night at Rio Tinto Stadium.
There was rookie defender Michelle Maemone, who head coach Laura Harvey called up for her first start even though she missed training the day before with a 101-degree fever.
There was midfielder Lo'eau LaBonta, who scored her first goal in a Royals uniform that proved to be all the difference in a 1-0 victory over the Washington Spirit — but did so from a further attacking position than she played all-but sparingly of last year.
And then there were the substitutes: Mandy Laddish, who came on in the 79th minute in relief of LaBonta, making her first appearance in a competitive soccer match in more than two years while dealing with injuries. Kelley O'Hara returned from nagging injuries that cost her much of last season with the Royals — and several international minutes for U.S. coach Jill Ellis, as well.
But there was something special about Utah's newest signing. There was something just a little bit different about Veronica Boquete, the Spanish international who took one shot, four of the corner kicks, and conceded just one foul while dominating possession for the Royals.
Maybe it was her touch.
Maybe it was her dribbling.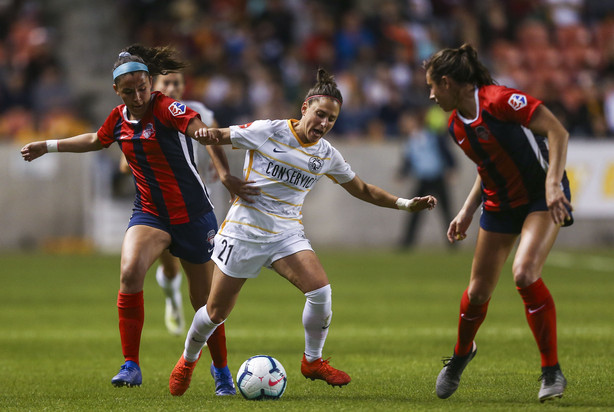 Maybe it was the passes, many of which were so good, her teammates didn't even know they were coming — for better and for worse.
"When she's got the ball, you never, ever think it's going to give away," Utah coach Laura Harvey said of her new midfield addition. "She plays passes that other people just don't see. The more we can get her on the ball, the better. I felt that we didn't get her on the ball as much as I would like to, and we've got to work our way to where we can do that.
"She's definitely someone who can unlock defenses."
The 32-year-old midfielder made her official return to an NWSL match for the first time since leaving the Portland Thorns in 2014, having spent time in Germany, France and (most recently) Beijing, China.
And the well-traveled midfielder put on a clinic, of sorts.
She didn't get a goal. But she controlled possession, never let go of the ball, and initiated several key passes with former Tyreso teammate Christen Press to anchor a Utah Royals attack that started hot and ended with three points in their first home match for the first time in the club's two-year history.
But Boquete was hardly satisfied with her own performance; she called her first-half effort "no good at all," for example, and said she has a lot to work on if she wants to help the Royals win an NWSL title — or even make the playoffs.
"You always hope to win. But we are not 100 percent happy," Boquete said. "After a long preseason and really hard work, I think that we could do better. The result should be bigger for us."
Her head coach felt the same way: the win is nice, but Utah (1-0, 3 points) wants to play even better. Were it not for Rose LaVelle's 18-yard free kick that kissed the crossbar as it sailed high of the goal in the final 10 minutes, the Royals could've started their 2019 home campaign much the same way they started 2018 — with a disappointing draw.
Instead, they gave the announced crowd of 18,015 fans a reason to cheer, to clap, and to stick around a few extra minutes for post-game fireworks and the post-victory Skol clap.
"When you step out and see a stadium like this with these fans, you feel a little more professional," Boquete said. "They are the reason that we are there. Of course, we have passion for this sport, to play soccer. But when you go outside and see all the people coming to see us, to watch our games, it's a special feeling.
"We just hope that they come back. We know that today was not perfect. But we got the three points, and now we promise that we will improve. The next game here will be an even better show."
Utah hits the road next week for a 5:30 p.m. MDT kickoff at Orlando. The Royals return home Friday, May 3 to host Chicago and former BYU star Michele Vasconcelos.
×
Related Stories