LOGAN — Sam Merrill thought about it.
He really wanted to do it.
He watched as Utah State teammate Neemias Queta put his name into the NBA draft, set on hiring an agent, and attending as many workouts with NBA scouts and team personnel as he could before making a final decision about whether to return to Utah State prior to the NCAA's May 29 deadline.
But in the end, he didn't do it.
"I was thinking about it and was at the point of declaring to try to get some workouts," Merrill told NCAA.com's Andy Katz in a video posted this week to the website. "But at the end of the day, I talked to some people and felt like it is better for me personally and my team to not even thinking about it.
"Hopefully next year I have a better year."
It could be hard to top what Merrill did in his junior season with the Aggies. Picked to finish ninth by the coaches and media in the Mountain West preseason polls, Utah State had other ideas.
Merrill said he understands the early prognostication. The Aggies had a brand-new coach in Craig Smith, who recently moved to Logan from South Dakota, and had lost several players — not the least of which being leading scorer Koby McEwen to Marquette.
But he also said that his program believed they could do more. So they attended offseason workouts. They put in the work. They hustled and lifted weights and ran until they couldn't run anymore — and then they kept running.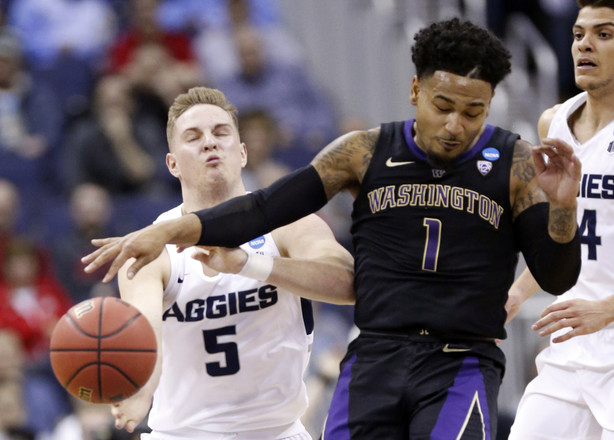 Because in the end, that's part of the culture that they wanted to build.
"You could feel the culture around here," Merrill said. "And once we started playing, you could feel that something special was about to happen."
The culture paid off for a team that won the Mountain West regular-season co-championship with top-25 stalwart Nevada, and then went on to blitz the field in three days in Las Vegas for the league's tournament title and the Aggies' first NCAA Tournament bid since 2011.
But it also paid off for Merrill, personally.
The 6-foot-5, 205-pound sharpshooter from Bountiful averaged 20.9 points, 3.9 rebounds and 4.2 assists per game while playing 1,237 minutes — the fourth-most in Utah State single-season history. He was a runaway winner of Mountain West player of the year as the Aggies swept the major awards, including Smith as coach of the year and Queta as newcomer and defensive player of the year.
The Aggies won't be without change. Smith just announced the addition of Sean Bairstow, a 6-foot-8, 185-guard from Brisbane, Australia. That followed recent news that reserve guards Crew Ainge and Tauriawn Knight are transferring. Seniors Dwayne Brown Jr. and Quinn Taylor are set to graduate, leaving a leadership vacuum for the Aggies.
Related Story
So there's nothing left for Merrill to do, right? He set out what he wanted to accomplish and could go off to the NBA, happy and content, right?
Not quite, he told Katz.
"I'm never going to be the most athletic player in the world," said Merrill, who lost 15 pounds over the summer between his sophomore and junior seasons. "But I think I can make strides. Individually, just as far as skill work, I think there is work to do. I can continue to improve as a ball handler and on my shot-making ability. I know at the end of the day, you are going to have to make shots."
Merrill learned a lot in his junior season, both on the court and off it. That's not just about basketball, but about life. The Aggies invited 14-year-old Tate Erickson, who was recently diagnosed with a brain aneurysm, and his family to practice for a chance to meet his favorite team. The encounter left a significant impression on the whole team, as reserve guard Justin Bean told KSL.com.
It's almost like the impression that Merrill, Queta and their teammates left on Aggie basketball. Queta, who already boasts an NBA body while averaging 11.8 points and 8.9 rebounds in his first year of college hoops, has declared for the NBA draft. He has the full support of the coaching staff, in large part because of new NCAA rules regarding draft workouts, agents and "testing the waters" for a future pro career.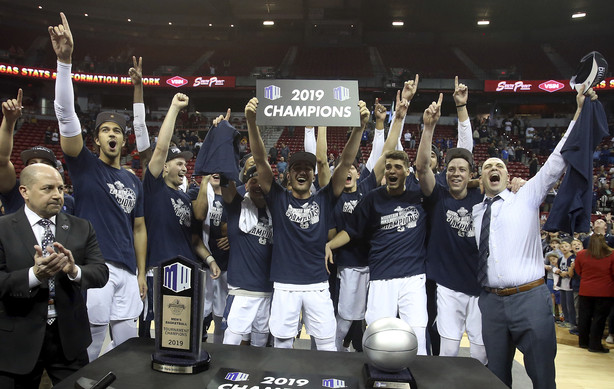 But there's still some doubt many have if Queta will come back, according to one source close to the program. The Portuguese international still has time to return to Logan before pulling out of the draft, but suspicions and doubts are natural at this time of year.
Merrill wanted to erase all doubts. He's got to come back for his senior season.
And he said he's ready to handle expectations for an even bigger year — one where Nevada, which has owned the conference in many regards for the past two seasons under former coach Eric Musselman, will now be breaking in a first-year head coach in Steve Alford.
The Aggies will likely be expected to repeat as conference champions. Getting back to the NCAA Tournament is now a minimum standard; winning in March will be expected.
Bring it on, Merrill says.
"I think we're going to handle it how we handled everything throughout the last year," Merrill told Katz. "We just started our individual workouts, and we brought the same energy to these workouts as we did all year. I think that happens because we've developed a culture as a team. Whatever we do, we are going to do it with energy and we are going to work hard.
"We're excited about what we did this year, and we feel like there is an opportunity to get to the next step."
×
Related Stories