SALT LAKE CITY — For Tate Erickson of Logan, ball is life.
The 14-year-old eighth-grader can't get enough basketball in his life — playing with the same group of friends since he was in elementary school. But after playing basketball for nearly seven years, a dramatic event changed his life forever.
Tate suffered a concussion during a practice for his little league football team.
His parents, Matt and Rachel Erickson, erred on the side of caution, taking him out of football to give him time to recover. But his symptoms continued, even after a few months. Tate suffered headaches, nausea, and, at times, couldn't even tell what was real and what wasn't.
The Ericksons took their son back to the doctor, where Tate was diagnosed with a brain aneurysm. He underwent surgery but suffered a stroke that left him paralyzed on his left side and kept him in the hospital for another month.
Tate finally returned home from Primary Children's Hospital in the summer of 2018 before beginning his eighth-grade year. At the same time, the Utah State basketball team was preparing for Craig Smith's first season as head coach of the Aggies; a team that was predicted to finish ninth in the Mountain West Conference preseason standings.
Tate's parents are both graduates from Utah State, and Tate, being a big sports fan, has always cheered for the Aggie teams. Word of Tate's story made it to Smith's squad, and they reached out to him — but not over text or Instagram direct message. Each player on the team mailed Tate a handwritten letter, thanking him for his support of Utah State basketball and inviting him to come for a tour of the team's court, offices and practice area before their season began.
"It just meant so much to Tate to have them include him," Rachel Erickson said. "It was really neat that these guys took the time to reach out and talk to him and just help him feel like he's still part of something."
Tate visited the Utah State facilities and ended up meeting the entire team before one of their practices.
"He seemed like a really strong person," assistant coach Justin Johnson said of meeting Tate. "The way that he handled all of that, it was pretty impressive meeting him."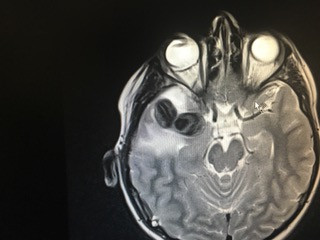 Aggie forward Justin Bean was also impressed with Tate's positivity and courage after meeting him.
"He just had this big smile on his face as we all just gave him high fives and talked to him before practice started," Bean said.
After meeting Tate, the team gave him a ball and asked him to show them some of his game.
"We played with him on one end of the court," Bean remembered. "He'd take the ball in his right hand and shoot it one-handed, and it was one of the purest shots I've ever seen. Just money.
"After about the fourth or fifth one in a row, we all just started looking around and thought, 'We need to get this kid a jersey!'"
After attending practice and playing with the team, Tate was also invited to attend the home opener against Hartford in November. He sat on the sidelines and went into the locker room with the team during the game, leading them in the "Aggies on three" cheer before entering the court.
"It was a great experience for all of us," Bean said. "Having him there, knowing what he's been through and the adversity he's faced, and just seeing his attitude and how positive he was throughout everything."
Tate returned to another game later in the season at the request of Neemias Queta. The Aggie freshman gave Tate his personal tickets and even gifted the eighth-grader with his warmups after the game.
"It meant so much to Tate and to me that they took that time, and they didn't ask for anything out of it," Rachel Erickson said. "They just did it to be awesome."
Bean added that meeting Tate was a humbling experience that helped the team be more positive and get to know the culture of Cache Valley.
"One thing you don't realize as a college athlete is just how much of an impact others in the community can have on you," he said. "It's easy to get caught up in the fame of just having people want to come watch you play basketball, but there's just a nice simplicity about having people look up to you and being able to learn from them."
While doctors aren't sure what Tate's recovery will be like, he still continues to improve. Since returning home from the hospital in the summer of 2018, Tate can now walk with a brace and can even make small movements with the fingers on his left hand.
Despite the uncertainty of his recovery, one thing about Tate will always be sure: He can always be seen cheering on his Aggies.
×
Photos