This archived news story is available only for your personal, non-commercial use. Information in the story may be outdated or superseded by additional information. Reading or replaying the story in its archived form does not constitute a republication of the story.
SANDY — New Utah Royals FC midfielder Veronica Boquete, or "Vero" to her friends, or just the Utah pro women's soccer franchise's biggest offseason signing, has been in this position before.
A native of the Basque Country in Spain, Boquete has been around the world in her whirlwind professional soccer career.
Buffalo. Chicago. Zaragoza. Frankfurt. Paris. Beijing (among others).
In all, Boquete has played in seven different countries, lining up at attacking midfield, or as a false-nine striker, generally going to goal and directing the attack.
But when the native of Santiago de Compostela, Galicia was approached by Real Salt Lake owner Dell Loy Hansen to return stateside, she had a goal.
Boquete wasn't just out for another trip to the United States. She got that in 2014 when she played 15 games and scored four goals while helping the Portland Thorns qualify for the playoffs.
She's not just here to play well, which she did back in 2011, helping the Philadelphia Independence to the WPS title match before that league folded.
Now, Boquete is back stateside for one reason: to win a championship. And she believes Utah Royals FC are her best chance to accomplish that goal.
"There is something special here," Boquete said during the club's lengthy preseason. "We have everything to be successful: great installations, a good staff, good players. After 1-2 minutes meeting Laura (Harvey, head coach), I knew that Utah Royals would be my next club."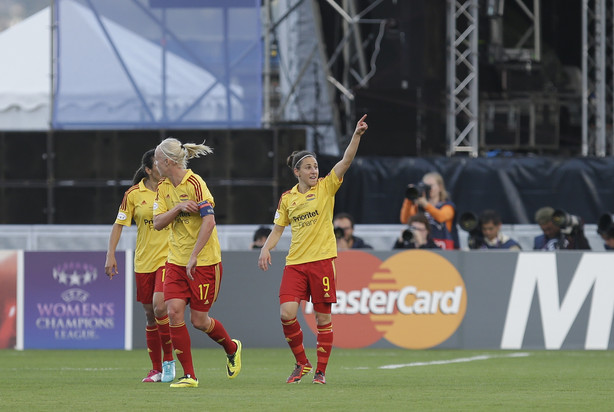 The Utah Royals will begin their second season on the Wasatch Front this Saturday, hosting former BYU star Ashley Hatch and the Washington Spirit at 7 p.m. MT at Rio Tinto Stadium.
There's plenty to like about the Royals in their second season, a year after finishing 9-7-8 and missing the playoffs by just two points. They return the bulk of their roster, including U.S. internationals Christen Press, Becky Sauerbrunn and Kelley O'Hara, Canadian starlets Desiree Scott and Diana Matheson, and add new flair in Boquete, who scored 38 goals in 56 appearances with the Spanish national team — including leading La Roja to the Women's World Cup in 2015.
The club also added a trio of NWSL college draft picks, each of him will join the squad as national team replacement players when the bevy of Royals depart for pre-France tuneups.
They also averaged 9,466 fans per game, the second-best attendance in the National Women's Soccer League in their first season with marks virtually untouched by anyone outside of soccer-mad Portland. Royals staffers routinely mention that they signed up more than 5,000 season ticket holders and added a multitude of sponsorships across the third team in the Real Salt Lake organization, as well, while broadcasting games on over-the-air on KMYU, online at KSL.com, and over the radio on ESPN 700.
Sophomore season
And yet, if you ask Harvey, last year still feels like something of a failure.
"We did a lot and we were so close to being where everyone wants to be, which is the playoffs," Harvey said. "But if you look back at our start, we drew too many games that we should've won. If one of those games turns into a victory, then we're in the playoffs.
"We weren't that far away."
Most of the Royals won't go so far as Boquete, eyeing the NWSL title with single glory and pronouncing anything else a failure. There are established brands in the league, and the defending champion North Carolina Courage are on a particular run of dominance.
But the playoffs? Yes, we're going to talk about the playoffs — because that's the goal for the sophomore Royals.
"I'm looking for the title," Boquete said. "Every day I just want to be better. I know I am an experienced player, but every day is a new day for me. I just want to be a better player and I think I can do it here."
To get there, Utah will have to navigate a tricky road. As part of the nine-team NWSL, the Royals opened 2019 a week later than the rest of the league, for one. So while North Carolina, Chicago, Houston, Orlando, Seattle, Portland, Sky Blue and Washington were playing each other, Utah sat back at home and watched it all unfold on the Yahoo Sports app.
Add to it the departure of several internationals during this summer's World Cup in France — including the aforementioned U.S. and Canadian quintet, as well as Scotland's Rachel Corsie and New Zealand's Katie Bowen — and the Royals will miss as many as seven players from the roster through July, more than any other club in the league.
"We've been waiting for this for five months now," Utah midfielder Gunny Jonsdottir said. "I think we're all ready.
"We're very hungry after last season. I think we want to do better, and keep building off what this team has."
Which brings us back to Boquete, who at 32 years old is unlikely to represent Spain again. The midfielder never formally retired from international play, but hasn't been called in since 2017 — which will give her plenty of time to build on her ultimate goal as the NWSL plays through much of the World Cup break.
"The last time I was here, I was in a final with the Philadelphia Independence; we lost it. Then when I played with the Thorns, we lost in the playoffs," Boquete said. "There was something that brought me back to the U.S. and I hope this is the year that we can win."
NWSL: Washington Spirit (1-0-0, 3 points) at Utah Royals FC (0-0-0, 0 points)
When: Saturday, April 20 at 7 p.m. MT
Where: Rio Tinto Stadium, Sandy
Streaming: Yahoo Sports app (national), KSL.com (local)
×
Related Stories