Estimated read time: 4-5 minutes
This archived news story is available only for your personal, non-commercial use. Information in the story may be outdated or superseded by additional information. Reading or replaying the story in its archived form does not constitute a republication of the story.
SALT LAKE CITY — In 2017 more than 1,700 children died across the nation as a result of child abuse. Monday, in honor of Child Abuse Prevention Month, 1,720 blue-and-white pinwheels were "planted" at Primary Children's Hospital to represent each of those children.
"Children are hurt by people in their circle of trust every single day across the United States and in our community," said Dr. Antoinette Laskey, division chief at the Center for Safe and Healthy Families at the University of Utah. "We have an important role as adults to make a difference and say something when we have a concern about child abuse or neglect."
The pinwheels, chosen as the national symbol for child abuse prevention because they represent the carefree and innocent childhood all children deserve, will stay up for the remainder of April.
According to Prevent Child Abuse Utah, 1 in 5 children, both nationally and in Utah, will be sexually assaulted before the age of 18.
The number of children who die from child abuse each year is about the same as children who die from cancer, said Gwen Knight, executive director of the nonprofit.
"Cancer isn't fully curable or preventable yet, but child abuse is," she said. "We have the responsibility to help children have safe and healthy lives. Our message today is one of hope and we all unite in this effort to improve the outcomes of children and families in our state."
In 2018, more than 10,600 Utah children were substantiated victims of child abuse, according to Division of Child and Family Services.
Investing in other issues facing the community helps prevent child abuse, said Diane Moore, director of the division.
"When our community addresses issues like social isolation, intergenerational poverty, substance use disorder, homelessness, violence and the trauma history of those caring for children, we do more to prevent child abuse and neglect," she said. "It's the best way to show that no more children will be abused and neglected. It is worth the investment."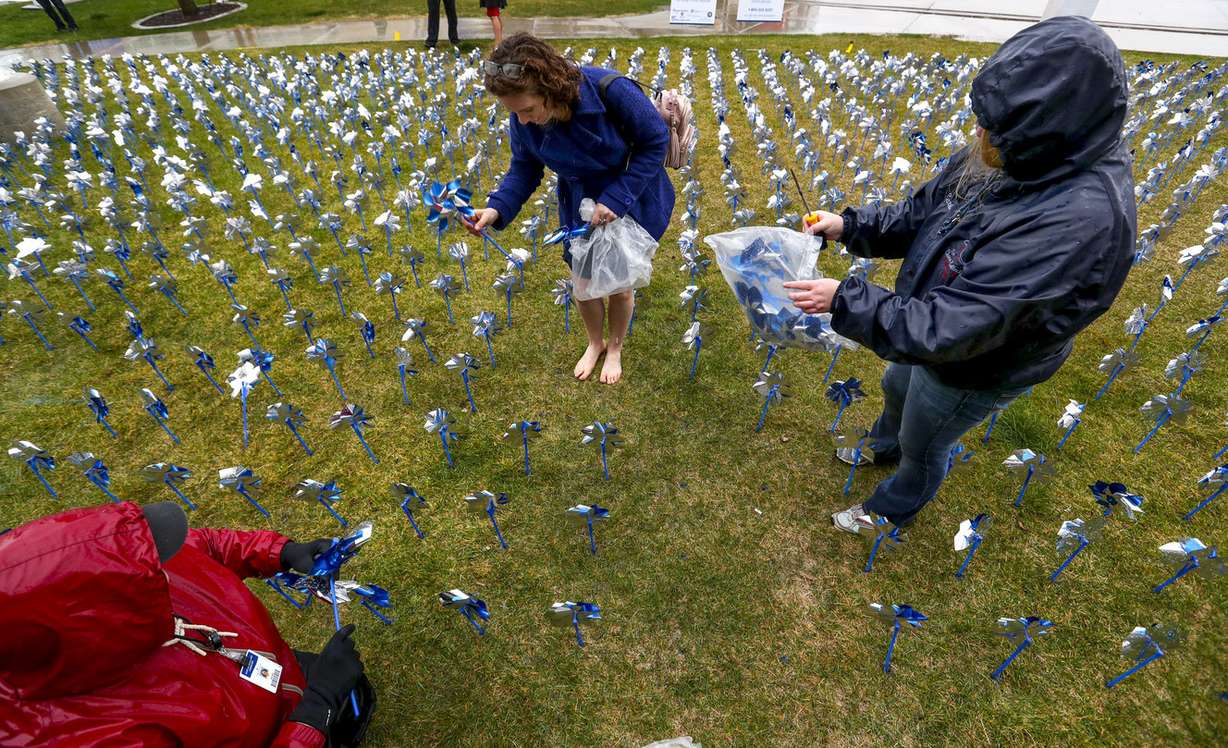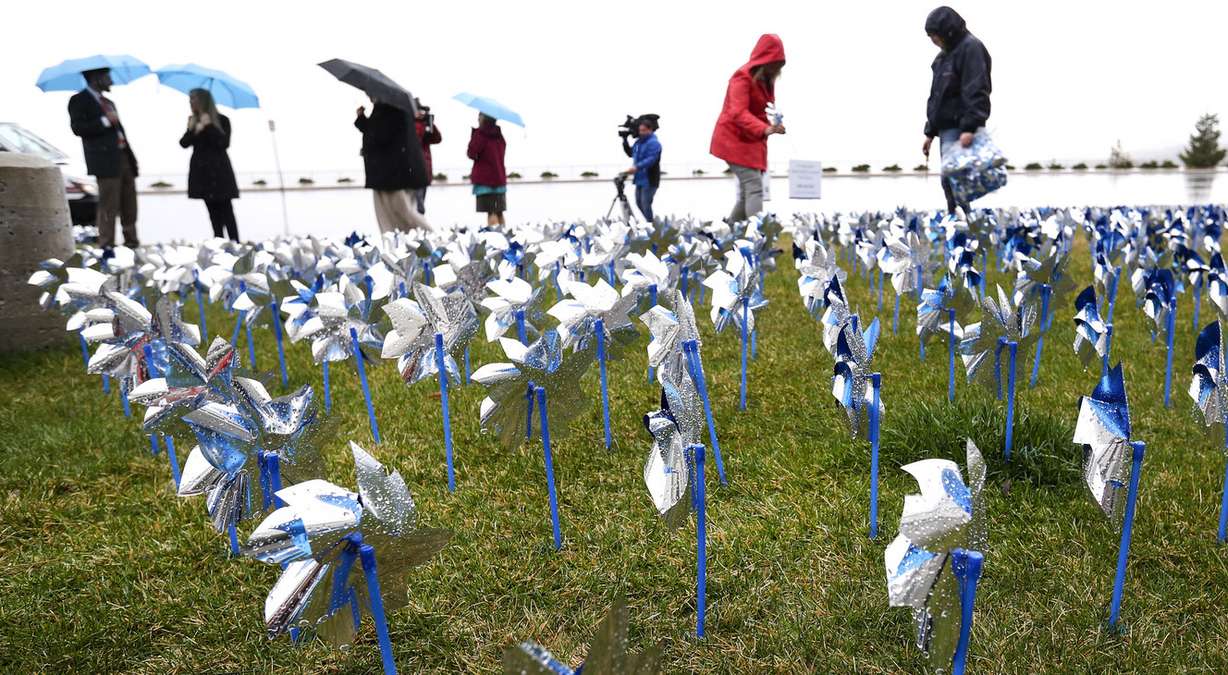 Jason Wilde, board chairman with Utah Association of Family Support Centers, called child abuse "insidious, intentional and evil."
He said in a lot of child abuse cases, the parents are "overstressed and undersupported," which is where support centers can step in and help families provide a safe environment for children.
Tracey Tabet, administrator with the Children's Justice Center Program through the Utah Attorney General's Office, said she was planting a pinwheel for the 6,714 children served at the program's centers in 2018.
She said she wanted to tell each of those children she celebrates "their courage and their resiliency."
Tabet said many agencies, the justice center included, long for the day when their services are no longer needed.
"But until that day we also want to affirm our commitment to support each and every child on their path to healing and justice towards a brighter tomorrow," she said.
Dr. Brooks Keeshin, child abuse pediatrician and child psychiatrist with the hospital, said a call to action is necessary to address the issue.
"As we know, child abuse can kill. Child abuse can lead to sick adults. Child abuse can rob children of their childhood. However, there is hope," he said. "We can prevent child abuse, we can treat the consequences of child abuse so that kids don't grow up to be sick adults. We can, with early intervention, give children and families their childhood back."
But he said one person, one group or even one system can't effectively solve this problem alone. However, he noted that Utah's made great strides in addressing child abuse.
"We are so fortunate to live in a state where people don't avert their eyes, they don't cower in fear, they stand up and say 'How do we fix this together?'" he said. "Communities around the state are educating their parents and teachers on the impact of adverse childhood experiences and empowering their schools to be the front line when it comes to preventing child abuse and identifying and responding to abused children in their families."
Granite School District addressed education on the subject earlier this month when it announced that all 63 elementary schools in the district will receive child abuse prevention education training.
As an ICU nurse, Katy Welkie, now CEO of Primary Children's Hospital, said she saw the "most severe and tragic forms of abuse" on a regular basis.
"And I saw the pain in children and it was reflected in the families, in those who were caring for them," she said. "And it is preventable — it's preventable if we all take the responsibility to report child abuse and the suspicion of child abuse in its very earliest phases."
The Division of Child and Family Services' 24/7 child abuse hotline is 1-855-323-3237. Anyone with information about child abuse or potential child abuse is encouraged to call.
×
Photos
Most recent Utah stories