This archived news story is available only for your personal, non-commercial use. Information in the story may be outdated or superseded by additional information. Reading or replaying the story in its archived form does not constitute a republication of the story.
SALT LAKE CITY — Young activists delivered a letter with over 1,500 signatures to the governor's office Monday asking him to take action on climate change by opposing the Bureau of Land Management's oil and gas lease of 217,576 acres of public lands in Utah.
The letter states, "We need you to defend our future. Utah has the youngest population in the nation, we young people will inherit a fundamentally altered, destabilized world. Our health and well-being are at stake. Please, help give us a voice."
Close to 50 people, mostly youth, came to the Capitol to deliver the letter. They sang, chanted and gave testimony for almost an hour before speaking to Michael Mower, Gov. Gary Herbert's deputy chief of staff.
"We'll review it, I don't see our position changing. … That's probably not something that we would support, but I'll certainly take your letters and we'll discuss it," Mower told the group.
He said the governor would be more likely to support requests regarding specific parcels. The governor stepped in when there were concerns about parcels near Dinosaur National Monument.
Eliza Van Dyk, a student at Westminster College who helped organize the event, said the sale of any parcels is selling their future. She asked for a specific response to the letter, which they did not receive.
"We've taken the steps through the legislative process, we've done that. We passed a climate resolution and now we're here invoking that resolution," Van Dyk said to Mower.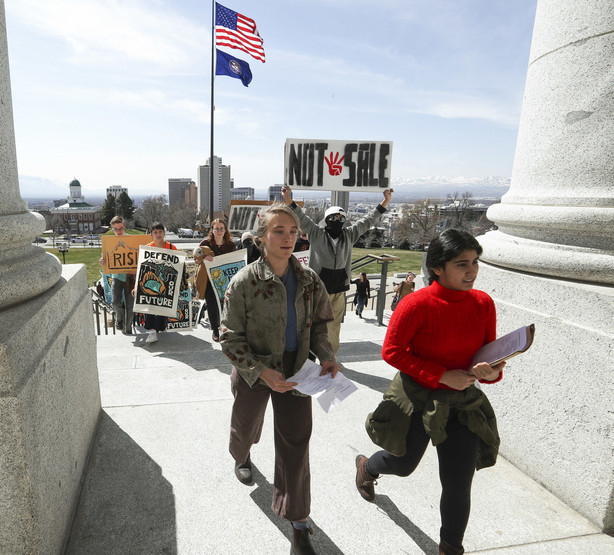 Three students met with Mower last week, then organized the larger demonstration when they were disappointed with his response. The land lease sale to oil and gas industries is taking place Monday and Tuesday of this week and includes land parcels near Bears Ears and the Great Salt Lake.
"We are disappointed that our governor and staff are not listening to our request as young people and we're going to continue showing up and rallying until there's no more oil and gas leasing in the state of Utah," Van Dyk said after the event.
Mower talked about the environmental bills and funding from the 2019 Legislative session, and encouraged the youth and others protesting to let the governor know about bills they support or oppose. He said the governor supports what is in the best interest of the state and has pushed for a diverse portfolio in regard to climate change.
"You're going to have a great future here in Utah, it's a wonderful place to live," Mower said to jeers from the group. "We agree that there's nothing more important than clean air, and that's why Gov. Herbert has worked so hard to support legislation that is helping to clear the air in Utah."
Related:
Mishka Banuri, a senior at West High School, said the next step is to continue to place pressure on elected officials and let them know they are paying attention to what is happening.
"This is just the beginning of a robust, strong youth movement that's being built here in Utah," Banuri said.
This demonstration comes 10 days after hundreds of youth participated in a strike on the Capitol steps to call for action on climate change.
Banuri said they tried to work with the BLM to end leasing to oil and gas companies and have held protests and press conferences at their offices. When the bureau was not responsive they decided to take the request to the governor.
"Not only are (the land parcels) being used for oil and gas extraction, which would be contributing to climate change, they are going be endangering sage grouse and they are going to be right next to sacred sites to indigenous people here in Utah," Banuri said.
×
Photos
Related Stories