Estimated read time: 4-5 minutes
This archived news story is available only for your personal, non-commercial use. Information in the story may be outdated or superseded by additional information. Reading or replaying the story in its archived form does not constitute a republication of the story.
CHICAGO — On Monday against Washington, Jazz guard Raul Neto drove into the lane, jumped off his left foot and hit a floater with his right hand. Sounds like a pretty typical play, right? It wasn't, at least not for Neto.
"That was the first time I had seen him shoot that floater," Jazz coach Quin Snyder said. "He used to always shoot a step back and bank it."
It was a moment that caused the Jazz bench to celebrate and Neto to point toward his coaches as he trotted back down the court. It was a moment of growth.
Neto seems to have had a lot of those lately.
Over the last few weeks, Neto has provided a steadying hand to the Jazz bench, and his uptick in play has never felt more important. With Dante Exum out indefinitely, Neto has provided a key steadying hand to the Jazz bench. In March, he is averaging 6.2 points and 3.3 assists in 14.3 minutes per game.
Neto has stepped up when Utah has needed him. But, at this point, that shouldn't really come as a surprise.
"Raul seems to have done that his whole career," Snyder said.
When Snyder recently overheard Jazz assistant coach Alex Jensen telling Georges Niang to stay ready, it quickly brought back memories of the all the times he had been told that as a player. It wasn't always the easiest advice to take. Sometimes all the hours in the gym and all the time spent studying film study, only to sit on a bench and watch, was tough.
"It was like, 'OK, coach, I got ya,'" Snyder said. "There's an obvious part of you that wants it to be today."
In the hierarchy of Jazz point guards, Neto knows where he stands. Ricky Rubio is the starter and Exum is the one-time high-lottery pick the franchise reinvested in last summer. He's always known playing time would be inconsistent, but there's a reason he always seems to be ready when his name is called — because he wasn't ready early in his career. And that didn't have anything to do with his skill set.
Neto remembers his second year in the league. He was almost positive he wasn't going to see the court and he prepared as if he wasn't. So when he was thrust into action, whether it be by foul trouble or injuries, he wasn't ready. His confidence wasn't there, his focus wasn't in the right place, and that led to some pretty poor showings.
That, he feels, is the biggest change from where he is now. He no longer thinks about how many minutes he's going to play; he just acts like he's going to.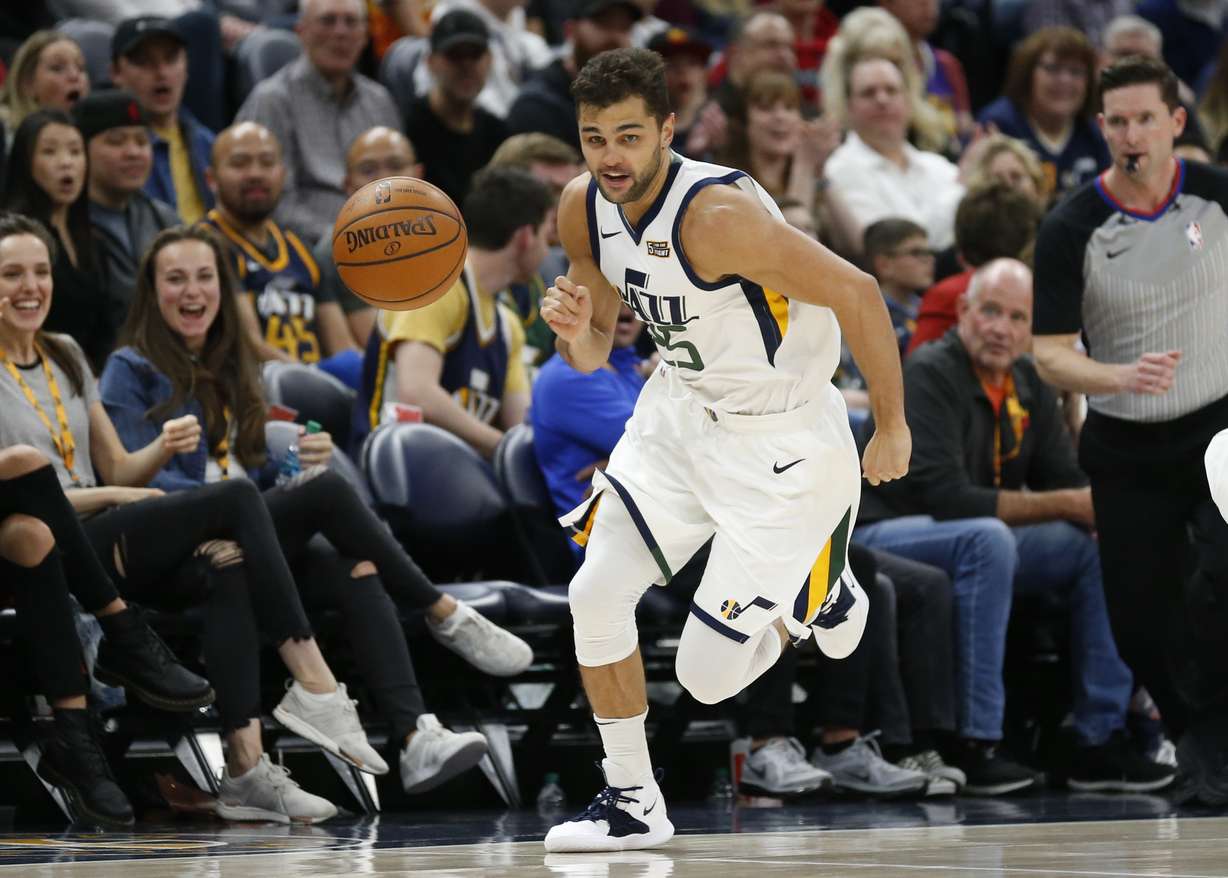 "I think that has been huge for me, that's been key," Neto said. "Just being focused staying ready, staying confident — when I am playing, or when I am not playing."
And that's been a staple of the Jazz bench. Along with Neto, Utah has gotten key minutes from everyone from Ekpe Udoh, Niang, Thabo Sefolosha and Royce O'Neale — players that have all seen their roles fluctuate throughout the season.
But Neto expects to play now. There's no question really anymore. With Exum out, there are guard minutes needed and while Joe Ingles, Donovan Mitchell and O'Neale can handle the ball, each one of them will say they are better with a true point guard in the game.
"Every day, he never knows, myself included, know how much we 're gonna play," O'Neale said. "But when he gets an opportunity, he takes advantage of it. Great point guard to have, great teammate."
And that's why Snyder is continually pushing him. He wants to see him improve on his communication and leadership on the court by taking more control of the offense.
"Side out of bounds, call a play, we trust you," Snyder said. "Some of that is Raul is such a selfless guy. He doesn't want to overstep. And he really can't."
And that selflessness is evident in how he feels about his current situation. He wants to play, but he wishes his chance for more consistent minutes came under different circumstances.
"I feel really bad for him," Neto said of Exum. "We have been together since I got here, I've seen everything he has been through with his knees and his ankle. Every time he starts getting more time and starts feeling good on the court, he has a setback with injuries. I just feel sorry. That's not the way I wanted to have my opportunity, but it is what it is. It's basketball. And I have to be ready for that."
×
Most recent Utah Jazz stories