This archived news story is available only for your personal, non-commercial use. Information in the story may be outdated or superseded by additional information. Reading or replaying the story in its archived form does not constitute a republication of the story.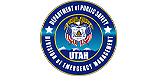 This story is sponsored by Utah Division of Emergency Management.
March is Flood Safety Awareness Month, which is a perfect time to learn more about Utah's most common natural disaster. While floods can cause catastrophic destruction, only 3 percent of Utahns have coverage with flood insurance. Just one inch of flooding can cause more than $26,000 of damage.
Let's separate the fact from fiction about floods.
Homeowners insurance does not cover your home in a flood
Most Utahns believe homeowners insurance covers their home if they get caught in a flood. However, flood insurance is a separate policy from your homeowners insurance. Most Utahns do not have coverage if a flood hits their home.
Another misconception about flood insurance is the role of the federal government regarding flood disasters. According to the Federal Emergency Management Agency (FEMA), federal disaster assistance is not always guaranteed. However, flood insurance will cover your home and belongings regardless of whether or not there is a Presidential Disaster Declaration. However, the average payout is less than $5,000.
Flood insurance is important, even in low-risk areas
Anywhere it rains, there can be a flood. Even if you don't live in a high-risk floodplain area, you need to have your home covered by flood insurance. Despite Utah's high desert environment, numerous factors can contribute to your home flooding. Floods are caused by snowmelt, broken water mains, blocked drainage systems and periods of heavy rain in a short amount of time.
Homeowners insurance covers only pipe breaks that occur within your home. More than 20 percent of claims come from low-to-moderate risk floodplain areas, so do not risk it when it comes to protecting your home and family from flood damage.
Getting covered by flood insurance is fast and easy
Getting flood insurance is as simple as reaching out to your local insurance agent. They can help you explore plans and find the right coverage for your needs. The average cost of flood insurance is only $246 a year, which is inexpensive compared to the cost of rebuilding your home.
There is also a 30-day waiting period for flood insurance to become effective, in most cases. Ask your insurance agent if your community participates in the National Flood Insurance Program and about policies available for flood protection.
To get more Utah flood facts, go to FloodFacts.Utah.Gov.
×