Estimated read time: 4-5 minutes
This archived news story is available only for your personal, non-commercial use. Information in the story may be outdated or superseded by additional information. Reading or replaying the story in its archived form does not constitute a republication of the story.
SALT LAKE CITY — Donovan Mitchell stood inches behind Ricky Rubio with an amused look on his face and started vigorously applying lotion. Rubio was in the middle of taking questions from the media after a recent Jazz win and Mitchell was, well, being Mitchell — trying to distract his teammate and trying to get a laugh from everyone else.
"I'm a weird person," Mitchell said. "I'm weird, I'm childish, I act like a kid, but I just happen to do what I do on the court."
And he doesn't try to hide that. He showers his teammates with water in walk-off interviews, and will humorously chime in as other players are answering media's questions. In short, he has a good time at work — both on the court and off. And he's not alone, either.
Walk into the Jazz locker room after a game — especially a win — and it will be filled with light-hearted talk, good-natured ribbing and a lot of jokes.
So it's probably not a huge surprise that Mitchell can't quite relate to Adam Silver's recent comments at the MIT Sloan Sports Analytics Conference when the NBA commissioner said NBA players are "generally unhappy."
"I'm the happiest kid in the world," Mitchell said. "I'm loving my job."
But while it's not hard to see the joy coming out of the Jazz locker room, it also doesn't take much to see some of the unhappiness around the NBA.
Kyrie Irving looks downright miserable at times; Anthony Davis requested a trade to greener pastures; LeBron James was hoping to swap most of his teammates for Davis; Kawhi Leonard only became a Raptor after being away from his San Antonio team for nearly a season, and on and on it goes. A lot of the NBA's biggest stars are simply dissatisified with their current situations.
Silver alluded, though, that the problem might not be a basketball one, but a societal one.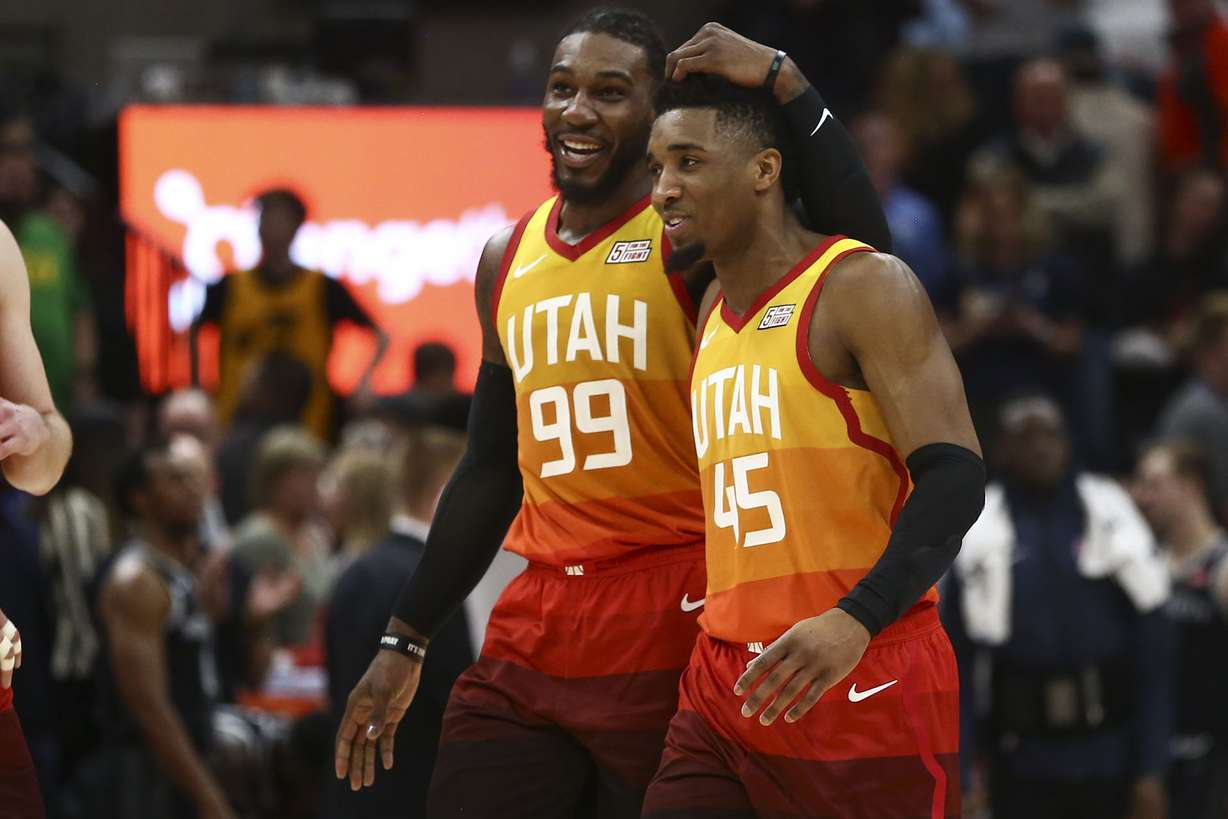 "We are living in a time of anxiety," Silver said. "I think it's a direct result of social media."
Players are anxious about their image, about their legacy, about their brand. Silver believes that social media has led to an increase in jealousy in the league and that some players are "amazingly isolated."
"It's not just unique to these players," Silver said. "I think it's more a function of their generation. Not that our generation doesn't have anxiety and depression too, but there are some real studies that show these ties and direct connection to social media. The isolation that comes with social media and the bullying that comes with it."
Silver contrasted today's teams with Michael Jordan's Bulls squads of the 1990s. Those Bulls teams, he said, had "amazing camaraderie," but now he's likely to see most of the players with headphones on and looking down during bus rides, on planes and even in the locker room.
That's why Mitchell's post-game locker-room antics may say more than he thinks. It shows that the Jazz have that closeness that is often missing throughout the league.
"We just enjoy each other's company," Derrick Favors said. "We enjoy each other's successes on the court. We celebrate it. We're a group of guys that enjoy being around each other.
But while Utah has mostly avoided some of the drama that has faced other teams this season, Mitchell acknowledged that the emotions and problems Silver alluded to are real.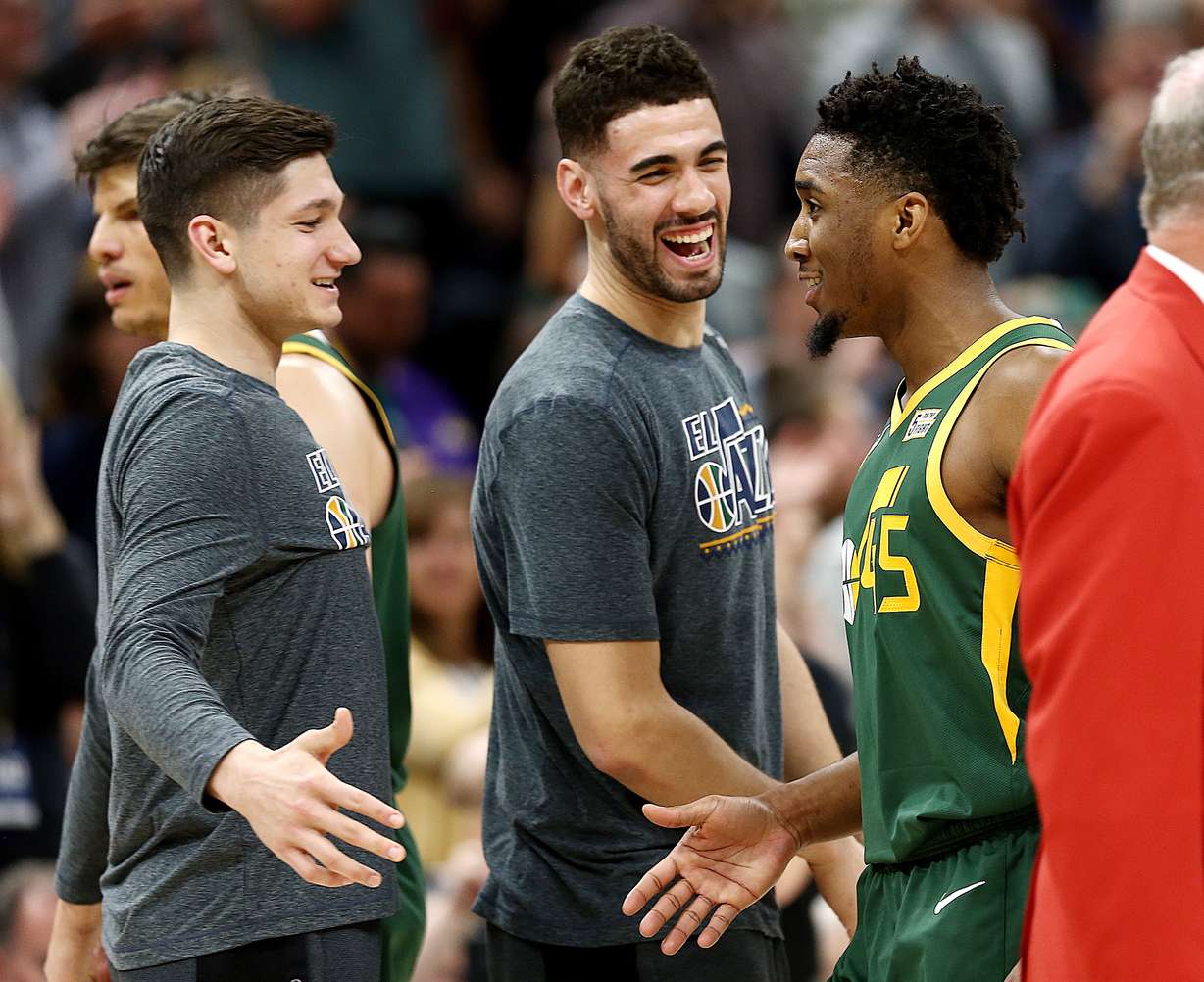 NBA players, after all, are human. And just because a person can score 40 points or grab 20 rebounds in an NBA game, doesn't make them immune to trials.
"They are no different than everybody else," Mitchell said. "I think that's what people fail to see."
And those people include former NBA players. Charles Barkley said on the ESPN show "Get Up" that Silver's comments were the "stupidest things I've ever heard any commissioner say."
"These guys are making 20, 30, 40 million dollars a year," he continued. "They work six, seven months a year. They stay in the best hotels in the world — they ain't got no problems."
Over the last year, Kevin Love and DeMar DeRozan have both come out about their own challenges with mental health. And that shows what most people already knew: fame and fortune can't solve everything.
"Some people have real-life problems," Mitchell said. "You just happen to see them when they don't have those problems. It's interesting and it's something that people should be more aware of."
But as for Mitchell, unhappiness isn't one of the things he's dealing with.
"I'm having the time of my life, to be honest," Mitchell said. "This is incredible to me."
×
Related stories
Most recent Utah Jazz stories