This archived news story is available only for your personal, non-commercial use. Information in the story may be outdated or superseded by additional information. Reading or replaying the story in its archived form does not constitute a republication of the story.
SALT LAKE CITY — The Jazz already have a Spida-Man. It seems they have a Hulk now, too.
After last Saturday's win over the Bucks, Kyle Korver used that term to describe Derrick Favors' game. And one play in particular when Favors rolled to the basket and delivered a vicious one-handed slam on Ersan Ilyasova.
"He went into Hulk mode," Korver said. "He was a beast."
And then following Favors' season-high 25-point performance in a win on Wednesday, Donovan Mitchell, the Spida-Man himself, made it official.
"Faves — he's the Hulk," Mitchell said. "That's his new nickname."
That happens when you are finishing nearly everything, protecting the rim better than anyone else in the league — and yes, that includes teammate Rudy Gobert — keeping balls alive for extra possessions and doing it all with added emotion that is in stark contrast from the usual calm demeanor that Favors has had during his time in Utah.
Since the All-Star break, Favors is averaging 17.4 points on 67.1 percent shooting, 10.0 rebounds, 2.1 blocks, and the Jazz have outscored opponents by 11.4 points per game when he is on the court.
"Whenever I get the opportunity to be aggressive offensively, take it," Favors said about keeping the "Hulk" mindset. "Whether that's dunking, or making jump shots or just making plays offensive, just being engaged in the whole game and taking advantage of the opportunity the whole game, whether that's playing 20 minutes or 30 minutes."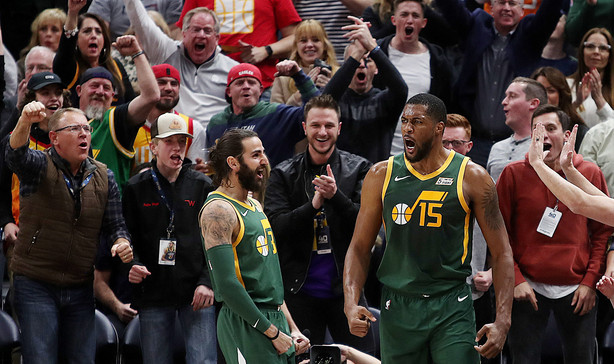 Last spring, as the Jazz headed into the offseason, there was some excitement coming from Favors. After two injury-riddled years, he was finally entering a summer healthy. For the first time in a while, he wouldn't have to spend a portion of his offseason healing. That led to more and higher intensity work in order to not just gain strength, but to help protect from injury.
"That allowed me to do a lot more things, allowed me to work out a little harder, work out longer," Favors said. "I just got my body in shape, got my knee stronger, and it's been paying off for me."
And paying off for the Jazz. Favors' bounce has returned — and more explosive Favors is a better Favors.
During Favors' dunk on Ilyasova, he took off from outside of the restricted area and flew to the right of the rim to deliver the one-hand slam. It's hard to imagine him doing that even last season.
And that type of finish is no longer rare for the longtime Jazz big man. He had another one against the Pelicans on Wednesday where he fought through two New Orleans players for a dunk.
"Two years ago, I think when he wasn't feeling great, his finishing suffered as a result," Jazz coach Quin Snyder said. "You see (his health) in his finishing. When he's got the ball around the rim and he's got an angle, he's just going up and he's dunking everything."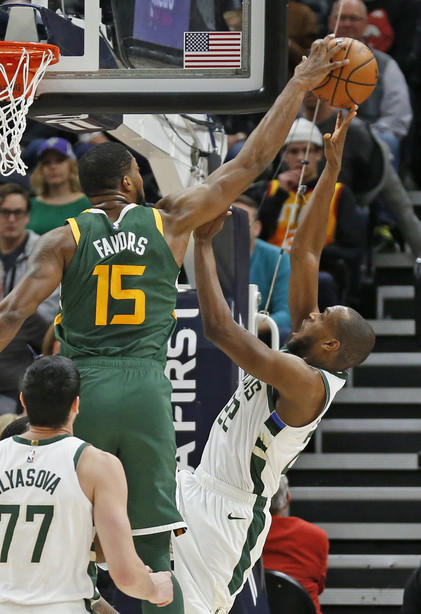 That helps explain how Favors is shooting 71.5 percent at the rim this season — which is the seventh-best mark in the league among players with at least 4.0 field goal attempts at the rim per game.
But that's just one part of Favors' game that has improved as his explosiveness has returned.
"You see it manifest itself a lot of ways," Snyder said. "I think he's able to make multiple effort plays — not that he didn't do that before, but I think he's able to play through a lot and it becomes habitual. When you're feeling better, you're able to do things."
And as good as Favors has been finishing this season, his ability to keep others from scoring at the hoop has been even better. Favors is allowing opponents to shoot only 48.2 percent at the rim — that's the best mark in the league. In the same game, he posterized Ilyasova, he stonewalled a Giannis Antetokounmpo dunk attempt right at the rim. That takes a whole lot of strength.
"It feels good to be able to do that again," Favors said.
×
Related Stories