This archived news story is available only for your personal, non-commercial use. Information in the story may be outdated or superseded by additional information. Reading or replaying the story in its archived form does not constitute a republication of the story.
PLEASANT GROVE — Boy Scouts often pull out a hammer and some nails to build something intricate for their Eagle Scout project. However, sitting down with a sewing machine and fabric next to mom isn't always typical.
One Pleasant Grove teen is tackling one of Utah's biggest problems in his own living room.
Logan Merrill, 15, is in the culmination of his Boy Scout training, but his Eagle Scout project has turned into something much bigger than just the final step in the program. He noticed something that really bothered him and made it the focus of his project — distracted driving.
Merrill was disappointed by drivers using their cell phone behind the wheel. "People use it for everything you know — calls, texts, Facetime," he explained.
With the help of his mom, Tori Merrill, Logan Merrill designed a solution. "Me and my mom had been thinking about it for years, and then once the Eagle project idea came up, it just seems to fit and make perfect sense," he said.
"Trim that off a little bit. There you go — try that one again," his mom said next to her sewing machine.
They're called "Just Don't" bags, hand sewn to fit a cell phone. They're designed to eliminate the temptation for drivers to use their phone while driving.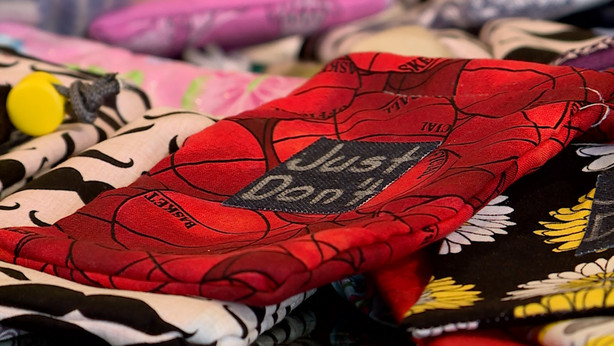 Each bag cinches up with a toggle to keep your phone enclosed in the car. "That way, you have to think twice if you really want to answer that text," Tori Merrill said.
The Merrill family has sewn hundreds of bags. Logan Merrill has enlisted the help of his three younger brothers turning the project into a family affair.
They pass them out for free all over the community as gas stations, the library, the fire department, grocery stores, and in their neighborhood. Logan Merrill has sewn more than 450 bags in various patterns and prints to appeal to all ages.
Tori Merrill said she is trying to make Pleasant Grove a safer place for her sons and others.
"I mean, we have precious cargo in the back of my car," she said. "It's scary to think of other people using their phone while they're driving … I would be just as devastated to see somebody else's child or parent get hurt as I would my own."
---
My goal is to save lives. If we can get everybody off their phone, we can greatly reduce the number of car accidents.
–Logan Merrill
---
Tori Merrill is especially concerned now that her son is learning how to drive. When Tori Merrill gets in the passenger seat to practice driving with him, she reminds her son to put his phone in his "Just Don't" bag before starting the car.
Tori Merrill said she is proud of her son's efforts. "It's heartwarming to see how important this is to him, and to see the passion in him," she said.
The Merrills' neighbor, Michelle Nelson, said she enjoys using her "Just Don't" bag. "It still allows me to use it with my hands-free device, but not to necessarily scroll through and not pay attention," she explained.
Nelson said it forces her to keep her hands off her phone when she is at a stoplight. "It takes a minute to get [my phone] out and by that time, your light is going to change and you've got to get going," she said.
Utah Department of Transportation spokesperson John Gleason said distracted driving is one of the biggest challenges on Utah roads.
"Your instant reaction is, 'I've got to see who is calling. I've got a see who is texting!' and you want to respond right now," he explained. "But if you take the cell phone and put it somewhere else, then it will take that temptation away."
Sadly, Gleason said a recent national report found about 70 percent of crashes are a result of people not paying attention. "The moment that it takes you to answer a phone call or to read a text message, that's the moment that you could cause a serious crash, injure yourself or someone else," he said.
Gleason said many drivers think distracted driving is limited to just cell phone use. He disregarded that notion and instead defined distracted driving as really anything that takes a driver's focus off the road like messing with the radio or talking to another passenger.
Logan Merrill wants to get a bag into every driver's hands.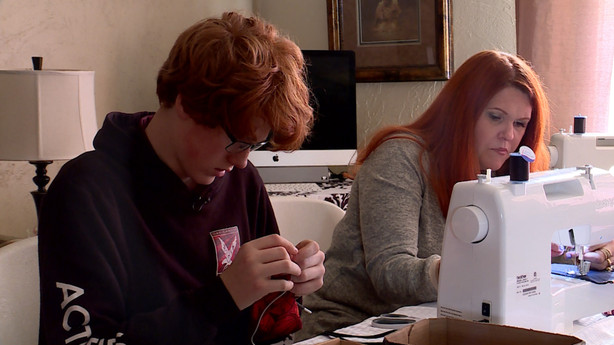 "My goal is to save lives," he said. "If we can get everybody off their phone, we can greatly reduce the number of car accidents."
Logan Merrill plans to continue the project for years to come even after he completes the necessary requirements for his Eagle Scout Project.
If you would like a "Just Don't" bag for you or your loved ones, or if you have extra fabric to donate to the cause, send an email to Logan Merrill at justdontbags@gmail.com.
×
Photos
Related Stories