This archived news story is available only for your personal, non-commercial use. Information in the story may be outdated or superseded by additional information. Reading or replaying the story in its archived form does not constitute a republication of the story.
OGDEN — Major crime across Ogden dropped to a 10-year low in 2018 in what Mayor Mike Caldwell described as the largest single-year drop in major crimes since the city began keeping records.
"I'm very proud of what this great team of men and women have done and what they've been able to accomplish," Caldwell said, flanked by officials from local, state and national agencies at a press conference Wednesday.
In all, Ogden police dealt with 3,627 Part 1 crime last year — 3,257 property crimes, which include burglary, larceny, auto theft and arson, and 370 violent crimes, which are homicide, rape, robbery and aggravated assault. The total Part 1 crimes number was nearly 20 percent lower than all of 2017 and was below 4,000 for the first time in at least a decade.
Police dealt with 4,519 Part 1 crimes in 2017 and the department investigated an average of 4,883 Part 1 crime over the past 12 years prior to 2018.
Ogden Police Chief Steven Watt credited a written strategic plan designed after a 2016 crime spike for the reduction in crime. The plan called to reorganize the department to "align the bureaus and divisions with the mission goals and objectives" set out by department reorganization, Watt said.
"Primarily, our success is due to the officers of our police department who have and who will go out every day and display courage and commitment in accomplishing our objectives," he said, adding in credit to the department's Real Time Crime Center for giving an analytic look at crime in the city.
He also credited Caldwell and the Ogden City Council for "going out on a political limb" and raising taxes to "ensure critical resources were available."
Ogden isn't the only city celebrating a significant dip in crime in 2018. For example, Salt Lake City police statistics state Part 1 crime dropped 20.2 percent from 2017 to 2018. The department's report also showed Salt Lake City crime was down 23.3 percent from the five-year average.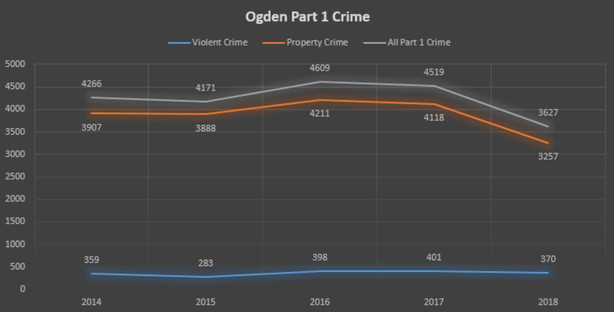 John Huber, U.S. Attorney for Utah, added during Wednesday's press conference that increased federal support directed toward the Ogden and the state has helped decrease crime.
"There are some who believe that crime is like a tide, that it ebbs and flows according to the dictates of the moon. That is wrong. We can plant a flag down and set a goal to turn back violent crime and achieve success," he said. "That's what we're rewarding together."
×