PROVO — Just two weeks ago, BYU women's basketball was riding high, ranked in the AP Top 25 for the first time in seven years and enjoying an impressive 11-game winning streak and a spot atop the West Coast Conference.
A lot can change in two weeks.
Megan McKay recorded 19 points and 10 rebounds, and Saint Mary's stormed out to a big first-quarter lead before holding off BYU, 78-75, to hand the Cougars their third-straight loss Thursday afternoon in front of 3,981 most-elementary school-aged fans in the Marriott Center.
Sydney Raggio added 11 points and 13 rebounds with five assists, and Carly Turner supplied 16 points and six boards for the Gaels (15-8, 8-4 WCC). The top-scoring team in the conference that averages 76.5 points per game, and No. 3 in the league's RPI ratings behind Gonzaga (12) and BYU (31) avenged a 74-73 home loss to BYU last month in Moraga, California.
"What we've tried to tell the team is look at yourself and do things that you think can help the team," BYU coach Jeff Judkins said of the losing skid. "Don't try to make a play by yourself; depend on each other. Stick together.
"If you do that, you'll get through these tough times. We all go through them. For some teams, it's one game, some it's two or three. It happens; it's the nature of the game. It's why basketball the most up-and-down game."
Paisley Johnson led BYU with 20 points, three rebounds and three assists, and Jasmine Moody supplied 12 points and seven rebounds.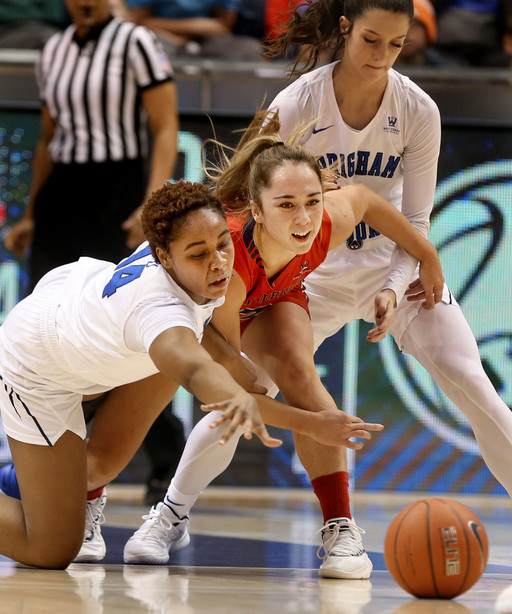 Shaylee Gonzales had 13 points and four assists for the Cougars (17-6, 9-3 WCC), Brenna Chase chipped in nine points and six assists, and Caitlyn Alldredge supplied 11points, four rebounds and three assists in 20 minutes off the bench.
"The message is we need to play tougher and have heart," said Alldredge, one of just two active seniors on the team. "There are ups and downs on the season, and how we push through right now is how we get ready for the conference tournament.
"We know the outright (conference) title might not be ours, but the tournament is what matters. If we can get past this bump in the road, we are going to be in the perfect place for the tournament because we know we can beat anyone in our conference."
Saint Mary's held the Cougars to 25 percent from the field in the first quarter, and McKay poured in eight points to help the Gaels to a 21-12 lead after 10 minutes.
Alldredge, who played four seasons with the BYU softball team, gave the Cougars a second-quarter spark to get back into the game. Alldredge came off the bench to hit a three, grab a rebound, and post up on a block in consecutive series as BYU put together a 9-0 run to pull within four, 29-25, with 5 minutes remaining.
Aided by the shrills and energy of more than two thousand grade schoolers brought in for the Cougars' annual promotion with local elementary schools, BYU used a 19-4 run to briefly take a 35-33 lead with just over 2 minutes left in the half.
In case you missed it here is the post game recap of @byuwbb's loss to @GaelsWBB. #byuwbb#GoCougs#gaelswbbpic.twitter.com/dl0HE3HW6p

— BYUtv Sports (@byutvsports) February 7, 2019
"Caitlyn had a great game from here," Judkins said. "I think that shows that toughness, being aggressiveness and being a good teammate can make the team a lot better. I thought she had a really great game for us tonight."
But the Gaels held BYU scoreless for the final 2:14 to take a 39-35 lead into the break. McKay had 13 points and seven rebounds at the half.
Alldredge came to play in the second half, too.
The senior had back-to-back steals and added a triple for good measure to help the Cougars cap a 13-2 run for a 49-44 edge with four minutes into the third period.
BYU outscored the Gaels 25-14 in the third quarter to take a seven-point lead into the final stanza. Saint Mary's erased the deficit with a furious opening two minutes, and the Cougars never led in the final 4:48.
"We lost the momentum," Johnson said. "We didn't execute the way we needed and we became complacent. We weren't ready to go win.
"We definitely stepped off the gas pedal."
×
Related Stories