This archived news story is available only for your personal, non-commercial use. Information in the story may be outdated or superseded by additional information. Reading or replaying the story in its archived form does not constitute a republication of the story.
SALT LAKE CITY — There were a lot of defensive plays to be made for the NFC squad in the 2019 Pro Bowl.
That's good news for former Utah State star linebacker Bobby Wagner.
The Seattle Seahawks veteran made five tackles, including three solo stops, to lead the NFC in Sunday's end-of-season all-star game in Orlando.
Never one to hold back — even in an exhibition game — Wagner also got flagged for hurdling a lineman on a special teams play. The 6-foot, 240-pound middle linebacker was penalized 15 yards for leaping over the offensive line while trying to block an extra point in the second quarter.
Former Utah star Eric Weddle was appearing in his sixth Pro Bowl, and he helped the AFC pitch a shutout in the first half, 17-0.
The Ravens haven't decided if they will pick up Weddle for the final year of his contract in 2019, a year that will likely be the last of his career.
"I'm feeling great, so that definitely helps next year. I'm not sure if things are going to work out," Weddle told the Ravens team media. "Obviously, I want to be back. I signed for four years and want to play it out. But decisions have to be made for the future of the team, and I respect that.
"I've had an unbelievable experience here and loved every second. If it happens, great. If not, we'll both move on, and I'll find some place else."
The AFC jumped out to a 20-6 lead, holding the NFC scoreless until Dallas' Dak Prescott tossed a 20-yard touchdown to Atlanta's Austin Hooper with 9:05 left in the fourth quarter.
The AFC won, 26-7 — if you care about that sort of thing.
Chiefs quarterback Patrick Mahomes completed 7-of-14 passes for 156 yards and a touchdown, and Deshaun Watson threw for 128 yards and a touchdown to lead the AFC, which out-gained the NFC 416 yards to 148 yards, and pulled down three interceptions off NFC quarterbacks.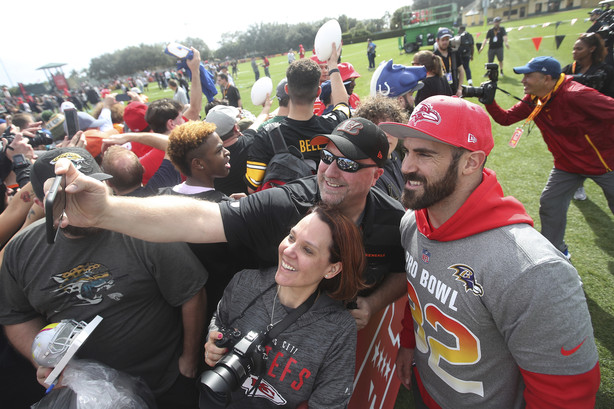 Perhaps former BYU quarterback Taysom Hill could've joined Weddle and Wagner in Orlando. But the Saints' Swiss army knife, who has played quarterback, running back, wide receiver, tight end, kick returner and punt specialist (among other positions) in New Orleans, had several votes mistakenly given to Kansas City's Tyreek Hill.
The Chiefs wide receiver received six All-Pro votes on special teams this year, the third-highest special teams' vote on the ballot. The only problem? Tyreek Hill rarely played on special teams, appearing in just 11 percent of Kansas City's special-teams' snaps in the regular season.
Those votes should've gone to Taysom Hill, as Pro Football Talk noted, and were mistakenly applied to Tyreek Hill — making the wide out the highest-voted "flex" All-Pro position, based on the "clerical error," according to the Associated Press.
For what it's worth, Tyreek Hill ran for 24 yards and caught three passes for 23 yards (on 10 targets) in the AFC win Sunday.
The New England Patriots will face the Los Angeles Rams in next week's Super Bowl LIII in Atlanta. Locals in the game include Patriots linebacker Kyle Van Noy (BYU) and Rams return specialist JoJo Natson (Utah State).
Kickoff is scheduled for 4:30 p.m. MT on CBS.
×
Related Stories