SALT LAKE CITY — In three games as the primary ball handler with the BYU men's basketball team, TJ Haws is feeling it.
To be exact, he's feeling it to the tune of 18.7 points, 5.0 rebounds, 7.7 assists, 1.7 steals and 2.7 turnovers in the last three games.
Thursday night was as good as — or better than — anything else, though.
Haws poured in a career-best 34 points, eight assists and seven rebounds, and Yoeli Childs added 20 points and five rebounds to help the Cougars hold on for an 87-76 win Thursday night at Pepperdine for their second true road win of West Coast Conference play in Malibu, California.
But more than the stats, the numbers or the big scoring, one stands out for Haws: the Cougars are 4-1 in WCC play, with two wins in their first three road trips to California.
"This is huge for us, to come in and get another road win. It gives us a lot of confidence to keep moving forward," Haws told KSL Newsradio after the game. "I think we are feeling pretty good right now."
Gavin Baxter supplied a career-high 13 points, five rebounds and three blocks, and Zac Seljaas chipped in nine points and 10 rebounds for BYU (12-8, 4-1 WCC).
Kameron Edwards scored 22 points with three steals for the Waves (9-10, 2-3 WCC), and teammate Colbey Ross added 24 points and five assists.
"That's how you win," said BYU coach Dave Rose, whose team improved to 14-9 all-time against Pepperdine and 5-5 in Firestone Fieldhouse — including wins in the last two trips. "A lot of times you think there's a scientific formula, but the guys just come out, hang in, a lot of guys contribute, and a couple of guys have really exceptional nights."
Haws scored 15 in the first 20 minutes as BYU took a nine-point lead into the break. But Pepperdine opened the second half on a 10-3 run, then jumped ahead 50-49 on Kessler Edwards' 3-pointer just under four minutes into the half.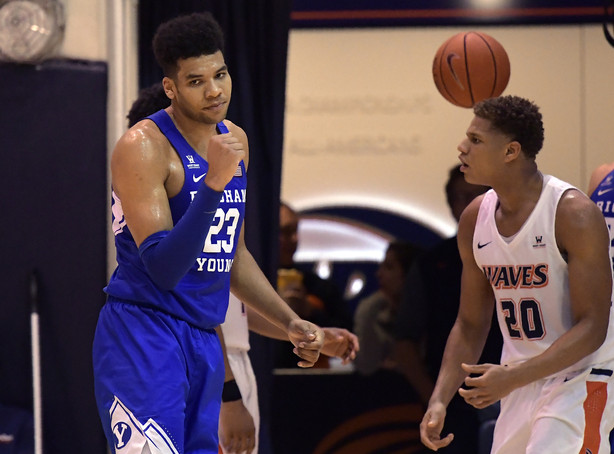 But the Waves, who never led by more than four points, couldn't lead by multiple possessions during the second half.
Meanwhile, the Cougars found Childs — and rising freshman Gavin Baxter — for easy buckets down low.
A dunk by the former Timpview star here. An and-one play by the ex-Bingham standout there. When Haws wasn't scoring, he was dealing.
"I can't say enough good things about what Gav did tonight," Haws said of Baxter. "Some of the rebounds he got were just huge for us. As a point guard, to be able to play with someone like that is really fun for me."
The former Lone Peak standout tied a career-high with eight assists, filling in for injured point guard Jahshire Hardnett, who missed his third straight game with a hand injury.
The Cougars also got some help. Pepperdine dribbling out of bounds or bouncing a pass from one Wave off a teammate's foot. But BYU also created their own luck, out-rebounding Pepperdine 38-34 with a 32-22 margin on the defensive glass, and assisting on 17-of-28 made shots.
And then there was Haws, who shot 7-of-14 from the field and made 18-of-22 free throws — the most in a single game in BYU history since the days of Jimmer Fredette.
"You're not going to get 34 points every night from Teej," Rose said. "But he went to the free-throw line a lot, and we got them all tonight. It paid off for us.
"There are a lot of bright spots coming out of here — the win is the brightest. But we had a lot of guys step up and help us."
×
Photos
Related Stories