Estimated read time: 7-8 minutes
This archived news story is available only for your personal, non-commercial use. Information in the story may be outdated or superseded by additional information. Reading or replaying the story in its archived form does not constitute a republication of the story.
SALT LAKE CITY — The average second-round draft pick in the NFL in 2019 will make anywhere between $4.5 million to nearly $8 million over the life of a four-year rookie contract.
That's how much money was at stake when junior running back Zack Moss decided to stay at the University of Utah for his senior season — passing on an opportunity to pursue an NFL career a year early.
The Miami, Florida, native was given a second-round draft grade from the NFL at the end of the 2018 season and had a seemingly bright future ahead of him in the league had he left college early — a dream scenario only a select few can even hope to entertain. He had all that despite a season-ending knee injury during his junior season that would keep him out of Utah's final five games of the season.
"I had the opportunity to go," Moss told KSL.com, adding that the NFL money was all but guaranteed. "But at the end of the day, that's not the only thing that I looked at and I cared about."
Moss wants to be known as an all-time great at Utah, not just one of the best; he wants the single-season rushing record at Utah; he wants the all-time rushing record at Utah; he wants to graduate with a bachelor's degree; he wants a Pac-12 championship; he wants a shot at the College Football Playoff.
And he believes the current makeup of Utah's 2019 team is capable of helping him accomplish all those goals.
That's why the NFL can wait.
"If we didn't have the team that we're going to have this upcoming season, I probably would have taken a different route," Moss said. "But all of those things lining up, I just felt like I could do without the money right now. I didn't want to have any regrets at the end of the day about not finishing up here and leaving things on the table."
For Moss, his original goal when he first arrived at Utah is still unchecked.
"When I came here, my goal was to be the best running back of all time and be one of the best players to ever walk through this university," he said. "And now sitting here, having the opportunity to do that, it's something I couldn't pass up on, no matter what.
"I wanted to solidify that — not just be talked about being one of the best, but be the best. And, obviously, shatter the records and be the most successful team in Utah history."
It's not unusual for athletes to want to leave their mark on a university, but Moss has a legitimate shot of obtaining his goals and being the best running back in school history, at least statistically. Moss needs only 573 rushing yards to become Utah's all-time leading rusher, and only nine rushing touchdowns to be the all-time rushing touchdown leader — seemingly easy marks to attain.
There's also several other season and career records at play for Moss in his final year at Utah. The opportunity is rich for Moss, but it's also a major boon to Utah to have their leading rusher back on the sidelines for his senior season.
"We're ecstatic," Utah head coach Kyle Whittingham told KSL.com. "He's one of the best running backs in the Pac-12, for certain, and one of the best, in my opinion, in the country. Just to have him back with his production and his leadership that he provides for the team is a big plus for us."
Moss, too, is excited about the possibilities. He's looking forward to working with newly hired offensive coordinator Andy Ludwig, who has a history of scheming around a star running back. In 2014, Ludwig crafted an offense at Wisconsin that allowed Melvin Gordon to rush for 2,587 yards and 29 touchdowns in his junior season.
That example didn't go unnoticed on Moss.
"He knows the type of player that I am and knows what I can generate. And if I thought I would have a bad year or something like that — that never crept into my mind," Moss said. "I feel like it's gonna be a good thing — once I'm healthy to get into that offense and see the scheme and finally have a guy that actually wants to play through me so we can get to where we really need to be at. I think it's going to be a good thing."
Making a decision to stay
Prior to Moss sustaining a season-ending injury, his mother, Cassandra Moss, believed her son was planning to forego his senior season to enter the NFL draft process. Several sports agencies had already called her and attempted to set up meetings in hopes of courting the Moss family should he declare for the draft.
But she held off.
"I had all these calls and everyone was calling," she told KSL.com. "I didn't know what he wanted to do, but I just told Zack, 'I'm here, you know, just going to be supporting you — whatever you need me to do.' I thought it was just overwhelming, I mean, the whole thing.
"I couldn't imagine what it was like being in his shoes — this has to be too much."
Her son, though, later suffered a "strange injury," and everything was a blur with his season being cut short. The injury would force him into rehab until April, and he'd have to push himself to showcase his talent to NFL scouts before he was fully healed — maybe a little too early.
"I think part of the decision was based on not wanting to rush the rehab and trying to come back too soon," Whittingham said. "He's got to look at the big picture, and if you try to rush something like that and come back too soon, that can present problems down the line. And so that was another part of the equation — what was the injury and when would he be ready to be full strength and test, if at all, before the draft."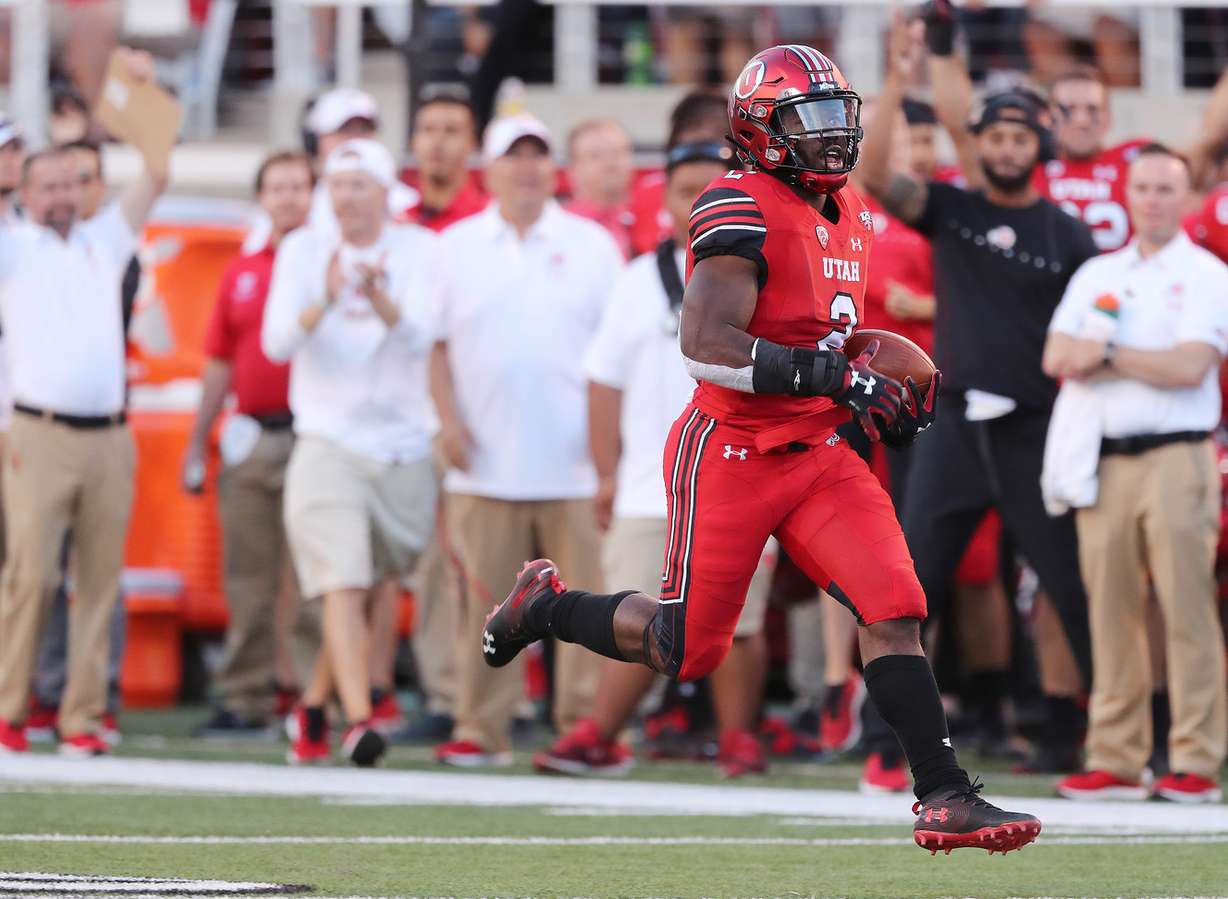 As his coach, Whittingham said he presented all the options to Moss in an effort to "make sure that he has all the information he needs to make the decision." He gave his recommendations, but added that he didn't "push it hard because it's got to be the player's decision."
Cassandra Moss gave him similar advice — all while advocating for family and friends to share their love with him, but asking them to also give him the space he needed to make the decision on his own.
"I told him, 'Zack, don't let me make this decision for you,'" she said. "He wanted me to help him is what he was saying. I'm like, 'Don't let me be the reason that you make a decision and don't let other people be talking to you.' I was telling him to be by yourself, you know, be to yourself and you decide — you decide because it's going to be your life."
So Moss made the decision on his own.
"I just had a lot of time to just sit back and reflect on what I wanted to do and just make a decision," he said. "Not too many people bothered me. I just had a lot of time and a lot of space to myself to make a decision."
The college experience ultimately won out in the end — an opportunity for him to be the first person in his family to obtain a four-year college degree, while also likely "shattering records" on the football field along the way.
"Obviously, a college experience is something that you can never get twice," Moss said. "You get it for three, four years, and it's something that I felt outweighed the money at the time for me — just finishing up school, finishing up being here with the class that I came in with and the team goals that we have with the team we have, and the opportunity that's ahead of us."
His coach couldn't be happier.
"Zack is an extremely bright, intelligent kid. He went about it the right way. He talked to the right people. He weighed everything in the equation, you know, because it's more than just your draft status," Whittingham said. "I thought Zack did a great job of weighing the situation, in its entirety, and I absolutely believe that he made the right decision."
×
Photos