SALT LAKE CITY — A woman was charged Tuesday with driving under the influence after crashing into and critically injuring a 19-year-old driver in South Jordan a day before New Year's Eve, police said.
Bobbi Leigh Phillips, 30, of Midvale, was traveling the wrong way on 11400 South when she struck another car head-on near 800 West about 1:15 a.m., according to jail records. The driver, Sonya Wilson, 19, was talking to her friend on speaker phone when the accident occurred.
"I could hear the car crash, the windows shatter," Wilson's friend, Maddie McCurdy, told KSL on Dec. 30. "She just kept screaming, 'My legs, my legs hurt, my legs are hurting me really bad.'"
Wilson was going to her friend's house for a sleepover when she was hit.
"Sonya was yelling out to (the firefighter) saying, 'I don't want to lose my legs. I don't want to lose my legs,'" said Wilson's mother, Anita Wilson.
When police arrived on scene, they had to extricate Wilson who had suffered "severe injuries to her lower extremities," the jail report indicated. Later reports said Wilson had two broken femurs, a broken collarbone, cracked pelvis and other injuries. A passenger in Phillips' car also received minor injuries.
Phillips was discovered in the driver's seat of the vehicle after the crash and admitted to police that she had been driving when the crash happened, a jail report said. Officers said they smelled a strong alcoholic odor and that Phillips' eyes were bloodshot and she spoke lethargically, according to the jail report. Police performed a sobriety test and arrested her. Officers said they later found marijuana in her vehicle.
She was charged in connection with driving under the influence, possession or use of a controlled substance and driving on the wrong side of the road.
Phillips has not previously been convicted of any serious crimes in Utah.
A GoFundMe page* for Wilson was set up to help with medical expenses. The family does not have health insurance, according to the page.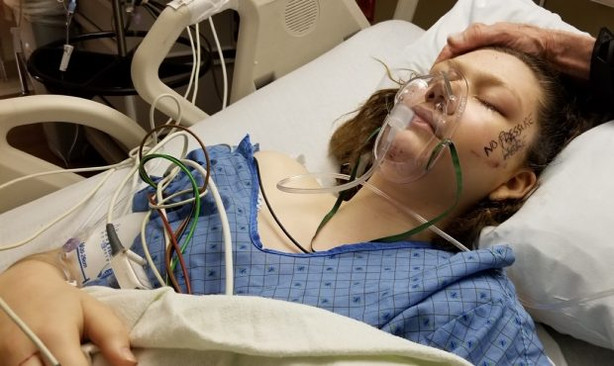 An update to the page, posted Jan. 2, said Wilson had surgery that helped her regain the use of her left arm again, though she suffered 11 total breaks and fractures throughout her body.
"This year will bring along (sic) of struggle for Sonya as she recovers from this tragic incident. She will focus on getting her body back into top shape. Then eventually, she will look at getting back to work and school, most likely in 2020. Sonya is happy to say that she survived 2018," the update reads.
*Disclaimer: KSL.com has not verified the accuracy of the information provided with respect to the account nor does KSL.com assure that the monies deposited will be applied for the benefit of the persons named as beneficiaries. If you are considering a deposit or donation you should consult your own advisers and otherwise proceed at your own risk.
×
Related Stories