PROVO — BYU defensive back Isaiah Armstrong has played his last snaps in Provo.
The senior-to-be who vacillated between safety and cornerback announced this week that he will graduate from BYU in April and immediately seek a transfer away from the Cougar football program.
The 6-foot-2 native of Redlands, California, came to BYU after one season at Riverside City College, playing primarily on special teams with the Cougars.
Armstrong leaves BYU with just four tackles and an interception in 19 games, though he became a fixture for special teams coordinator Ed Lamb during the 2018 season.
"The last three years I've spent playing for BYU have been nothing short of amazing," said Armstrong, who used a redshirt in 2017. "I will always be grateful for coach Sitake and coach Lamb for giving me an opportunity to play college football and earn a college degree.
"Thank you again to BYU, the coaches, and all of my teammates. I wish you all the best."
January 7, 2019
Armstrong said he is currently listed on the NCAA's official transfer portal, a new mechanism that allows college coaches to contact prospective transfers, both those who have graduated and others.
Armstrong will have one season of eligibility remaining at his future destination, which is yet to be determined. His brother Josh Armstrong was a four-year starter at Sacramento State, and Isaiah Armstrong had offers from the Hornets, Utah State, Fresno State and UC Davis before opting for BYU.
He joins the recent departures of Christian Folau and Wayne Kirby, who announced they were leaving BYU shortly before the Cougars' bowl game in December.
Called to serve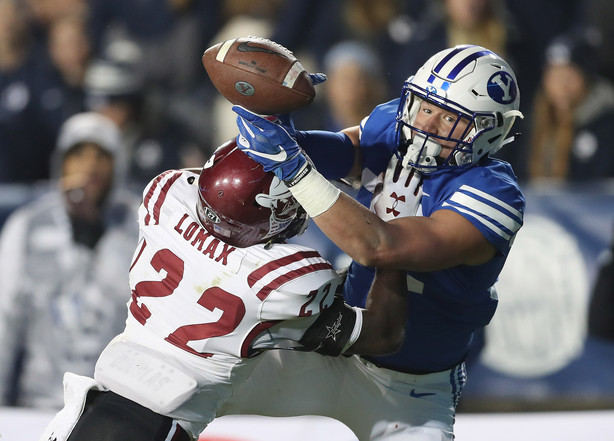 It's becoming less common for BYU to lose athletes to missionary service for The Church of Jesus Christ of Latter-day Saints since the church announced an age change for departing missionaries from 19 to 18 for males.
But BYU tight end Dallin Holker, the former Lehi standout who was a starter by the end of his freshman season, has decided to serve, according to his father Bob Holker.
"This young man has decided to go on a mission!" Bob Holker wrote on Facebook. "Very proud of his decision and the fact that he feels this is what's best for him and his life at this point. We will miss watching him play, but know what a great experience he has in front of him."
Holker caught 19 passes for 235 yards and a touchdown in 2018. He'll return in two years with three years of eligibility, plus a redshirt, available.
×