LAS VEGAS — Remember a couple years ago when everybody was talking about that "bleeding" plant burger?
It sounded impossible — a burger made entirely of plants that tastes, smells and bleeds like real beef? For several days, I thought about what it would be like to try that burger, then promptly forgot about it because it seemed it might not ever make it out of New York where it debuted.
But when I arrived at the Consumer Electronics Show in Las Vegas, something on the agenda caught my eye: "Impossible Foods ignited the plant-based movement in 2016 with the award-winning Impossible Burger."
Here it was, back in my life once more! I couldn't pass up an opportunity to try it now, so I headed down to the Border Grill at the Mandalay Bay Convention Center for the Monday press conference.
Impossible Foods is the first food company featured at CES. It's a burger made entirely of plants that actually tastes like a burger. I'll report back later on whether or not that's true pic.twitter.com/KSYcEHZTSj

— Liesl Nielsen (@liesl_nielsen) January 8, 2019
The place was packed (journalists love free food), and company executives were fielding questions from reporters in the room. The first question was, "Why was Impossible Foods even at CES — one of tech's biggest events of the year?"
Pat Brown, Impossible Foods' CEO and founder, gave a rather long explanation about the amount of research and food chemistry know-how it took to get the burger to taste like real beef.
The company was actually the first to use heme, a blood-like compound found in all living organisms that can mimic the taste, color and smell of beef. In fact, Impossible Foods claims that's what gives beef its flavor. The company genetically engineers and ferments yeast to create the compound.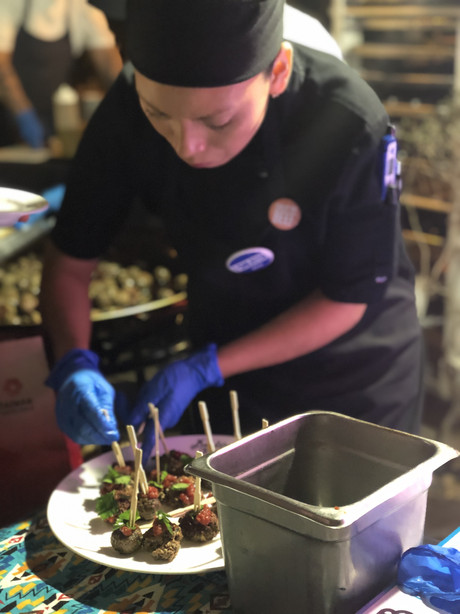 But the company was also there because they were debuting a new recipe, something they believed was even closer to the real thing.
And it really, really was. Actually, dare I say it was better?
"Unlike the cow, we get better at making meat every single day," said Brown, who used to be a biochemistry professor at Stanford. "We have figured out an entirely new approach to making meat that gives us the ability to deliberately control and make improvements in flavor, texture, juiciness, appearance, cooking properties, shelf life, handling, cost of production, nutrition — you name it."
I stood by the wood-burning grill, waiting for what seemed like forever for the chef to plop the patties on my plate. Luckily, someone came around with some little tacos, and I popped one into my mouth. Maybe I was seduced by the amazing guacamole, but the meat tasted flavorful, rich and, honestly, better than beef.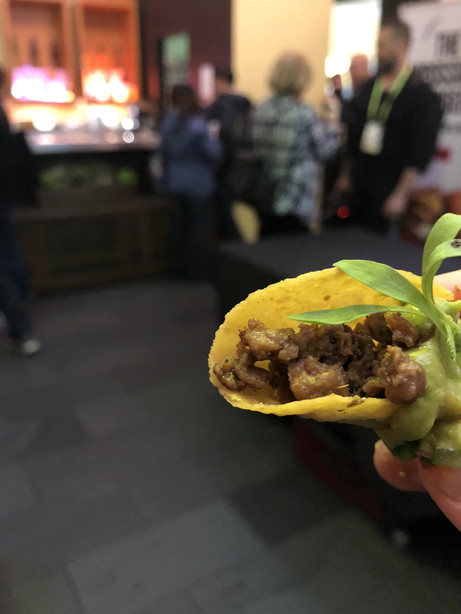 The burger was also delicious (pink on the inside, charred on the out), and the meatballs were just as good.
Though the original Impossible Burger is now in more than 5,000 restaurant chains across the U.S., the newest recipe debuted in restaurants Tuesday and will launch in grocery stores later this year. Starting Feb. 4, the next-generation Impossible Burger will be available to all restaurants in the U.S. through major food distributors.
The new "meat" is gluten and cholesterol free and now has just as much iron and protein as conventional beef — and 50 fewer calories. It can be added to any ground meat dish like stews, chili, sauces and the like.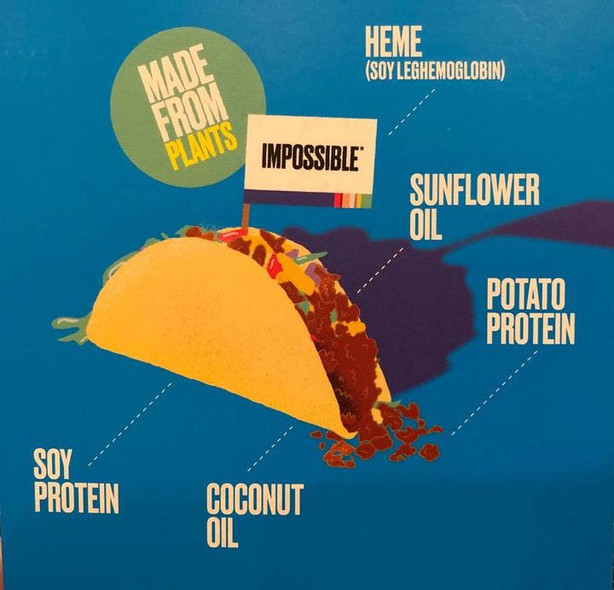 The meat is still more expensive than ground beef, however. Brown said that until the company is able to scale further, they'll have to charge extra. White Castle serves Impossible Sliders (the original recipe with cheese and a pickle) for $1.99. He does anticipate the company will be able to get the price of the new recipe down to where beef is, though.
Brown also believes a plant-based revolution is imperative for the planet and much more sustainable than "covering (it) with cows."
"The whole mission of the company is to completely replace the use of animals as a food technology globally by 2035," he said. "And that is unequivocally the most important mission in the world, full stop."
If you want to try the original recipe before the new one rolls out, look for a location here.
×