SYRACUSE – Wildlife photographer Rob Daugherty has had whale encounters in California, run into bears in Montana and photographed lions in Africa, but a few times a month he keeps coming back to a photo op right here in Utah: Antelope Island.
"No matter when you come, there's something going on," Daugherty said.
On a recent morning tour around the state park, he located coyotes, an eagle, Great Horned Owls and, of course, bison.
He pointed out what looked like a couple of bird nests in a grove of Russian olive trees. They were not nests. They were porcupines.
"You can go to different places and get, like, specific things. But here you get such a variety," he said.
"I'll go up to the Cottonwood canyons and there's plenty of moose. I love moose and stuff," Daugherty added, "but I can come here and there's just a variety of animals."
The park is popular with birders such as retired teachers Paul Lombardi and Dan Johnston, president of the Wasatch Audubon.
On a brief excursion, they sighted a red-tailed hawk, green-winged teal, tundra swans, killdeer and a kestrel.
"So that bird is interested in mice and very capable of visualizing a urine tracks," Lombardi happily pointed out about the kestrel perched atop a signpost. "Mouse pee, yeah."
"I get in my car and in 15, 20 minutes I'm on the causeway. That's amazing. That's why this is such a valuable spot for birders around," Lombardi said.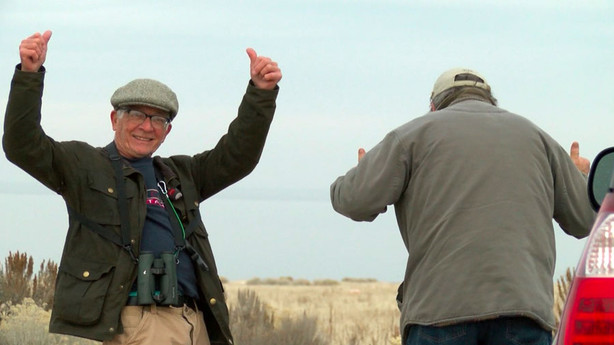 "People from all over the United States, when we go traveling they'll say, "Well, where would I go birding to see some good variety of birds?' " Johnston said. "The first place I always say is, 'You want to go to Antelope Island. That's the No. 1 spot.' ... We have birds out here that we don't see anywhere else."
"I do a lot of presentations ... and I'll always ask, you know, 'How many of you have been to Antelope Island?' And usually, it's just 10 percent of the people in the room have ever been out here," Daugherty said. "And I mean, these are people that have lived here all their life."
Near Ladyfinger Point, Johnston and Lombardi looked for an old friend: a rock wren.
"Psshhh, psshh, psshhh," Lombardi called to the bird. Lombardi was pishing, he explained. It's a technique he learned from a famous bird watcher from New Jersey.
After several minutes of pishing, the rock wren did, indeed, appear, if only for a few seconds. Still, the two were pleased.
"With the tail perked up high and him looking around, checking around, hopping around, that's it. I mean that really makes for excitement," Lombardi said. "And you say 'Yeah, it was worthwhile.' Plus (it's) oh, so beautiful."
×
Photos
Related Stories