This archived news story is available only for your personal, non-commercial use. Information in the story may be outdated or superseded by additional information. Reading or replaying the story in its archived form does not constitute a republication of the story.
PROVO — The BYU women's basketball team has been rolling into the new year.
But Loyola Marymount was a squad that nearly matched them offensively, scoring 63 points per game with three double-digit scorers. So the Cougars were going to need defense, not just the 66 points per game they were scoring on a 40.8 percent shooting clip.
Brenna Chase had 14 points and four assists, and Shaylee Gonzales added 13 points and seven dimes to help the BYU women's basketball team pull away from Loyola Marymount, 55-44 for the Cougars' sixth-straight win.
Paisley Johnson added 10 points, two rebounds and two assists for the Cougars (12-3), who improved to 4-0 in West Coast Conference play.
Gabby Green led LMU (9-7, 2-2 WCC) with 14 points, six assists and four rebounds, and Chelsey Gipson supplied 12 points, five rebounds and five steals for the Lions.
"That's one of the lowest they've scored all year. People don't like it, but you win games and you win championships with defense," BYU coach Jeff Judkins said. "Some nights, the ball doesn't go in; the Jazz are trying to figure that out right now.
"That's what happens. Eventually every sport comes down to defense."
The Cougars out-scored the Lions 17-13 off turnovers, 23-8 in second-chance points, and 22-16 in the paint, with a 36-31 rebounding margin.
But the game turned on defense, specifically a 2-3 zone defense with Chase and Gonzales at the point of an active, attacking defense.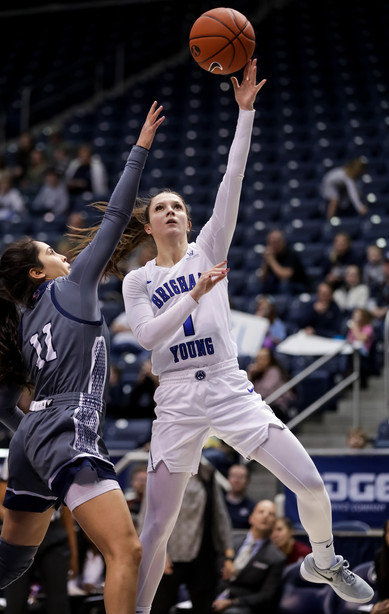 "When we are in that 2-3 with me and Brenna at the top getting those steals, it pushes us into transition," said Gonzales, a 48 percent shooter who is averaging 17.4 points and 4.9 assists per game in her first collegiate season. "We can just go-go-go."
LMU took a 16-14 edge out of the first quarter, denying the Cougars from 3-point range. BYU shot just 28 percent from deep, as Chase and Johnson combined to go 2-of-6 from beyond the arc.
Chase tied the game just 11 seconds into the second quarter, and by the time the junior point guard had scored eight of her 11 points before halftime, the Cougars had a 30-25 lead at the break.
"Their game is rebounds and transition, and you could see that in the first half," said Shalae Salmon, who finished with eight points and five rebounds. "But once we shot them down there, then defense wins those games. I really take that saying to heart; defense really does win games."
BYU pushed the lead to double-digits, 35-25 on back-to-back makes by Gonzales and Jasmine Moody just under two minutes into the third.
Gonzales gave the Cougars a game-high 12-point lead on a fadeaway three with 4:31 on the clock, and BYU took a 47-36 lead into the final period.
The Cougars shot 7-of-14 in the third quarter, while holding the Lions to just 3-of-11 from the field in the same span and finished out the stretch of four games in eight days with a perfect record.
"This is the life of the NBA; four games in seven days, and with travel," said Judkins, whose team is 6-2 away from the Marriott Center, including two wins to open conference play on the road a week ago. "It's tough. People don't realize how hard that is. But even though this wasn't our best game, it was one of those games that they toughed out.
"They made it look ugly, but they made enough plays to win the game."
×
Related Stories