Estimated read time: 4-5 minutes
This archived news story is available only for your personal, non-commercial use. Information in the story may be outdated or superseded by additional information. Reading or replaying the story in its archived form does not constitute a republication of the story.
SALT LAKE CITY — After a recent practice, Rudy Gobert put up 3-point shot after 3-point shot. He shot them from the corner, from above the break and eventually all the way out to half court.
He made some and he missed others. But after he nailed his final half-court heave, Gobert confidently said, "Easy money."
That might not be exactly what the Jazz had in mind when they challenged Gobert to expand his game this season.
Gobert became the NBA's best defender playing a certain type of way. He won the 2017 Defensive Player of the Year by being the league's most feared rim protector. He blocked shots, he forced bad ones and sometimes just his presence had teams avoiding the paint altogether. But as the league has evolved, Gobert has had to adapt with it. And that's exactly what he's been doing over the first two months of the season.
How do you get by the man with the seemingly endless wingspan? Teams have been using big men to stretch the floor and get Gobert out on the perimeter. It's not a new strategy against Gobert, far from it, but with more and more teams having shooting threats at center, it caused some early headaches for the Jazz defense.
Indiana's Myles Turner roasted the Jazz in the midrange earlier this season; as did San Antonio's LaMarcus Aldridge. And there were some frustrating moments for Jazz coach Quin Snyder when he saw Gobert not closeout on shooters all the way.
Those moments, though, are happening less and less.
"When you are one of the best at what you do, people are going to adapt," Gobert said. "Then it's on you to adapt to be able to dominate. That's what happened. Early in the season, teams were coming at me in a different way. Took me a few games to figure it out and try to adapt, now I feel confident in any kind of situation."
Over the last two weeks, Gobert has shown the ability to be on the perimeter and still get back for a block (Portland's Zach Collins can tell you about that first hand). He has shown he can close out on pick-and-pop bigs while still containing the opposing guard and maintaining his regular shot-blocking presence down low.
Gobert said it's been more of a mental shift than anything. He already was one of the best in the league at guarding pick and rolls because of how he can cover enough space to guard both the roller and the screener. So why wouldn't he be able to do the same thing with pick-and-pops?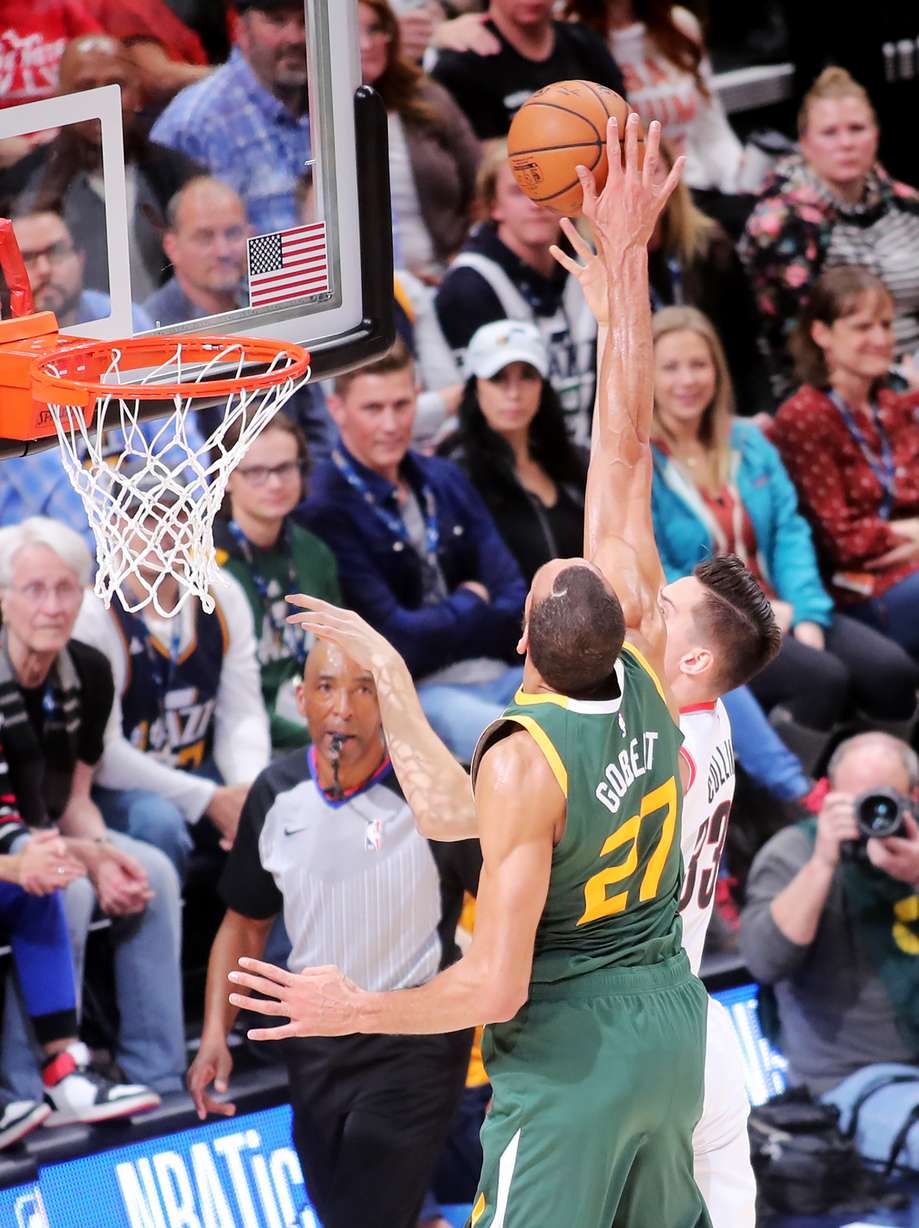 "I kind of sat there and I was like, 'Why wouldn't I be able to do that?'" Gobert said. "I think it was more mental than anything. I just wanted to stay in my comfort zone and do what I was able to do, but I realized that I can do anything."
Gobert's ability to keep expanding his game is a result of his desire to become one of the best to play the game. He doesn't just want to be a great defender, he wants to be an all-timer. That attitude has helped him realize what he needed to do to keep up with the fast-changing NBA.
"More awareness, to make the right decision and the right time," Gobert said. "You have to be aware and react at the right time. If you stay too long on the ball, my guy is going to get a shot and a dunk. If I stay too close to my guy, I'm not helping my teammate. It's mostly mental — being able to make the right decision at the right time."
And with Utah's anchor back playing at a DPOY level, the Jazz defense has begun to find their footing again. Gobert said over the past two weeks, Utah has been more unified on the defensive front, more focused and had more attention to detail. And the numbers back that up. Utah has had the NBA's second-best defensive rating in the league in December, according to cleaningtheglass.com. And its schedule has included the likes of Golden State, Portland (twice), Houston (twice) and Oklahoma City (twice).
"I think he is such a focal point, and we build around him defensively, but it requires everybody to do their job," Snyder said. "He can't be on an island out on the floor. Guys have to do a good job on the ball. Guys have to do a good job behind him."
And the Jazz have mostly done that. As Thursday's blowout loss to the Philadelphia 76ers showed, they aren't all the way there yet. There will still be slip-ups, but Gobert feels he and his team are close to making another jump.
"It's just next level for me," Gobert said. "And I feel I'm right there."
×
Related links
Most recent Utah Jazz stories