SALT LAKE CITY — Donovan Mitchell is getting his own signature shoe. And a preview of the "D.O.N. Issue #1" was released by Adidas Thursday.
The shoe's name pulls inspiration from comic books displaying issue numbers in a nod to Mitchell's "Spida" nickname. And, in true Mitchell fashion, he even managed to make the announcement less about him and more about others.
Mitchell helped select two young aspiring sports writers from Mitchell's alma mater, Greenwich Country Day School in Connecticut, to be the first to interview him about the new signature shoe.
Eighth-grader Blaise New and ninth-grader Rory Ashmeade both met with Mitchell and his family to give the interview that went along with the shoe's announcement.
"My message with this shoe is that it's for kids not only your age but younger than you guys, older than you guys, just (for those who) believe that they can do anything," Mitchell told Ashmeade. "I want my story to be told as such — this was so unexpected for me. You know, it's only my second year in the NBA, to now have a shoe.
"I want to help inspire kids so they feel like they can do anything," he added. "You don't have to be the No. 1 recruit, you don't even have to be a basketball player. I just want this to send a positive message to make kids feel inspired that they can be what they want to be."
Determination. Over. Negativity.

Introducing Donovan Mitchell's first signature shoe, D.O.N. Issue #1 🕷@spidadmitchell#teamadidaspic.twitter.com/bI1UnfoSmR

— adidas Basketball (@adidasHoops) December 27, 2018
And while no specific details for prices were announced, Mitchell said he wants the shoe to be accessible to all.
"We obviously have the Hardens, the Dames and others; but for me, I wanted the shoe to be accessible to all people, both price-wise and color-wise. And I wanted everything to be relatable to the everyday person that can't spend $250 on shoes," Mitchell said. "I wanted to work with Adidas to find ways to make sure the shoe was accessible to everybody who wants to wear them."
Adidas didn't announce when the shoe will go on sale. But when it does, that'll be a surreal moment for the young Jazz star.
"I still can't get over the fact that people wear my jersey, so I think it will take a little while to get used to this. It might take a little while for me to get used to wearing my own shoe."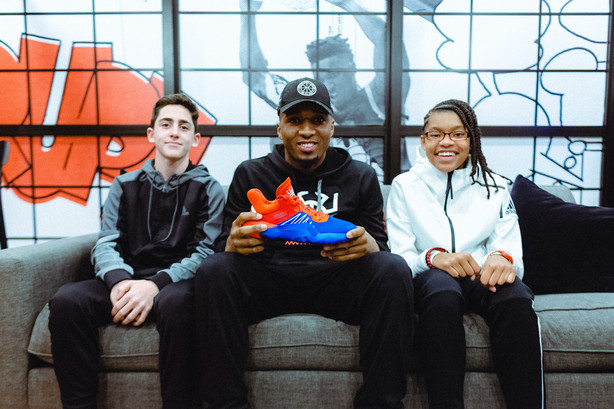 ×
Related Links
Related Stories