This archived news story is available only for your personal, non-commercial use. Information in the story may be outdated or superseded by additional information. Reading or replaying the story in its archived form does not constitute a republication of the story.
KEARNS — With a grin on his face and hundreds of backpacks in tow, Donovan Mitchell surprised students at a Tuesday morning assembly at Kearns High School.
His arrival was met with loud cheers from the approximately 300 students that were singled out by the school for their academic improvement.
Mitchell, who was there with his mom, Nicole Mitchell, offered the students in attendance words of encouragement as they take on the new school year. He admitted to them that he didn't always take school seriously but later learned it was the best thing for him.
"Many see that I play basketball, but without education, opportunities that were there wouldn't have been there without an education," he said. "Today, I just want to give back to you guys for your hard work and dedication."
The star guard from the Utah Jazz invited each student up on stage with him to receive a backpack. He then fielded a few questions — where he grew up, why he used two backboards at the dunk contests and whether the Jazz would make it to the Western Conference Finals — before giving away two pairs of headphones.
Students snapped quick selfies with Mitchell as they walked past, hoping to stay as long as they could with the star. Others shared pictures with friends on social media sites as word spread of Mitchell's appearance. Two other students even got an autographed shoe for answering some tough trivia questions crafted by Mitchell — questions about his life or music.
"Everybody was really surprised because nobody knew he was coming," said senior Emmanuel Andrew, a 6-foot-7 basketball player at Kearns. "I didn't know he was coming. They just got me out of class. I was really excited."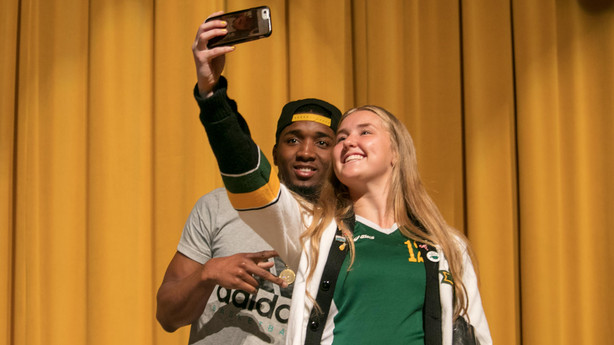 Mitchell, who came up with the idea to give back to Kearns students, said he'll continue to watch how the students do with their academic improvements, and will continue to provide incentives throughout the year. Mitchell said he never thought he'd be in a position to give back to others and was just hoping to make it to college, but through his hard work, he's been able to help others.
"Continue to work hard and continue to keep developing," he told the audience before they were dismissed to class. "Enjoy and have fun."
Following the assembly, Mitchell met one-on-one with Andrew, as the two discussed basketball. Andrew said Mitchell gave him some advice about college and to "not chase big-name schools."
"He was in my position at one point," Andrew said. "So it really showed me what I can do if I keep working hard at what I'm doing. He just gave me a lot of good advice.
"It was just a great opportunity for him to come here and take his time out of the day to talk to us kids, which that's not expected from him."
Donovan Mitchell took a few questions from the students. Here's his answer about whether he'll take the Jazz to the Western Conference Finals. pic.twitter.com/MNQajlJxAJ

— Josh Furlong (@JFurKSL) August 21, 2018
A question about why Mitchell used two backboards for the dunk contest. pic.twitter.com/KIT808wioh

— Josh Furlong (@JFurKSL) August 21, 2018
×
Photos