This archived news story is available only for your personal, non-commercial use. Information in the story may be outdated or superseded by additional information. Reading or replaying the story in its archived form does not constitute a republication of the story.
LOGAN — Utah State's interim head coach during the bowl season is sticking around.
Frank Maile, an Aggie alum who was Utah State's co-defensive coordinator and defensive line coach last year during the Aggies' 11-2 season, will be retained as assistant head coach and tight ends coach, head coach Gary Andersen announced Tuesday.
"I love Gary. The Aggies hired a really good head coach," Maile said before the Aggies' 52-13 win over North Texas in the New Mexico Bowl. "I have the utmost respect for him. He's a good friend of mine. He gave me my first shot here at Utah State, so I owe Gary a lot. I'm excited about him coming back."
The 2007 Utah State alum has spent the past three seasons in Logan, bringing his total tenure to eight years as a Utah State assistant coach. He was a graduate assistant from 2009-10 and the defensive line coach from 2011-13 before briefly coaching at Vanderbilt.
Andersen will coach Utah State's defensive line. After head coaching jobs at Wisconsin and Oregon State, he most recently returned to his alma mater to coach the defensive line as assistant head coach at Utah.
"Coach Frank Maile is a great guy," Utah State defensive back Jontrell Rocquemore said. "He's been a great guy since I met him when he first came in. He's been the same guy that he is since everything went down. There's been no change in him, and that's been the best for our program because we needed stability. And that's what Frank did."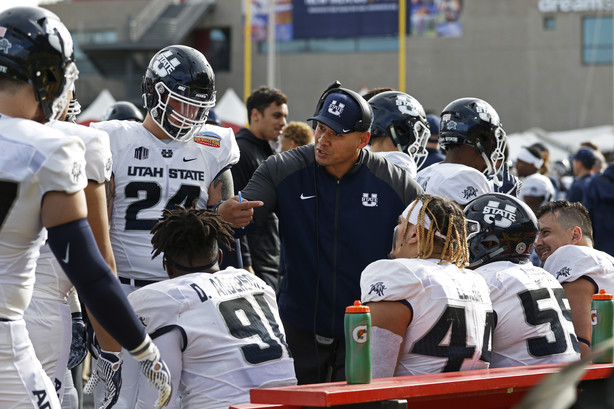 The Aggies were nationally ranked for a school-record six-straight weeks in 2018 when Maile's group, that included all-Mountain West defensive end Adewale Adeoye, junior defensive end Fua Leilua and junior nose guard Christopher 'Unga, helped Utah State finish first nationally with 32 forced turnovers, 22 interceptions and 5.58 three-and-outs per game, as well as third nationally with six defensive touchdowns.
The Aggies ranked No. 35 overall in scoring defense.
Maile, from West Valley City, was a first-team all-state defensive lineman at Alta High and served a two-year mission for The Church of Jesus Christ of Latter-day Saints in the Dominican Republic before playing for the Aggies. He later earned a master's degree from the university in education in 2010.
With the hire, Utah State's offensive staff is rounding into shape. Andersen brought in Jason Phillips from Oregon State on Sunday to coach the team's wide receivers and be the Aggies' passing game coordinator. Phillips was set to be the wide receivers coach for the Salt Lake Stallions in the Alliance of American Football for the team's inaugural season in 2018.
Then a day later, Andersen announced the retention of running backs coach and special teams coordinator Stacy Collins. The former inside linebackers coach has been with Utah State for the past three seasons, and has 21 years of coaching experience, including 14 years as a coordinator, and four years as a head coach at Division II South Dakota School of Mines.
He joins offensive line coach T.J. Woods, who previously coached at Utah State from 2009-12 and most recently was at Western Kentucky. The hire was first reported a week ago, but was confirmed by the Aggies later Tuesday afternoon.
Utah State has also reportedly hired former Western Kentucky head coach Mike Sanford Jr. as the team's new offensive coordinator, but the Aggies had not formally confirmed the deal as of Tuesday morning.
The Aggies also announced Tuesday the addition of safeties coach Mike Caputo. An All-American safety at Wisconsin who graduated in 2015, Caputo played in the NFL for the Saints and Rams briefly before going on to work as a graduate assistant at LSU for 2017-18 under former Utah State defensive coordinator Dave Aranda.
During his two years in Baton Rouge, the Tigers went 18-7, including an 11-5 mark in the SEC and back-to-back trips to New Year's Six bowl games.
Jordan Hicks joins the Aggie staff by way of the University of Utah, where he spent the past six years as the assistant director of sports performance. Hicks will be named head strength and conditioning coach, replacing outgoing strength coach Dave Scholz, who followed Matt Wells to Texas Tech.
A native of Ohio, Hicks was a defensive end at Southern Illinois and Georgetown (Ky.) College, and went on to a brief career with the Oakland Raiders, Tampa Bay Buccaneers, and NFL Europe.
×
Photos
Related Stories