This archived news story is available only for your personal, non-commercial use. Information in the story may be outdated or superseded by additional information. Reading or replaying the story in its archived form does not constitute a republication of the story.
MINNEAPOLIS, Minn. — Not every member of the No. 4 BYU women's volleyball will be in uncharted territory when the Cougars step on the court at the Target Center in Minneapolis on Thursday night against top-ranked Stanford at 5 p.m. MT (ESPN).
Sure, it's been four years since the Cougars advanced to the national semifinals of the NCAA Tournament. That's long enough for an entire graduating class to have cycled through the program, and still long enough that head coach Heather Olmstead was an assistant coach to her older brother Shawn, who currently leads the university's men's volleyball program.
But one player remembers those days pretty well. And if you can't recall who, don't worry; she's usually "just the one in the back," by her own admission.
Just don't discount the key role played by fifth-year senior Danelle Stetler, the back-row outside hitter who has provided a key leadership role to 2018 Cougars — and who will carry the bulk of BYU's experience into Thursday's semifinal.
"Danelle's been so steady for us for five years, and got to experience that 2014 Final Four run," BYU coach Heather Olmstead said. "She's the one that can talk to the girls about what to expect, and how cool it is."
Stetler was a redshirt freshman back in 2014, when stars like Jennifer Hamson, Tambre Nobles, Amy Boswell, Whitney Young and Ciara Parker (to name a few) led the Cougars on a magical run to Oklahoma City that ended just shy of a national title, with a loss to Penn State in the championship match.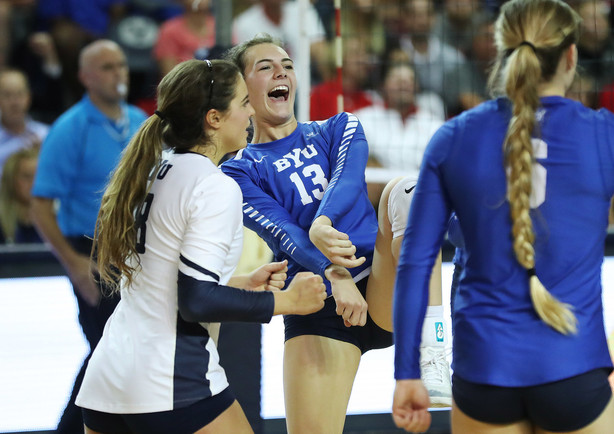 But more than legends of the past, Stetler remembers something very specific about that group that took BYU to its second of now-three national semifinals.
She remembers friends, much like she does the 2018 squad.
"We all are just friends," said Stetler, who was freshly graduated from Riverton High in 2014. "It doesn't matter who we are or how we display our personalities. We've all become really good friends. We all respect our strengths, and those strengths play off each other."
Those "friends" also taught Stetler the value of hard work — something she's tried to pass on in her role as the senior statesman on the team this year.
"They worked so hard, and they were all girls who taught me that extra reps are a good thing," Stetler said. "They wanted me to keep playing all the time, and they were best friends, so they worked really well together. They played so well together, and it's one thing that I learned a ton.
"When you have fun and you want to keep playing, you can do amazing things."
Stetler's role on this year's team is a little different than her redshirt freshman season.
More than continue to be her quiet self to the more vibrant attacking stars like Roni Jones-Perry (4.88 kills per set), Heather Gneiting (2.13 kills and 1.53 blocks per set) and Kennedy Eschenberg (1.92 kills and 1.33 blocks per set), Stetler is often the No. 3 hitter on the court to Jones-Perry and Maddie Robinson.
But her role is just as important. Stetler has started 21 matches in 2018, and her biggest role came off the bench, when the senior tied a career-high with eight kills Aug. 25 in a 3-1 win over Duke.
Minnesota here we come! 🤩#BYUWVB#GoCougspic.twitter.com/q7hjxWwT8Z

— BYU Women's Volleyball (@BYUwvolleyball) December 11, 2018
That was the Cougars' second match of the season, one where the Cougars went on to win 31 of the next 32 matches — including all 17 in the venerated fortress that is the 5,000-seat Smith Fieldhouse.
Without Stetler, the winning streak may have ended before it began, Olmstead admits.
"During the course of her career, she's been good starting, not starting, coming off the bench," Olmstead said of Stetler, who has 134 digs, 19 kills and seven aces in 2018. "I think back to earlier in the year when she came in against Duke and was able to fill into some roles for us and put us in great shape to start the season.
"We really appreciate her, and the energy and effort she has put into her five years at BYU."
There are plenty of expectations on BYU volleyball at this point of the season, playing next to storied programs like Stanford, Nebraska and Illinois — one of four programs still rolling out the practice equipment on the final Monday of the season.
But now the seasoned veteran, Stetler has continuously reminded her younger teammates of one simple key to the week in Minneapolis: have fun.
"I think a lot of us, when we get to this point, we put expectations on ourselves," she said. "But you've just got to let them go, and just play the way you've been playing all year.
"Know what your job is, and execute it."
×
Photos
Related Stories