This archived news story is available only for your personal, non-commercial use. Information in the story may be outdated or superseded by additional information. Reading or replaying the story in its archived form does not constitute a republication of the story.
PROVO — Every year, head coach Dave Rose and the BYU men's basketball team have a series of open dates that they send out to national coaches, hoping to find the right fit on their schedule.
Wednesday's meeting was part chance — and part homecoming.
After ending a three-game losing streak with back-to-back wins over in-state rivals Utah State and Utah, the Cougars (7-4) will host Big Sky foe Portland State at 7 p.m. MT Wednesday.
And with the Vikings (5-3) will come head coach Barret Peery, a second-year rising star coach whose career began in Utah County — as a guard at Payson High School.
"We advertised a date, and he had the date and was interested in coming," Rose said of the game. "That's kind of how this game was put together."
Peery had good reason to make the game happen, though. Much of his family still lives in Utah County, and one of the few active Latter-day Saint head coaches in college basketball — at any level — has spent plenty of time in Utah.
After playing two seasons at Snow College, Peery finished his collegiate career at Southern Utah, where he helped the Thunderbirds to a pair of American West conference titles.
His coaching career then went on to stop at Utah Valley, College of Southern Idaho and as an assistant at Utah from 2008-2011.
But the 47-year-old coach first made waves in his first head coaching role at Indian Hills Community College in Iowa.
That's where Peery led the Warriors to a 96-10 record in three seasons, culminating with a runner-up finish in the NJCAA Division I Tournament in 2014. The run caught the attention of then-Arizona State head coach Herb Sendek, and after a few years on Sendek's staff at ASU and Santa Clara, Peery took his first head Division I head coaching job with the Vikings.
Along the way, Rose has been watching him.
"We'll probably know more about the coach than the personnel and what they do," Rose said. "Barret's been a coach in this area for years, played at Payson High School and Snow College. He's a fast-paced, full-court press, half-court trap; the more chaos on the court in a game, the more comfortable his teams feel."
Peery helped the Vikings to a 20-14 record in his first season in Portland, including a spot in the CollegeInsider.com Tournament (CIT), and has the Vikings out to a 5-3 start this year coming off a win over intracity rival Portland.
BYU will be the second of third West Coast Conference opponents for the Vikings, who will host Loyola Marymount on Saturday.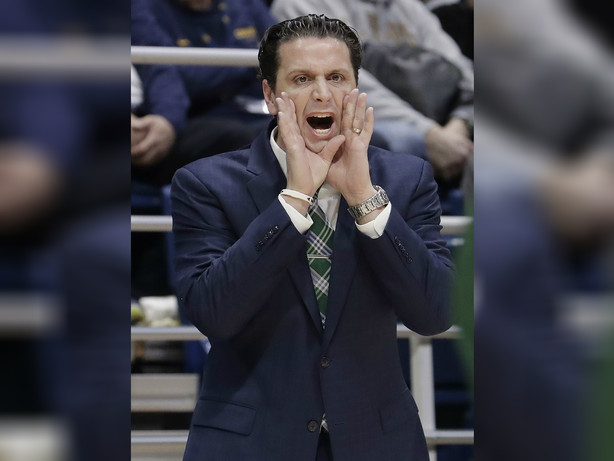 Player's Only
After the Cougars' first-ever loss at Weber State under Rose, the players held a players-only meeting to discuss the state of the program and figure out how to turn around a season that was at that point just 5-4.
Without elaborating on specifics, both Yoeli Childs and Jahshire Hardnett admitted that it worked.
"The general vibe was pushing ourselves and pushing each other, holding each other accountable," said Childs, who is averaging 23.6 points and 11.9 rebounds per game after three-straight contests of 31 points. "We've got a group of guys that are good friends, and that gives us an advantage to get after each other without taking it personal.
"I think we did a good job of pushing each other and pushing ourselves."
It's not just Childs, though, who has helped the Cougars dig out of the three-game tailspin. BYU has a trio of double-digit scorers, including TJ Haws (16.2 ppg, 5.1 apg) and Hardnett (11.2 ppg, 2.6 rpg, 2.1 apg).
It all added up to a home win over Utah State and a victory over rival Utah in the Beehive Classic in Salt Lake City.
"I kind of think it was a wake-up call," Hardnett said. "Everybody looked in the mirror and told (themselves) they need to play harder and contribute something else. The team meeting was good for us as individuals. We had a talk about emotion and playing with emotion — and we've been playing with emotion, which has helped us out tremendously."
Wait 'til next year
After the mid-week game against the Vikings, BYU will travel to Las Vegas to face former Mountain West rival UNLV at 5:30 p.m. PT Saturday. The game, which will be played at T-Mobile Arena, is part of the Coach's vs. Cancer national series and will be returned next season when BYU will host the Runnin' Rebels at Vivint SmartHome Arena.
×
Related Stories