SALT LAKE CITY — A tragedy at Brigham Young University this week has opened up a conversation about mental health on campus.
A woman died on Wednesday after falling from the fourth floor of a campus building. The death was deemed a suicide.
After the woman's death, a letter surfaced on campus calling into question the university's policies regarding mental health.
BYU officials say they're working on a proposal to hire more therapists. But most of Utah's major universities are under the threshold for an ideal number of mental health professionals on campus, and officials at most say they'd like to be able to hire more therapists or counselors.
"This is important for us to hear," BYU spokesman Todd Hollingshead said on Wednesday. "It's a challenge that we're facing that other institutions are facing, as well. As an institution we care about our students, we want our students to get the help they need. Yes, there's work that we all need to do to do a better job."
Here is a snapshot of campus mental health in Utah.
How the campus counseling process works
The average wait time for a student to be seen by a therapist at BYU is three to four weeks, according to Hollingshead. But the university has crisis counseling available 24 hours a day, 365 days a year for students that need to be seen right away, he said.
With 29 counselors on campus, along with four pre-doctoral interns, the campus has one counselor for about every 1,000 students, according to Hollingshead. There are 33,517 students at BYU, according to the latest numbers.
At the University of Utah, there are nine licensed psychologists, eight licensed clinical social workers and two psychiatric advance nurse practitioners, according to U. counseling center Director Lauren Weitzman.
The center also employs 18 graduate students who work under supervision from the counseling center staff, according to Weitzman.
The U. has just over 33,000 students, so there is one mental health professional for about every 1,738 students. That ratio doesn't include the case loads the graduate students take on, though.
The International Association of Counseling Services recommends that there should be one counselor for every 1,000-1,500 students on a college campus, according to Weitzman.
"I feel good about the progress we're making, but we're not quite there yet," she said.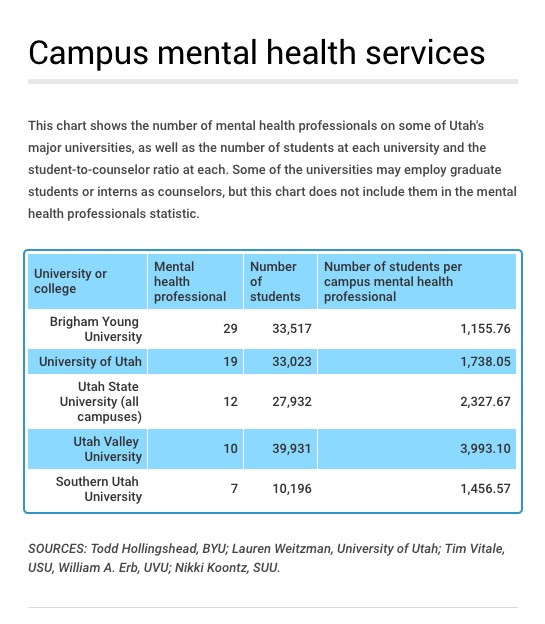 At several of Utah's universities, including BYU, the U. and Utah State University, the first step for students seeking mental health care is an intake appointment. Students come in for an initial appointment, and from there they are directed to the type of care that will best benefit them.
The U. offers same-day intake appointments, but some are scheduled several weeks out, Weitzman said.
If the student is dealing with a mental health crisis, such as going through a recent loss or being assaulted, and needs help right away, they can usually be seen by a crisis counselor the same day at those three campuses.
Otherwise, the wait time for a standard counseling session with a mental health professional can take several weeks following the initial intake appointment.
At BYU, the average wait time this semester is between three and four weeks, according to Hollingshead. At the U., two to three weeks, according to Weitzman. Utah State's wait time increases as the semester goes on, university spokeswoman Amanda DeRito said. As of Friday, it was between six and eight weeks, she said.
At Utah State, the students are served by 12 psychologists, seven of whom are part time, according to spokesman Tim Vitale. There are also five graduate students who help out, and two other therapists who work with victims of sexual violence on campus, he said.
---
Mental illness isn't mental weakness. A lot of times our society is so focused on self-improvement that people kind of conflate the two. So if you are struggling, realize that it's a normal condition.
–Theo Stoddard-Bennett, BYU-NAMI president
---
The counselors primarily serve the 16,000 students at the university's Logan campus, though Utah State has a total of about 28,000 students throughout the entire system, according to DeRito.
Not including the graduate students who conduct counseling sessions, there are about 2,328 students for each one of its 12 psychologists at Utah State. That includes students who attend at Utah State's satellite campuses and attend classes online.
"It's a really complicated topic with many layers," Vitale said. "We are trying to look at it from a broad perspective to see if we can make a dent for the long term — not just meet immediate needs."
Utah Valley University has 10 full-time campus therapists, for a counselor-to-student ratio of about one to 4,000, according to Director of Student Health Services William A. Erb.
At Southern Utah University, there are seven full-time counselors and three doctoral interns, according to university spokeswoman Nikki Koontz. The university has about 10,000 students, so there are about 1,428 students per each counselor.
What's being done to improve access to mental health services on college campuses?
Theo Stoddard-Bennett, president of the BYU chapter of the National Alliance on Mental Illness, said he thinks organizations, including universities, should do more to normalize or destigmatize mental illness.
However, he said students he's talked to at BYU have had mostly good experiences with counseling and psychological services on campus. He would like to see more advertising for the services available to students at BYU, especially for new students during freshman orientation events.
"Mental illness isn't mental weakness," Stoddart-Bennett said. "A lot of times our society is so focused on self-improvement that people kind of conflate the two. So if you are struggling, realize that it's a normal condition."
Hollingshead said the university is discussing a proposal that would add more counselors on campus. In addition to that, they're trying to use social media more effectively to get the word out about mental health services available to students.
"We're trying to reach students where they're at," he said.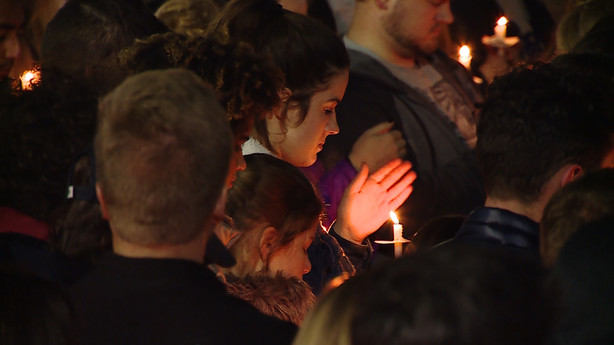 Weitzman and Vitale both said they'd like to be able to hire more counselors at their respective campuses, too. For the last two years, officials at Utah State have been discussing how to expand mental health programs, and hiring more therapists would be part of that, Vitale said.
Erb said discussions are underway at Utah Valley to expand the student health center, which would provide space for the university to hire more therapists.
Utah Valley would need to hire 16 more people to get the therapist-to-student ratio down to one for every 1,500 students, which was a ratio supported by the university's board of trustees in 2017, Erb said.
Though universities are making changes to improve mental health on campus, Vitale pointed out that mental illness isn't just affecting college campuses.
"I think we're all dealing with this," Vitale said. "Mental health issues are a societal issue. I'm looking out the window at safe, friendly Cache Valley and we're seeing mental health needs here, seeing them here at the university and in our community.
"We very much care about the health of our students and we hope we can make some dents in their needs."
Suicide prevention resources
If you or someone you know is struggling with thoughts of suicide, call the suicide prevention hotline at 1-800-273-TALK.

Crisis Hotlines
Utah County Crisis Line: 801-691-5433
Salt Lake County/UNI Crisis Line: 801-587-3000
Wasatch Mental Health Crisis Line: 801-373-7393
National Suicide Prevention Lifeline: 1-800-273-TALK (8255)
Trevor Project Hotline for LGBTQ teens: 1-866-488-7386
Online resources
Warning signs of suicide
Talking about wanting to die
Looking for a way to kill oneself
Talking about feeling hopeless or having no purpose
Talking about feeling trapped or in unbearable pain
Talking about being a burden to others
Increasing the use of alcohol or drugs
Acting anxious, agitated or recklessly
Sleeping too little or too much
Withdrawing or feeling isolated
Showing rage or talking about seeking revenge
Displaying extreme mood swings
The more of these signs a person shows, the greater the risk. Warning signs are associated with suicide but may not be what causes a suicide.
Information from the American Foundation for Suicide Prevention.
What to do if you see warning signs of suicide
Do not leave the person alone
Remove any firearms, alcohol, drugs or sharp objects that could be used in a suicide attempt
Call the U.S. National Suicide Prevention Lifeline at 800-273-TALK (8255)
Take the person to an emergency room or seek help from a medical or mental health professional
Information from the American Foundation for Suicide Prevention.
×
Photos
Related Stories