This archived news story is available only for your personal, non-commercial use. Information in the story may be outdated or superseded by additional information. Reading or replaying the story in its archived form does not constitute a republication of the story.
ST. GEORGE — The past few weeks have been enough of a whirlwind to make Paul Peterson's head spin.
When Dixie State announced that the Trailblazers would not retain head football coach Shay McClure just under a month ago, Peterson reached out. The former BYU graduate assistant had elevated Snow College to an 18-4 record in two seasons as head coach, but he let it be known that he had interest in the moving his family, including wife Meagan and five sons, to St. George.
Peterson had already applied for the job at Dixie State a few years ago; he was passed over.
This time, he wasn't.
And when Peterson walked out of a conference room Wednesday afternoon on the St. George campus after barely 20 minutes of a formal introduction, the Trailblazers knew they had their man.
"This is a place that I know has tremendous growth potential," Peterson said. "I keep hearing that people will run through walls for this place. That's what I want."
Dixie State is the first head coaching job in the NCAA for Peterson, who played quarterback at Snow College and Boston College. But he has plenty of experience in coaching.
Peterson worked as a graduate assistant under Bronco Mendenhall and Robert Anae at BYU in 2006 when the Cougars went 11-2 with a Mountain West title and No. 15 national ranking. He went on to a four-stop at Southern Utah, spending four seasons as quarterbacks and wide receivers coach and passing game coordinator under Ed Lamb, before moving up to five years as offensive coordinator at Sacramento State under former Weber State coach Jody Sears.
He has even been linked to offensive coordinator openings at the FBS level, including BYU.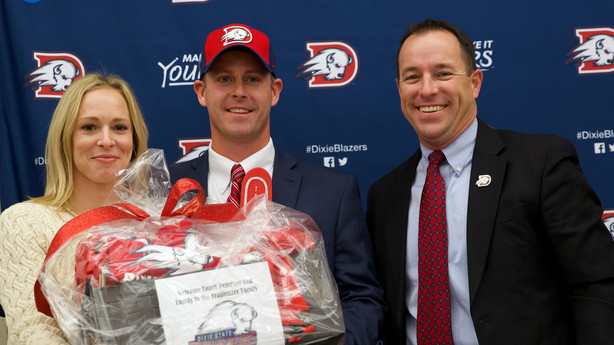 Then came the jump to head coach: Peterson was named head coach at Snow College just two years ago, and helped the Badgers to a ranking as high as No. 4 in the NJCAA poll, while mentoring 30 all-Western States Football League players, including the 2017 defensive player of the year and the 2018 offensive player of the year.
And he'll bring that same championship-goal mindset to Southern Utah, Peterson said. He doesn't just want players who barely make the NCAA Division II minimum standard of a 2.2 GPA; he wants everything in his program to be elevated.
"You've always got to prepare to win a championship," Peterson added. "That has to be your goal every year.
"We are going to prepare for that, for sure."
Just moments after Snow's 19-17 loss to No. 3 Iowa Western in the Graphics Edge Bowl in Iowa City, Dixie announced Peterson as the program's next head coach. By the time he got back to the locker room, his cellphone's voicemail box was full and he had received 70 text messages, with congratulations and applications for jobs to fill his first full-time NCAA coaching staff.
Peterson will try to retain as much of his staff at Snow as possible, and he may even bring some of his graduating JUCO players to the four-year institution in St. George.
A big part of his program, he says, is family — and family sticks together.
"It's definitely a family atmosphere, and we want to keep that," Peterson said. "That's what is most important: how to be a good dad, and we want to show that, too."
The new coach won't have a bare cupboard to fill at Dixie State, either. McClure led the Trailblazers to an 18-15 record in three seasons, including an 18-12 mark in Rocky Mountain Athletic Conference play.
Dixie State finished 7-4 in 2018, the highest win total in the school's NCAA Division II era.
Maintaining and improving on that standard will be Peterson's challenge, even as the university contemplates a move to Division I and football in the Football Championship Subdivision just a year after fully transitioning its athletic department to the Rocky Mountain Athletic Conference.
"We don't want to take a step back, by any means," Dixie State athletic director Jason Boothe said. "Keep going. I would expect we can keep improving on the seven wins of this year with the roster and talent on the team.
"But we want to have a good product both on the field and off the field. We want a program that the community and the university can be proud of."
Peterson leaves the Badgers' football program that has questions ahead of the 2019 season. Snow's league, the Western States Football League, will be dramatically reduced to three teams: the Badgers, Eastern Arizona and Arizona Western College after several rounds of budget cuts at rival schools.
Related Story
The cuts stem from a decision by the Maricopa County Community College District to eliminate football at Phoenix, Scottsdale, Mesa and Glendale community colleges. Within a few months, nearby Pima Community College officials in Tucson also made the decision to eliminate football, citing a new $1.9 million budget proposal, and the Western States Football League was down to three teams.
Snow was a founding member of the WSFL in 1984, when it also included the College of Eastern Utah (now USU-Eastern in Price), Ricks College (now BYU-Idaho in Rexburg, Idaho) and Dixie State College of Utah in St. George. Dixie State jumped to NCAA Division II in 2006.
There are plenty of reasons for Dixie State to be excited for the coach who has employed a high-scoring, fast-paced offense at every stop before. And there is an equal measure of excitement for the first-time NCAA head coach.
"This place has so much momentum," Peterson said. "I'm really excited to meet all the student-athletes, to put together a staff and to meet their families. There is no substitute for hard work. We are going to put a team out that the community can be proud of.
"We will be tough … Not just on the football field, but in the classroom and in the community."
×
Related Stories