This archived news story is available only for your personal, non-commercial use. Information in the story may be outdated or superseded by additional information. Reading or replaying the story in its archived form does not constitute a republication of the story.
ST. GEORGE — Dixie State is considering the jump.
The NCAA Division II university based in St. George has released a feasibility study to determine the potential effectiveness of moving up to Division I and joining the Western Athletic Conference, according to the school's report obtained by KSL.com.
The study was conducted by Collegiate Consulting, a national firm that "enables athletic departments and conferences to increase revenue, create efficiencies and maximize operations to succeed and prosper in a diverse climate."
"There has been initial and mutual interest and exploration between Dixie State University and the Western Athletic Conference in regards to a possible move to NCAA Division I status; however, no official invitation has been extended by the WAC," Dixie State athletic director Dr. Jason Boothe told KSL.com. "Dixie State has hired a consultant group to do a feasibility study to see what it would take athletically, academically and financially as an institution to consider a move from our current NCAA Division II status and become an NCAA Division I member."
Dixie State has three town hall meetings scheduled to further debate the issue: Nov. 6 with the student body, Nov. 7 with the school's faculty and staff, and Nov. 7 with the community in the Gardner Center on campus. The Board of Trustees will present the agenda item at its next meeting in November.
The Trailblazer's move to Division I is contingent on a membership offer from a Division I conference, meeting the sports participation minimum, a $1.7 million application fee, and a feasibility study and Division I strategic plan submitted to the NCAA. Schools generally transition to Division I over a four-year period to obtain full membership status, though exceptions have been made.
The study also indicates that the WAC may be interested in sponsoring football as an FCS conference.
"The WAC has confirmed to Collegiate Consulting it is initiating a study in the fall of 2018 to explore the options and opportunities of starting an FCS football conference," the report reads.
"We think it may be the natural step in the evolution of the university," @DixieAthletics AD Jason Boothe.

📰 ➡️ https://t.co/s14MmzL0Nwpic.twitter.com/vq9RFstoqS

— KSL Sports-BOO (@kslsports) November 1, 2018
The league, which was founded in 1962 by BYU and Utah, among others, dropped football in 2013 when it added men's soccer as a fully sponsored sport and added Utah Valley, Houston Baptist, Missouri Kansas City, UT Rio Grande Valley, Chicago State and Cal State Bakersfield. New Mexico State is the only current WAC school that fields a football program, competing as a Division I FBS independent.
"Since my first day as the commissioner of the WAC, my policy has been not to comment publicly on speculative matters related in any way to membership," WAC commissioner Jeff Hurd told KSL.com in a statement.
Under the new alignment, Dixie State would hold the third-smallest enrollment in the WAC, while Utah Valley would hold the second-largest total student population (behind Grand Canyon University in Phoenix).
Dixie State, which recently completed a full-sports transition to the Rocky Mountain Athletic Conference (a league that also includes Salt Lake City-based Westminster College as a non-football member). The Trailblazers formally joined the conference in all sports in July after competing in the Division II PacWest Conference, winning 20 total league championships.
Dixie State already meets the Division I FCS minimum of 14 sports, including football, according to the feasibility study. Because the WAC currently does not sponsor football, however, the school may need to add one additional men's sport to meet WAC entry requirements.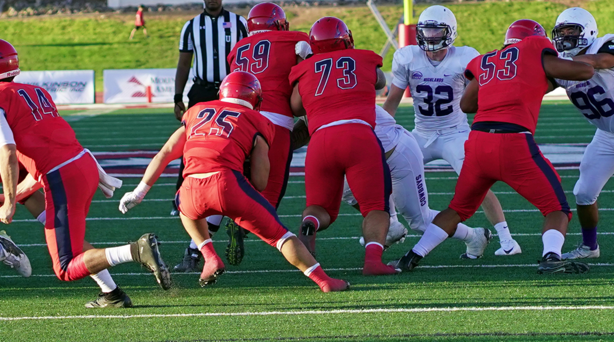 The Trailblazers currently sponsor six men's sports: baseball, basketball, cross-country, football, golf and soccer. The WAC sponsors men's sports in baseball, basketball, cross-country, golf, soccer, swimming and diving, tennis, and track and field.
Dixie State offers nine women's sports in fields currently sponsored by the WAC.
The feasibility study also recommends the addition of Dixie State staff members in nine areas, including compliance, academic support, marketing and promotions, video, and strength and conditioning. The university offers 30.5 coaching positions on campus (one credit for each full-time coach, and 0.5 for each part-time coach), which is three fewer than the WAC average, not including football.
Dixie State, a public university founded in 1911, currently operates a $5.3 million budget, according to the report. That figure currently trails every athletic department in the WAC except Chicago State. UVU operates a $12.8 million budget, according to the report.
The budget would immediately be raised to account for additional financial aid packages and scholarships, namely in football, which currently operates at 31.28 scholarships and would increase to the FCS maximum level of 63 total scholarships.
×
Related Stories