ST. GEORGE — Dixie State announced a new nickname a few weeks ago, switching from Red Storm to the Trailblazers in the middle of the spring sports season.
Now, the Trailblazers have a new home.
Washington, Utah-based Legend Solar announced the largest donation in Dixie State University history with a $10 million check to go towards the school's football stadium renovations.
With the donation, the school will rename the former Hansen Stadium as Legend Solar Stadium. The renovations will bump the seating capacity to 10,000 patrons, and also include new grandstands, locker rooms, restrooms, concessions and ticketing for the Trailblazers.
"We are proud to have Legend Solar partner with Dixie State as we trailblazer our way together into bright, innovative and energy-efficient future," said Legend Solar co-founder Shaun Alldredge, an alumnus of Dixie State. "This solar installation will be the largest at any university in Utah."
The new grandstands will increase the seating capacity of the formerly named Hansen Stadium from 6,500, making it eligible to host NCAA Division II tournaments and events, as well as concerts and Utah state high school tournaments.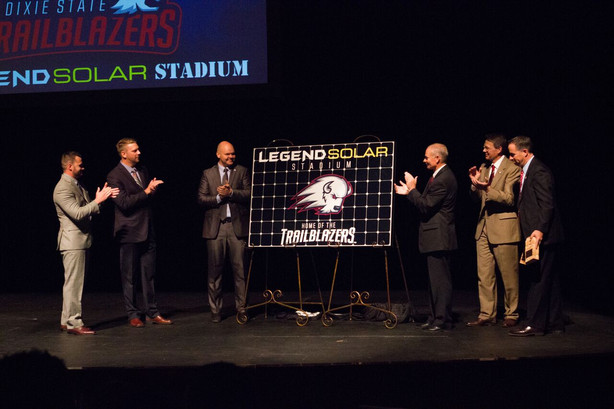 In addition to the donation, Legend Solar will also install a 1,500-kilowatt solar system across the Dixie State campus, with an estimated completion date of 2027. The new energy supply will reduce power costs by an estimated $300,000 — the equivalent environmental impact of removing 350 cars from the road or planting 40,000 trees.
The west grandstand will continue to carry the name of George T. Hansen, whose family provided much of the funding for the stadium's construction in the 1980s.
"Without the Hansen family's generous donation, we would not have a stadium today at Dixie State," Dixie State vice president of university advancement Brad Last said in a statement. "We have been in contact with the Hansen family, who have expressed their support for the stadium renovation project and for renaming the facility Legend Solar Stadium."
×
Photos