SOUTH SALT LAKE — It was one week ago that local artists and admirers woke up to six vandalized murals in South Salt Lake. Already, four of the six murals have been repaired or are in the process of getting repainted, as police continue to investigate who did it.
South Salt Lake Arts Council and the Utah Arts Alliance commissioned local artists to paint the murals in May as part of the first "Mural Fest," a way to add some color to the city's bare walls.
Since the tagging incident a couple of days ago, artists and locals have stepped up to fix them.
"They just wanted to make it right, in a great way. It's brought the community together and we've met people and businesses that we didn't know were here," said Lesly Allen, director of the South Salt Lake Arts Coalition.
It took Utah artist Jann Haworth three weeks to paint her mural on the wall of Counterpoint Recording Studio, and now she's left to fix it. Surprisingly, though, she isn't all that outraged,
"You know, you have to trust the luck," she said. "I've been pretty lucky with the things I've done so far."
Whether or not the graffiti was sprayed to make a statement about the murals, Haworth appreciates graffiti art.
"There's room for both of us," she said. "You know there's room for the graffiti artist to keep the, what would you call it, the ethics of it."
She hopes this incident will help start a colorful conversation in the art community. But Peter Lenz, a former emergency physician who lives in Cottonwood Heights, isn't pleased. He reached out to help when he read about the rash of mural vandalism in the area.
"I'm trying to preserve the outlines of what's already here," he said, as he helped removed the spray paint from Haworth's mural.
And now the mural commissioners are calling Lenz the "Graffiti Doctor.
"Making people whole again," he said laughing.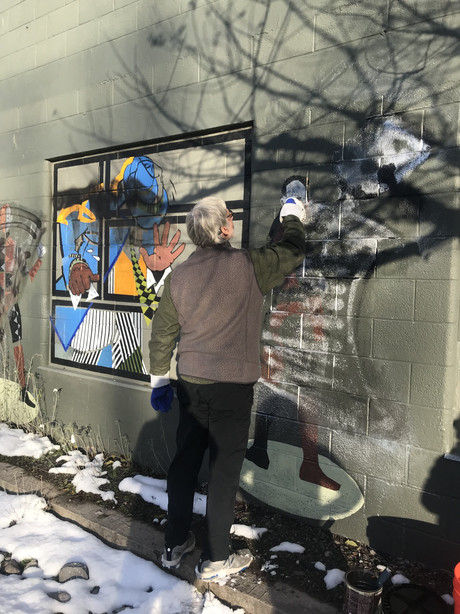 "This incident clarified the difference between graffiti vandalism and graffiti art more than any other I've heard of and that's why I wanted to be involved," Lenz said.
Obviously, this incident isn't deterring the South Salt Lake arts community, and they are still planning to host another "Mural Fest" in May.
×
Related Stories