This archived news story is available only for your personal, non-commercial use. Information in the story may be outdated or superseded by additional information. Reading or replaying the story in its archived form does not constitute a republication of the story.
MILLCREEK — Residents in an area on the northeast side of Millcreek are concerned they may be forced to sell their homes after a new study suggests the neighborhood has dozens of "blighted" properties.
Millcreek Mayor Jeff Silvestrini says it's not true that city officials want to force people out of the area.
The study, commissioned in September, recommends that the city adopt a resolution determining that the area near the intersection of Highland Drive and 3300 South is blighted.
If the city council does that, it will also give the city power of eminent domain to purchase properties in the area if certain conditions are met.
"If they decide to use eminent domain, then I have no choice but to sell to them," said Millcreek resident Tina Grant, who owns a duplex in the area. "We all object to it."
The city council plans to vote on whether or not to adopt the blight resolution at a special meeting Dec. 17, according to Silvestrini. Before that, there will be another public hearing on the study Dec. 10, he said.
Silvestrini said that while a blight resolution, if adopted, would indeed give the city power of eminent domain, it would be very limited. At least 75 percent of business owners or 80 percent of homeowners in the area would need to sign a petition in order for the city to act on that eminent domain power, he said.
The power would, however, provide the city with a safety measure in case development plans are in danger of derailing due to one or two holdout property owners, Silvestrini said.
"We don't have any plans to use (eminent domain)," he said. "It's just a safety valve. We don't know if or when we would ever use it, and I would hope that we would never need to."
City officials want to develop the area into a town center, similar to the central area of Sugar House in Salt Lake City or Holladay's town center, Silvestrini said. Residents of Millcreek want a walkable city center area, and city officials have been working for nearly two years, since the city was incorporated, to make that happen, according to the mayor.
"People would like to see a gathering place," he said. "This is where they think the heart of Millcreek is."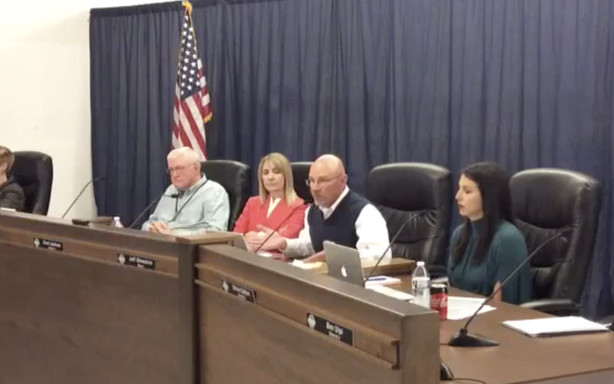 For an area to be considered blighted under Utah code, at least half of the privately owned parcels within the area must be affected by at least one blight-determining factor. Those factors include physical deterioration, unsafe conditions, environmental hazards, vacancies and other things.
Grant and other residents in the area say the reasons certain properties were found blighted were inappropriate. Grant said cracked sidewalks and missing gutters in front of her home led to the property being considered blighted — but she's asked the city to fix those things for several years.
Rebecca Reed said brick homes with peeling paint on the trim were determined blighted.
"The list of ridiculous blight factors goes on and on," Reed said in an email.
The study shows various reasons for blight at properties, including graffiti, damaged curbs, cracked sidewalks and roads, overgrown vegetation and other factors.
Silvestrini said under Millcreek's code, some of those things are the private property owner's responsibility to fix — not the city's.
To consider an area a blight, the blighted parcels also must make up at least 66 percent of the privately owned acreage in the area, according to Utah code.
The Millcreek study originally found that 75 percent of the properties in the area had at least one blight factor, but those only made up 54 percent of the survey area acreage. That meant that the area wouldn't have met the conditions for blight.
The survey area was then changed to take out some parcels that were originally included, according to the study.
With the amended area, 77 percent of properties within had one or more blight factors, making up 68 percent of the acreage in the area. Those numbers are above the state threshold to consider an area blighted.
---
We don't have any plans to use (eminent domain). It's just a safety valve. We don't know if or when we would ever use it, and I would hope that we would never need to.
–Jeff Silvestrini, Millcreek mayor
---
The alteration led some citizens to accuse the city of "gerrymandering" the survey area to reach the proper numbers for a blight determination.
But Silvestrini said the opposite is the case. The original survey area included some properties that officials later realized should not have been part of the study, such as a newer housing development on Granite Mill Court, he said.
City officials have agreed that there are some areas that should be taken out of the study, Silvestrini said.
"Frankly, we were more inclusive than we should have been," he said.
There are some properties that have been added to the study area, which will be presented at the Dec. 17 meeting, he said.
Silvestrini added that city officials want to listen to all the input they can before making any decisions.
There has been some misinformation spreading about the blight study and the city's plans for the area, he said.
"There's been a lot of information put out there about how we intend to buy up everything and level the whole area and everybody's going to lose their property, and that is categorically false," Silvestrini said.
×
Photos