SANDY — Just over a week after the finality of the 2018 season concluded with a 5-3 aggregate loss to Sporting Kansas City in the Western Conference semifinals, Real Salt Lake blazed into the pre-2019 offseason.
RSL has exercised options on seven players for the 2019 season, declining contracts on 10 more.
Among the most notable names to be declined are veteran defender Tony Beltran, backup goalkeeper Connor Sparrow and defensive midfielders Luke Mulholland and Stephen "Sunny" Sunday.
Others that did not make the cut are defenders David Horst, Taylor Peay and Demar Phillips, midfielder Jose Hernandez; and forwards Ricky Lopez-Espin and Luis Silva.
That doesn't necessarily mean their days at Real Salt Lake are over, either. It just means the current contract is. RSL coach Mike Petke highlighted Mulholland as a potential example.
"We did not exercise Luke's option, but it doesn't mean that there is an ending," Petke said. "Luke, amongst others, could circle back around at some point."
Beltran, Horst and Silva will be eligible for free agency, should they not re-sign with RSL through individual negotiations. The club is in contact with those players and their representatives.
Other players will be eligible for other MLS re-entry mechanisms, such as the waiver draft and re-entry draft. Many will be valued and wanted by other clubs — perhaps moreso than they currently are by Real Salt Lake, even.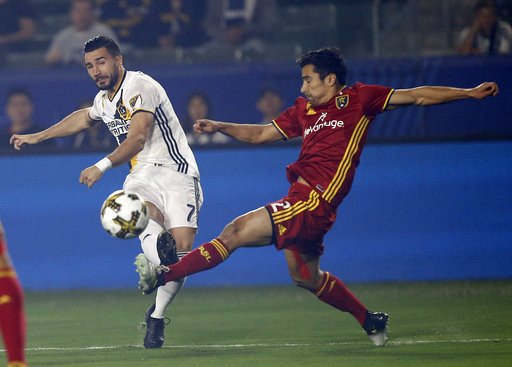 But players know there is plenty to gain by keeping a young core like RSL has together and able to progress as a unit, much like the team did leading up to the 2009 MLS Cup-winning season.
"Keeping that core intact will be massive," said Beltran, who missed all-but one game of the 2018 season with a serious injury. "The front office has a difficult task ahead, because those guys are very desirable, and I bet everybody in the league would be happy to have them.
"But as long as we build off these guys … then I think it will be very easy to make steps next year."
The options give Real Salt Lake more salary-cap flexibility to approach needed offseason signings — like a true No. 9 striker, something the club has openly admitted to needing since the abject failure that was Spanish striker Alfredo Ortuno. It also gives players a chance to re-negotiate personal contracts, which can benefit both the club and the player.
Some players, though, will simply walk away.
Sunny didn't make the cut, for example, and he didn't wait for official approval from the league office to make the announcement.
The third-year RSL midfielder announced earlier Tuesday morning via Twitter that the club has not asked him to return for next season. As a matter of club policy, Real Salt Lake won't discuss options until they make all of their decisions next Monday.
But Sunny's time in Sandy appears to have expired.
"I had a wonderful three years with RSL," Sunny tweeted. "Farewell, great team, great people. Wish you all the best in the coming season."
I had a wonderful 3years with Rsl . Farewell great team, great people. Wish you all the best in the coming season. pic.twitter.com/rVdkMlls0i

— Sunday Stephen Obayan 'Sunny' (@Stephen4Sunday) November 20, 2018
The statement sounds final, and while Petke wouldn't confirm it, he did indicate that either Sunny or Mulholland could face an uphill climb to get back on to the roster.
"Any time you don't exercise the option on two players in the same position, it means we have to upgrade or get depth," the third-year RSL coach said. "We're certainly looking at it, but with the understanding that Nick (Besler) is capable of stepping in there. I don't consider Damir (Kreilach) to step into that holding midfield role."
Julian Vazquez will also join the roster for the 2019 season, but the former Mountain Crest standout and RSL Academy product said he will spend most of the year with second-division Real Monarchs.
Some players had contracts that were guaranteed beyond the 2018 season, like veteran goalkeeper Nick Rimando and midfield captain Kyle Beckerman. Rimando, 39, and Beckerman, 36, could also decide to hang it up in the offseason — but that doesn't seem likely, Petke said after joking that their individual retirements will be "his decision."
"I don't think bringing up the word 'retiring' to them is a good thing," Petke said of Beckerman and Rimando. "We get a printout every day that has every player listed that shows their workload and work rate; Kyle is the top of that list every single day."
#RSL coach Mike Petke wrapped up the 2018 season before Thanksgiving today. Here he is looking back on the year: pic.twitter.com/qUcSNgUIg3

— Salt City FC (@saltcityfc) November 20, 2018
Options not exercised
GK Connor Sparrow, DF Tony Beltran, DF David Horst, DF Taylor Peay, DF Demar Phillips, MF Jose Hernandez, DF Luke Mulholland, DF Sunny, FW Ricky Lopez-Espin, FW Luis Silva
Options exercised
GK Andrew Putna, DF Danilo Acosta, DF Nick Besler, FW Corey Baird, FW Joao Plata, FW Sebastian Saucedo, FW Jefferson Savarino
Contracts guaranteed beyond 2018
GK Alex Horwath, GK Nick Rimando, DF Justen Glad, Adam Henley, Aaron Herrera, Brooks Lennon, Nedum Onuoha, Marcelo Silva, MF Kyle Beckerman, Damir Kreilach, Pablo Ruiz, Albert Rusnak, FW Jordan Allen
×
Related Stories