KANSAS CITY, Kan. — Real Salt Lake's run in the MLS Cup playoffs has come to an end.
And what an ending it was.
Daniel Salloi scored a goal in both halves, Ilie Sanchez added the decisive penalty kick, and Felipe Gutierrez notched two assists to help Sporting Kansas City to a 4-2 win over rival Real Salt Lake in the second leg of the Western Conference semifinals Sunday at Children's Mercy Park.
With the win, Sporting advanced to the Western Conference finals with a 5-3 aggregate score. Kansas City will host the Portland Timbers in two weeks.
Second-half sub Sebastian Saucedo scored for Real Salt Lake, and Damir Kreilach added the third goal of his first MLS Cup playoff run to cap a team MVP-caliber season.
"First of all, it was a great game from both teams," Kreilach told KSL TV after the match. "Sporting played so well in the first half, and we played so good in the second half. We didn't deserve not to go through. We gave 100 percent in the second half, and we had to score goals.
"The luck wasn't on our side. But we will learn a lot from this game, and next year come back strong."
RSL had several chances to tie the match — and go through to the West finals on aggregate scoring and the away-goals tiebreaker — in the final moments. But the final goal never materialized.
Salloi scored an empty-net strike in the seventh minute of added time, and Sporting advanced instead.
The final scoreline won't necessarily reflect it. But the fight was there. The bite was there.
Real Salt Lake came up just short.
"Gutsy from us. We went out swinging, and that's all you can ask for," an emotional Brooks Lennon said after the match. "Everyone gave it their all, and I am so proud of the boys."
The club was playing without three critical elements of its core lineup. Attacking midfielder Albert Rusnak was serving a one-match suspension for yellow-card accumulation, and center back Marcelo Silva sat out with a groin injury.
Then on Sunday morning at around 10 a.m. local time, head coach Mike Petke's side received more devastating news: Corey Baird, the electric first-year forward and MLS Rookie of the Year, wouldn't be available after a concussion suffered in Saturday's practice.
For Rusnak, Petke moved Kreilach up the field. For Baird, he inserted center forward Luis Silva. And for the defensive Silva, Petke inserted Nick Besler, who would face off against his older brother Matt, a star defender for Sporting Kansas City and the U.S. men's national team.
It's the last substitution that will likely earn him the most criticism in the long offseason — not starting RSL Academy product Justen Glad, a 33-game starter during the regular season.
"As a coach, there are many tough decisions to make," Petke said. "Nick's performance here last time was great; Justen's played 33 games for us this year, and he's still a huge part of our future. But coaches have to make very tough decisions, and it is a decision that I live with."
"I stand by my decision, 100 percent."
RSL, which earned a playoff spot with a dynamic mid-season run through the summer and clinched the No. 6 seed in the West on the final day of the regular season thanks to Houston's upset win at the Los Angeles Galaxy, saw its season ended just short of the conference finals.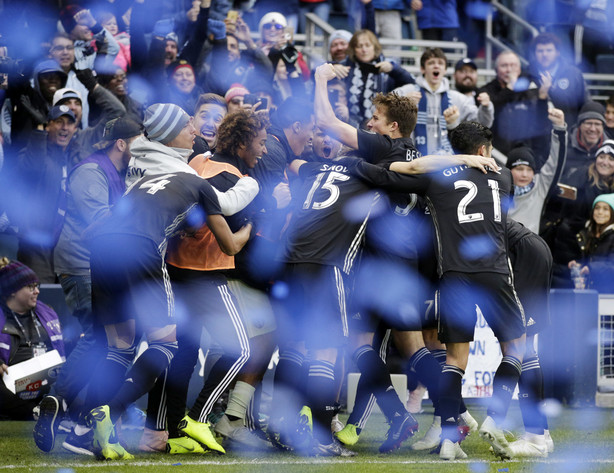 But what a ride it was.
"I think that any RSL supporter out there watching tonight should realize how much these guys put in," RSL coach Mike Petke said. "They should be proud."
Sanchez had a golden opportunity just 5 minutes into the match. But his bouncing volley was cleared off the line by Kyle Beckerman, who made a dash toward goal after seeing fellow RSL standout Nick Rimando off his line.
Sporting Kansas City earned four corner kicks in the first 8 minutes of play as they peppered RSL's goal and looked for the first strike of the decisive second leg. The home team was going for the win.
Kansas City's opening goal from the run of play.
Diego Rubio took a pass from Felipe Gutierrez inside the box, and Rubio tapped it in to notch his second postseason goal of the season in the 14th minute to give Kansas City a 2-1 aggregate advantage, along with its away-goal lead from the first leg.
After KC center back Matt Besler made a diving tackle to take Kreilach's chance at goal out of the match, Dániel Sallói doubled Sporting's advantage in the 19th minute with a counter-attacking goal fed to him by Gutierrez.
At halftime, Kansas City had a 2-0 lead, a 3-1 advantage on aggregate scoring, and a clear path to the Western Conference finals against Portland.
But Real Salt Lake gave its supporters a gutsy performance and a team to make them proud in the final 45 minutes.
"I knew there was going to be no quit in this team, and everybody was up for the fight," RSL team captain Kyle Beckerman said. "We were going to keep going until the final whistle, and that's what we did. We're disappointed two not move on, but we gave all we had."
Sporting held RSL to just one solitary shot on target in the first hour of the match, as the home side peppered Rimando's end of the field with 13 total shots.
Still, the visitors were down just 2-0 in a match that could have been much worse.
That's when the academy product known as "Bofo" happened.
Joao Plata dribbled into the side of the box in the 60th minute, but when the Ecuadorian international nearly touched the end line, he crossed a through-ball back to the top of the 18.
Saucedo was immediately there, and the former RSL Academy standout from Park City ripped a shot into the upper 90 for his first-ever MLS Cup playoff goal to slice the lead in half.
The second-half sub breathed new life into Salt Lake after entering the match for starting forward Luis Silva.
"This was the last 45 minutes of our season if the score remained the same. The tactical adjustments were there," Petke said of halftime. "Then it was no panic, calm and 45 minutes. If we get one goal, then the second would come."
Just five minutes after Saucedo's goal, Kansas City sucked RSL's momentum away with a controversial penalty.
Rubio drew a penalty when Nedum Onuoha went to defend his haphazard effort in the area, and Ilie Sanchez converted from the spot, chipping Rimando to give Sporting a 3-1 lead.
"The only thing I said to the fourth official is that the ball was in Nick's hands," Petke said. "Was it truly a penalty? Be certain that it was 100 percent. I think that Rubio did well with his body when Nedum was going after the ball, but in a game like this …. I'll have to re-watch it. I know things happen fast, and there is VAR. I don't know."
Petke then chided: "There's Howard Webb down there. You guys can ask him."
Yet Real Salt Lake refused to quit.
Plata whipped in a corner kick from the left side in the 72nd minute, and Kreilach rose up like a salmon and headed home his third career MLS Cup playoff goal to pull the visitors within one, 3-2.
If Salt Lake could find another goal and force a 3-3 tie, the Sandy-based club would go through to the West finals on the away-goals tiebreaker.
"When we scored our second goal with 20 minutes left on the clock, we thought we could get it," Mulholland said. "It just wasn't meant to be."
Besler had a crack at a goal, but the ball sailed into the left side netting. Jefferson Savarino added another chance in the final 10 minutes, but his shot was just wide.
The final touch just wasn't there.
"We just kept at it, even when we went down two," Beckerman said. "We kept fighting, and just came up short."
Contributing: Rod Zundel, KSL TV
×
Photos
Related Stories