Estimated read time: 3-4 minutes
This archived news story is available only for your personal, non-commercial use. Information in the story may be outdated or superseded by additional information. Reading or replaying the story in its archived form does not constitute a republication of the story.
WEST JORDAN — The Utah Department of Transportation has finished converting four intersections on Bangerter Highway from traffic signals into freeway-style interchanges.
UDOT officials said drivers who have regularly commute on the north-south corridor should find the roadway smoother and safer than it was just last week.
UDOT has been rebuilding all of the intersections on Bangerter Highway to improve the flow of traffic, make the road safer and meet the growing transportation demands on the west side of Salt Lake County.
State Sen. Wayne Harper has spent his share of time stuck in traffic on Bangerter Highway.
"I am on (the road) basically every day," said Harper, who represents Taylorsville and West Jordan, two communities heavily impacted by the construction and the completion of the work.
UDOT officials estimated the new freeway-style interchanges will save motorists around 10 minutes of drive time in the heart of the project. They expected to have real-time data in the months ahead.
"Making it much easier for people to get home in the evenings, much safer, and much quicker," said Harper. "People are really loving that."
With the completion of the interchanges at 5400 South, 7000 South, 9000 South and 11400 South, UDOT has now rebuilt seven interchanges on the highway.
Occasional night and weekend lane closures may occur to finish up minor items such as landscaping and striping, but the interchanges have all been opened.
#twitter_embed
UDOT spent the last two years and more than $215 million to convert those four intersections. Motorists can now drive from 6200 South all the way down to 9800 South without hitting a traffic light.
"It's also making the facility safer because you don't have those left turns where people are making those high-speed left turns across traffic," said Carlos Braceras, executive director of UDOT.
"It's making a big difference," said Harper. "We need to do that all with Bangerter Highway."
To keep the progress moving, UDOT planned to begin rebuilding the intersections at 6200 South, 10400 South, and 12600 South next fall.
Unhappy customers
Not everyone has been pleased with the project and its impact. Neighbors right next to the 9000 South on-ramp said UDOT broke its promise about a wall between their homes and the highway.
"The wall is good," said Tiffany Skelton, who lives across from the highway. "I wish it was taller."
She said as a neighborhood they understand progress is necessary.
"Just be considerate of the neighborhoods, of people that you have affected and displaced," said Skelton. "Give them back a neighborhood that's livable and safe."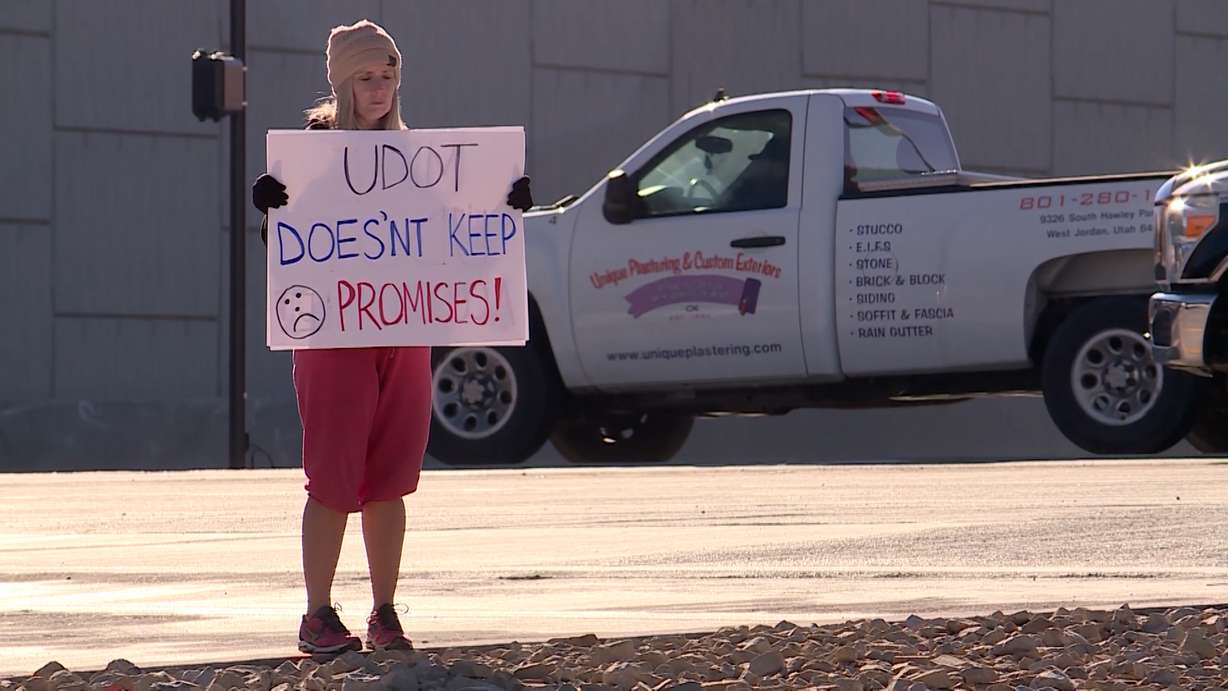 #skelton_pic
West Jordan and UDOT officials put in nearly a half-million dollars to raise the height of the wall about 3 feet. UDOT officials said that they came to an agreement about the wall with residents and the city.
The wall was planned to be rebuilt under that agreement, but when construction started, residents were upset that the height of the wall did not meet their expectation, and doesn't block enough as much traffic as they expected.
"For the safety of our neighborhood, and the protection, and make us feel like we're neighborhood and not just a sideshow of the freeway," said Skelton.
"Unfortunately, our work is impactful and we are working through people's neighborhoods; we acknowledge that," said Braceras. "It's difficult."
UDOT insisted it met its obligation with the wall, and has nothing more to do. Residents of the neighborhood said the sound wall showed just how disruptive a project like this can be.
×
Photos
Related stories
Most recent Utah stories