SALT LAKE CITY — Reggie Graff and the Dixie High offense were slow to start in Thursday night's 41-degree Class 4A semifinal opener.
But once the junior quarterback was warmed up — and with a little help from his defense, the Flyers navigated their way to their first state title game since 2015.
Graff threw for 174 yards and two touchdowns, and ran for 104 yards and another score as Dixie cruised into the state championship with a 20-0 shutout of Park City at Rice-Eccles Stadium.
"Our defense played amazing today, not letting any points — a shutout. Offensively, we got things going," Graff said. "Our O-line was great, we caught a lot of balls and ran the ball pretty well. Everything was clicking."
Josh Cazier caught four passes for 82 yards and a touchdown, and Nathaniel Mahi added 43 yards and a touchdown on four catches for the Flyers (9-4), who advanced to face Friday's winner of Orem and Pine View in next week's 4A championship.
"Back when we were in camp in June, did you ever think we would get to Rice-Eccles?" Dixie coach Blaine Monkres recalled asking his staff on the way the trip from St. George earlier Thursday. "We never thought we'd get here. There were some rough patches. But the kids were learning a new offense, they struggled, and our quarterback has gotten better every week.
"We managed to progress every week … and we got here."
After a slow start, Dixie struck first on a 12-play drive bridging the first and second quarter. Graff hit Mahi with a 20-yard slant over the middle for the game's opening touchdown with 10:14 left in the half, and the Flyers went on to take a 7-0 lead at halftime.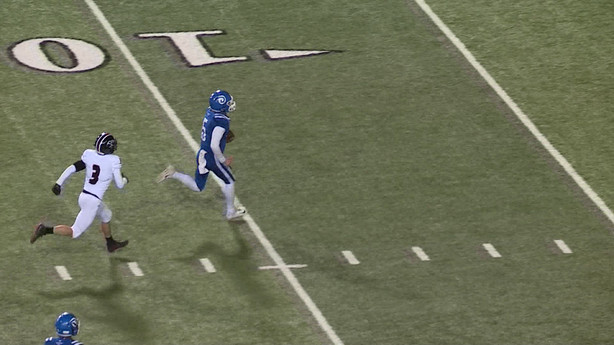 Dixie limited the Miners to just 93 yards of offense in the first half, including 51 yards on the ground. Park City quarterback Jack Skidmore was 8-for-8 with an interception for the Miners, who stunned previously undefeated Sky View in the 4A quarterfinals a week ago.
Skidmore completed just 5-of-23 passes for 72 yards with three interceptions and a sack taken for the Miners, who got 31 yards on Grant Warner's six carries.
Graff added a 49-yard rushing touchdown on the Flyers' second play from scrimmage of the second half, and the Region 9 champs' defense held the Miners out of the end zone to do the rest.
"That was huge," Graff admitted. "Part of our game plan was to spread them out and go up the middle in the second half. It worked for us."
Any time the Park City offense found any momentum, Dixie would drop the defensive hammer.
Kaiden Faumuina forced a fumble while going in for a sack, teammate Conner Walden recovered it, and Graff needed just one play to score his third touchdown of the game, a 38-yard strike to Cazier with 10:06 remaining that put the Flyers up 20-0.
Tyler Walden made three tackles and two interceptions for Dixie, which forced the Miners to punt on four drives to go along with four takeaways and three fourth-down stops.
"It's awesome to have a defense like that," Graff said. "We've got great coaches, and on that side of the ball, they just play really disciplined."
×
Photos
Related Stories